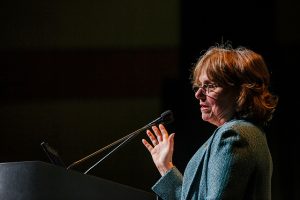 EL BATAN, Mexico (CIMMYT) – In developing countries, 43 percent of income-earning farmworkers are women – a percentage that is even higher if unwaged farm work is included, according to the U.N. Food and Agriculture Organization (FAO).
Despite the large numbers of women working on farms, their voices are not heard by international development policymakers and funders, which handicaps global efforts to achieve food security, said the 2003 World Food Prize laureate and former head of the U.N. World Food Programme (WFP).
"When policymakers or grant-makers look at community needs, the dearth of women in leadership or spokesperson roles, prevents them from learning what is really required to best support the community," Catherine Bertini wrote in a special issue of Daedalus, the journal of the American Academy of Arts and Sciences.
"Feedback comes from men, and it predictably centers on what men need," she added, pointing out that the role of women in the fight for food security is vital not only because they are farmers, but also because they typically oversee nutrition and meal management in the household.
Women and men do not have the same access to agricultural inputs – to seeds and fertilizer, land and extension services, and FAO estimates that if they did, women's agricultural production would increase up to 20 percent, said Bertini, who will speak at a conference on September 29 in Mexico City to mark the 50th anniversary of the International Maize and Wheat Improvement Center (CIMMYT).
Additionally, financial resources controlled by women are more likely to be spent on household needs in contrast to financial resources controlled by men, which are more likely to be used outside the household, Bertini said.
In her essay titled "Invisible Women," Bertini, currently a professor at Syracuse University, cites a gender-specific mix-up with hoes as an example of how things can go terribly wrong when women farmers are not consulted about their needs.
During her tenure at WFP, Bertini visited a rural area in Angola, which was recovering from more than a quarter century of civil war. Farmers said they could not work the fields because they had no farm implements, although there were about a hundred hoes leaning against a nearby fence.
It turned out that the non-governmental organization (NGO) that ordered them was unaware that hoes in Angola were gender differentiated.
"The NGO had not talked to the women," Bertini said. "In that region of Angola, women were the only people who tilled the fields, but they did not use the long-poled hoes. Women's hoes, it turned out, had shorter wooden handles and shovel-like spades at the end."
Women squat to use their hoes because they usually have a baby strapped to their back and it is less cumbersome and causes less stress on the back, unlike the men who stand.
"For me, this story became a metaphor for the importance of always speaking with the people who know what their needs are, and that those who do not specifically seek out women in order to understand their needs may waste their entire contribution to the good they seek to accomplish," Bertini said.
"It also reminds me that women are generally not in community leadership roles and are too often politically invisible."
She says for women to be seen and heard, and for society to benefit from their knowledge, changes must occur, including:
Educating girls
Starting research with women's needs in mind
Enhancing women's health support
Supporting breastfeeding
Improving women's literacy
Creating agricultural extension programs that include women
Expanding micro-bank loans and insurance
Creating legal rights for women to own and inherit land
Considering societal gender roles in all development thinking