By Florence Sipalla/CIMMYT
Results of a survey conducted by the Adoption Pathways (AP) project indicate that even when male-headed and female-headed households have the same resources, the latter are still less food-secure. This difference could be attributed to unreported social exclusion, discrimination and access to credit facilities which the researchers will explore further through group discussions and using repeated observations (panel data) with the farmers.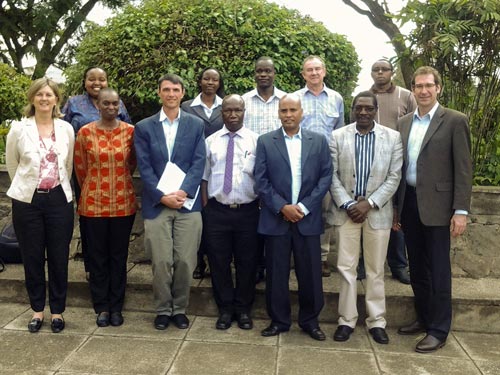 "Equal access to inputs, human capital, resources and institutional services may not close the gender food security gap," said Menale Kassie, CIMMYT socioeconomist and the AP project leader. "The quality of information extension workers are providing to female farmers could be different." Kassie presented research results of a survey conducted in Ethiopia, Kenya, Malawi, Mozambique and Tanzania to donor representatives from the Australian Centre for International Agricultural Research (ACIAR) led by Nick Austin, the chief executive officer, and Mellissa Wood, director of the Australian International Food Security Research Centre (AIFSRC) at Egerton University in Njoro, Kenya.
Farmers who adopt a suite of conservation agriculture (CA) technologies get the best returns. "If farmers combine technologies, the income they generate is much higher," Kassie said. "Farmers who adopted a combination of sustainable intensification practices (SIPs) such as crop rotation, minimum tillage and improved maize seed had the highest returns." Survey results from Tanzania also show that adoption of improved varieties improves the food security status of food-insecure households.
The results also shed light on the spill-over effects of SIP adoption, risk of crop failure and the cost of risk reduction. The AP project is compiling detailed gender-disaggregated data to study causes of food insecurity and technology gaps. "This data set is cross-cutting and will be used by stakeholders beyond the project partners," Kassie said. "We are bringing students on board to increase research productivity."
Wilcyster Nyateko, a master's student at Egerton University using AP data and working under the supervision of Professor Gideon Obare, presented her research proposal "Determinants of diffusion of agro-innovation amongst smallholder farmers in Eastern and Western Kenya" to the donor delegation. "The AP data helped to widen my perspectives," said Nyateko, who is going to include variables such as plot characteristics, tenure and distance of the plot from the household and market in her analysis based on the feedback she received. Other stakeholders who will have access to the panel data include Egerton University's policy thinktank, Tegemeo Institute. "This is a fascinating data set," Austin said after the presentation.
The project has contributed to capacity building of partners and young economists who have participated in data collection. "The project also provided employment opportunities to the enumerators," Kassie said. The project has produced 15 publications and seven policy briefs and presented research results in various international forums. "Some of the challenges encountered include attrition problems such as spouses working in distant places and who are not able to participate in the survey or families included in the original sample who had migrated to other villages."
AP plans to produce more empirical outputs using the panel data, build the capacity of partners and share the research outputs with key stakeholders (e.g. policymakers, development partners, researchers and farmers). "The key challenge is taking research products to these stakeholders; doing so requires more resources and time, beyond the project period," Kassie said. The donors also paid a courtesy call to the Egerton University leadership where they were hosted by Professor Rose Mwonya, the deputy vice chancellor of academic affairs, and Professor John Mwangi, who gave them an overview of the university and its involvement in the AP project.