For the first time ever, a biotechnology team has identified vegetative storage proteins (VSP) in maize and activated them in the leaves to stockpile nitrogen reserves for release when plants are hit by drought, which also causes nutrient stress, according to a recent report in Plant Biotechnology Journal. In two years of field testing, the maize hybrids overexpressing the VSP in leaf cells significantly out-yielded the control siblings under managed drought stress applied at the flowering time, according to Kanwarpal Dhugga, a principal scientist at the International Maize and Wheat Improvement Center (CIMMYT).
"One of the two most widely grown crops, maize increasingly suffers from erratic rainfall and scarcer groundwater for irrigation," Dhugga said. "Under water stress, nitrogen availability to the plant is also attenuated. If excess nitrogen could be stored in the leaves during normal plant growth, it could help expedite the plant's recovery from unpredictable drought episodes. In our experimental maize hybrids, this particular VSP accumulated to more than 4% in mesophyll cells, which is five times its normal levels, and offered an additional, dispensable source of nitrogen that buffered plants against water deficit stress."
Dhugga noted as well that the study, whose authors include scientists from Corteva Agriscience, the Bill & Melinda Gates Foundation, and the US Department of Agriculture (USDA), provides experimental evidence for the link between drought tolerance and adequate nitrogen fertilization of crop plants. "This mechanism could also help farmers and consumers in sub-Saharan Africa, where maize is grown on nearly 40 million hectares, accounts for almost one-third of the region's caloric intake, and frequently faces moderate to severe drought."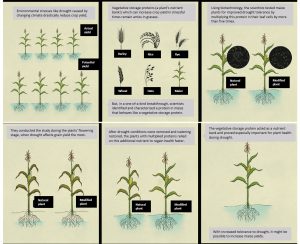 Read the full study:
A vegetative storage protein improves drought tolerance in maize.