March, 2004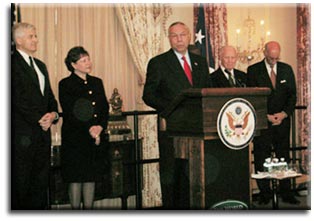 US Secretary of State Colin Powell paid tribute to Iowa and in particular to one man, known as the father of the Green Revolution, who was born there 90 years ago.
"On behalf of the American people, on behalf of President Bush, we gather to thank heaven for the great state of Iowa," Powell said at a State Department ceremony to announce the 2004 World Food Prize Laureates on 29 March. "Most of all, we salute Iowa's own, Norman Borlaug, for creating the World Food Prize and for his own prize winning work against hunger."
US Secretary of Agriculture Ann Veneman joined Powell in honoring Dr. Borlaug's 90th birthday in Washington DC. In front of more than 200 guests, including FAO Director General Jacques Diouf, USAID Administrator Andrew Natsios, World Bank Vice President and CGIAR Chair Ian Johnson, CGIAR Director Francisco Reifschneider, and CIMMYT Director General Masa Iwanaga, Veneman described the Norman E. Borlaug Agricultural Science and Technology Fellows Program to be inaugurated by the United States Department of Agriculture.
"Thanks to Dr. Borlaug's pioneering work in the 1960's to develop varieties of high-yielding wheat, countless millions of men, women and children, who will never know his name, will never go to bed hungry," Powell said. "Dr. Borlaug's scientific breakthroughs have eased needless suffering and saved countless lives. And Dr. Borlaug has been an inspiration to new generations across the globe who have taken up the fight against hunger and have made breakthroughs of their own."
A tribute to Dr. Borlaug's individual pursuit of using science and technology to fight hunger, the Fellows Program will focus on strengthening agriculture in developing countries by incorporating and advancing new science and technology. Proposed by Texas A&M University's Agriculture Program and established by the USDA, it will give scientific training to fellows from developing countries and support exchanges among university faculty, researchers, and policy makers.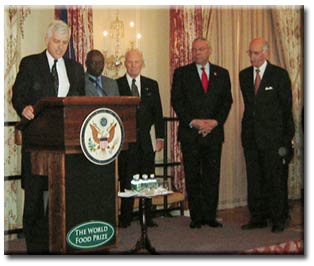 The program aims to prepare professionals who want to lead developing countries in agricultural research and education while embracing the values that Dr. Borlaug's life and work represent. It will be managed by the USDA's Foreign Agricultural Service, the US Agency for International Development, the US Department of State, land grant colleges, and Texas A&M University, where Dr. Borlaug is professor emeritus.
In 2004, an initial group of fellows from around the world—especially Africa, Latin America, and Asia—will begin training or research programs at US schools, government agencies, private companies, international agricultural research centers such as CIMMYT, and nonprofit institutions. The program will span such diverse areas as biotechnology, food safety, marketing, economics, and natural resource conservation, and it will include studies of policies and regulations to foster the use of new technology.
The US$ 2 million research grant given to the Texas Agriculture Experiment Station by USDA-Cooperative State Research, Education, and Extension Service will be managed by a Consultative Committee, which comprises representatives from universities, foundations, government agencies, and countries affiliated with Dr. Borlaug's work. This committee will serve as a donor council, advise on the selection and placement of fellows, and evaluate the program.
At the US State Department, Secretary of State Powell named the new World Food Prize Laureates: Yuan Long Ping of China and Monty Jones of Sierra Leone, who have made advances in high-yielding rice.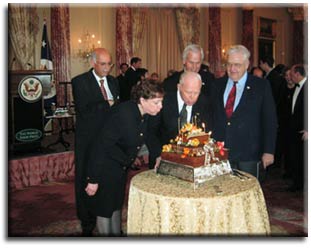 Borlaug founded the World Food Prize in 1986 to honor people who have made important contributions to improving the world's food supply. Endowed since 1990 by businessman and philanthropist John Ruan, this international award recognizes achievements of people who have improved the quality, amount, or accessibility of food in the world to advance human development.
World Food Prize Laureate Yuan has revolutionized rice cultivation in China. Known as the Father of Hybrid Rice, he helped cultivate the first successful and widely grown hybrid rice varieties in the world. More than 20 countries have adopted his hybrid rice, and his breeding methods have helped provide food for tens of millions of people.
World Food Prize Laureate Jones, formerly a rice breeder at WARDA—the Africa Rice Center—in Côte d'Ivoire, successfully made fertile inter-specific African and Asian rice crosses that combined the best characteristics of both gene pools. This "New Rice for Africa," or NERICA, has higher yields and better agronomic characteristics for African conditions.
Jones and Yuan will receive a $250,000 prize to share in October.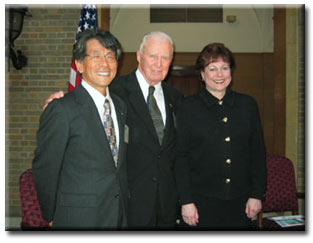 Dr. Borlaug has dedicated 60 years to building knowledge and fostering development in poor countries. Since the mid-1940s, when he arrived in Mexico to work on an agricultural project that was the forerunner of CIMMYT, he has worked tirelessly in the cause of international agricultural research. The innovative wheat varieties that he and his team bred in Mexico in the 1950s enabled India and Pakistan to prevent a massive famine in the mid-1960s and to initiate the Green Revolution. This achievement earned Dr. Borlaug the Nobel Prize in 1970 and created extensive support for a network of international agricultural research centers, known as the Consultative Group on International Agricultural Research (CGIAR).
In order to meet the 1996 World Food Summit goal of cutting in half the number of chronically hungry people by 2015, Powell said the international community must reduce the number of undernourished people by an average rate of 22 million people per year. The current rate is only a decrease of 6 million people per year. Of the more than 800 million severely malnourished people in the world, 80 percent are women and children, he said, but famine is entirely preventable in the 21st century.
More information on the Borlaug Fellows Program: http://www.usda.gov/Newsroom/0125.04.html
More information on the World Food Prize: http://www.worldfoodprize.org