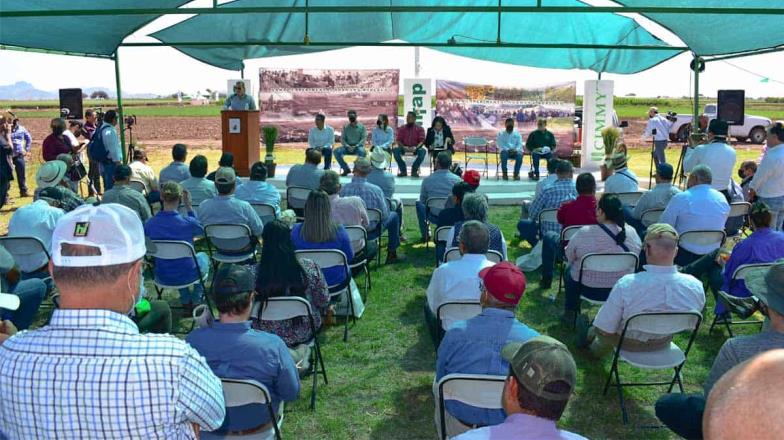 On the 67th Edition of the Day of the Farmer in Mexico's Yaqui Valley, Jesús Larraguibele Artola, president of the Agricultural Research and Experimentation Board of the State of Sonora (PIEAES), publicly recognized the work and trajectory of Ravi Singh, Distinguished Scientist and Head of Global Wheat Improvement at the International Maize and Wheat Improvement Center (CIMMYT).
An Indian national, Singh first arrived to CIMMYT's Experimental Station in Ciudad Obregón, Sonora, in 1983, and has since developed 680 wheat varieties in 48 countries, including the Cirno and Borlaug varieties, grown in 98% of the Yaqui Valley's wheat fields.
At the event, Larraguibele Artola also highlighted the importance of the legacy of Norman Borlaug, father of the Green Revolution, who saved the lives of billions of people from starvation with his improved wheat varieties. He also recalled how the first Day of the Farmer was organized by Borlaug back in 1948, when the American agronomist presented his first rust-resistant wheat varieties to farmers in the region. Over time, the event became a unique place for researchers and scientists in Sonora to increase collaboration with farmers and producers in the region and share their latest scientific advances.
Acknowledging the key role of new technologies and wheat varieties in tackling current and future agricultural challenges, Fátima Yolanda Rodríguez Mendoza, Secretary of Agriculture, Farming, Hydraulic Resources, Fishing and Aquaculture (SAGRHPA) of Sonora, reiterated the commitment of the governor, Alfonso Durazo Montaño, to invest in agricultural research to boost production and drive the growth of the region's agrifood sector.
"We'll continue to invest in research and innovation and support scientists, who put their knowledge at the service of the people of Sonora", she promised.
Read the original article: Día del Agricultor: permanente cambio y continua investigación