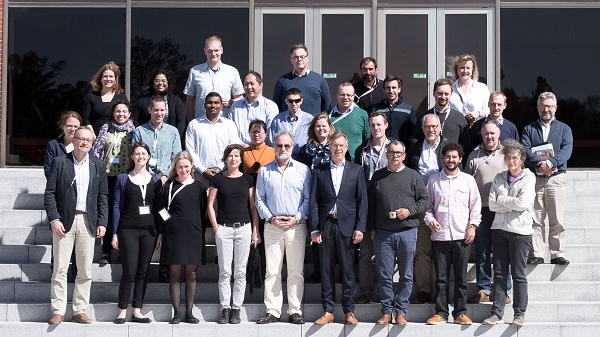 EL BATAN, Mexico (CIMMYT)—Scientists from two of the world's leading agricultural research institutes will embark on joint research to boost global food security, mitigate environmental damage from farming, and help to reduce food grain imports by developing countries.
At a recent meeting, 30 scientists from the International Maize and Wheat Improvement Center (CIMMYT) and Rothamsted Research, a UK-based independent science institute, agreed to pool expertise in research to develop higher-yielding, more disease resistant and nutritious wheat varieties for use in more productive, climate-resilient farming systems.
"There is no doubt that our partnership can help make agriculture in the UK greener and more competitive, while improving food security and reducing import dependency for basic grains in emerging and developing nations," said Achim Dobermann, director of Rothamsted Research, which was founded in 1843 and is the world's longest running agricultural research station.
Individual Rothamsted and CIMMYT scientists have often worked together over the years, but are now forging a stronger, broader collaboration, according to Martin Kropff, CIMMYT director general. "We'll combine the expertise of Rothamsted in such areas as advanced genetics and complex cropping systems with the applied reach of CIMMYT and its partners in developing countries," said Kropff.
Nearly half of the world's wheat lands are sown to varieties that carry contributions from CIMMYT's breeding research and yearly economic benefits from the additional grain produced are as high as $3.1 billion.
Experts predict that by 2050 staple grain farmers will need to grow at least 60 percent more than they do now, to feed a world population exceeding 9 billion while addressing environmental degradation and climate shocks.
Rothamsted and CIMMYT will now develop focused proposals for work that can be funded by the UK and other donors, according to Hans Braun, director of CIMMYT's global wheat program. "We'll seek large initiatives that bring significant impact," said Braun.