At the International Maize and Wheat Improvement Center (CIMMYT), staff are one of our most important assets. We anchor our commitment to diversity and inclusion through our vision, mission and organizational strategy. We interpret workplace diversity as understanding, accepting and valuing all aspects of one's identity, including gender.
Scientists such as Itria Ibba, head of the Wheat Chemistry and Quality Laboratory, Thokozile (Thoko) Ndhlela, maize line development breeder, and Huihui Li, quantitative geneticist, empower the rest of the maize and wheat research community to do more for those who need sustainable food systems the most.
It wasn't easy to find a convenient time for the four of us to have a conversation — me, because of COVID-19 travel restrictions, from the Netherlands, Itria in Mexico, Thoko in Zimbabwe and Huihui in China – but we managed. I enjoyed hearing about their work, what sparked — and continues to spark — their passion for maize and wheat research and had the chance to share some thoughts about where the CGIAR transition is taking us.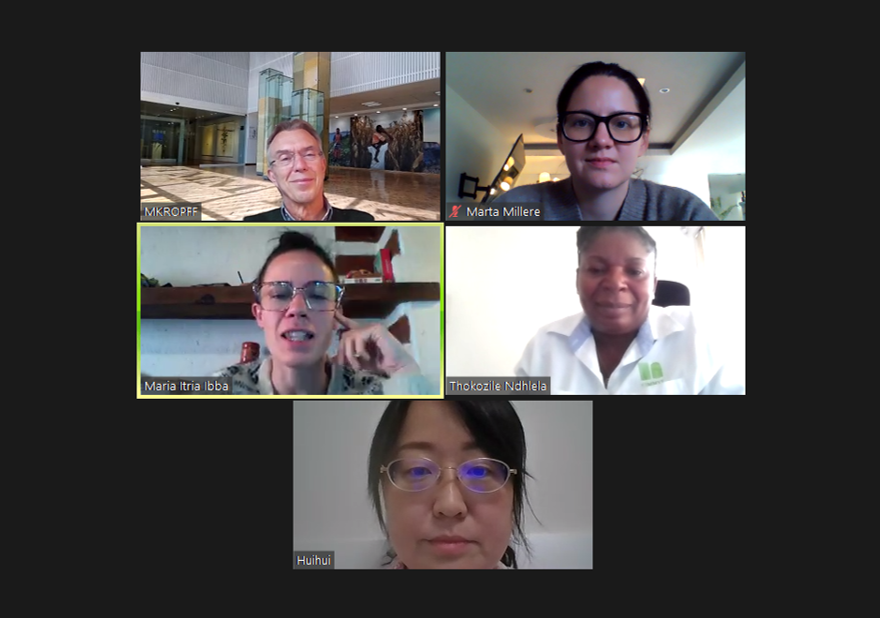 Martin Kropff: Hello Itria, Huihui and Thoko, great to see you! I'd love to hear more about what you do. Why do you think your work is important in this day and age?
Itria Ibba: Hello Martin! I lead the [CIMMYT] Wheat Chemistry and Quality Laboratory. I am very passionate about my work, which I believe is very important.
In the lab we work both on the improvement of wheat technological and nutritional quality. Both of these aspects are fundamental for the successful adoption of a wheat variety and, of course, to promote a healthy and nutritious diet. Development of nutritious varieties is especially important because — especially in developing countries — the basic diet doesn't provide all the micro and macronutrients necessary to live a healthy life. Since my focus is wheat, a staple crop that is mainly used for human consumption, I think the work that I am doing can actually have a direct and real impact on the lives of many people.
Kropff: It is important that you — on the quality side of the work — can give feedback to the breeders, and they listen to you. Is it happening?
Ibba: I believe that yes. Of course, quality cannot be the only target in the selection process where several other traits such as yield potential, disease resistance and tolerance to abiotic stresses have to be considered. However, especially for wheat, quality needs to be considered because it is strictly associated with the economic value of a specific variety and plays a fundamental role throughout the whole wheat value chain. The feedback we are giving is being taken positively. Of course, it could be 'heard' more.
Kropff: If I may ask, do you think you're being treated as a scientist regardless of your gender? Or does it matter?
Ibba: Personally, I have always felt that I was respected, in my lab and in my team, especially at CIMMYT. At the beginning, I had some concerns because I am a bit young… Mainly because of that, yes, but not because I am a woman. I cannot say anything bad from that perspective.
Kropff: I think that young people must have the future in our organization. Sometimes when people get older — I try not to be like that, but I am also getting older — they think that they know everything and then you have to be very careful, because the innovations are mostly coming from young people. But young minds come up with new ideas. What about your work, Huihui? You are contributing in a completely different way than Itria and Thoko, and you are coming from a mathematical point of view. When I see you, I always think about math.
Li: Yes, due to my major, sometimes I feel like I am a stranger working in an agricultural research organization. Because I can't breed new varieties, for example. So, what's my position? I ask myself: how can I have a successful career in agriculture? But I think that in this new era, this new digital era, I can do more.
Kropff: Data, data, data!
Li: Yes! We can do smart agriculture based on big data. We can do a lot of things with prediction, so that breeders can save time and effort. Maybe we cannot breed the varieties directly or we cannot publish our new findings in high impact journals, but we can play an essential role for this work to be successful. I think that's my added value: to be useful to breeders.
Kropff: And you are! Thoko, what about you?
Ndhlela: I'm a maize breeder. I'm responsible for two product profiles in southern Africa and these are extra early, early and nutritious maize. I feel like my work is very important, given that I am focusing on developing and deploying nutritious and stress-tolerant maize varieties to people who rely on maize as a staple food crop. White maize is the one that is mainly consumed and yet it doesn't contain any of the micronutrients such as vitamin A, zinc, iron. We are working towards closing that gap where people have limited or no access to other foods that contain those micronutrients. If we provide them with maize that is nutritious, then we close that gap and addressing the issue of malnutrition. It is especially critical, for young children. According to UNICEF, 53% of the mortalities in children globally are due to micronutrient deficiencies. My work aims to address to a greater extent the problems that farmers face.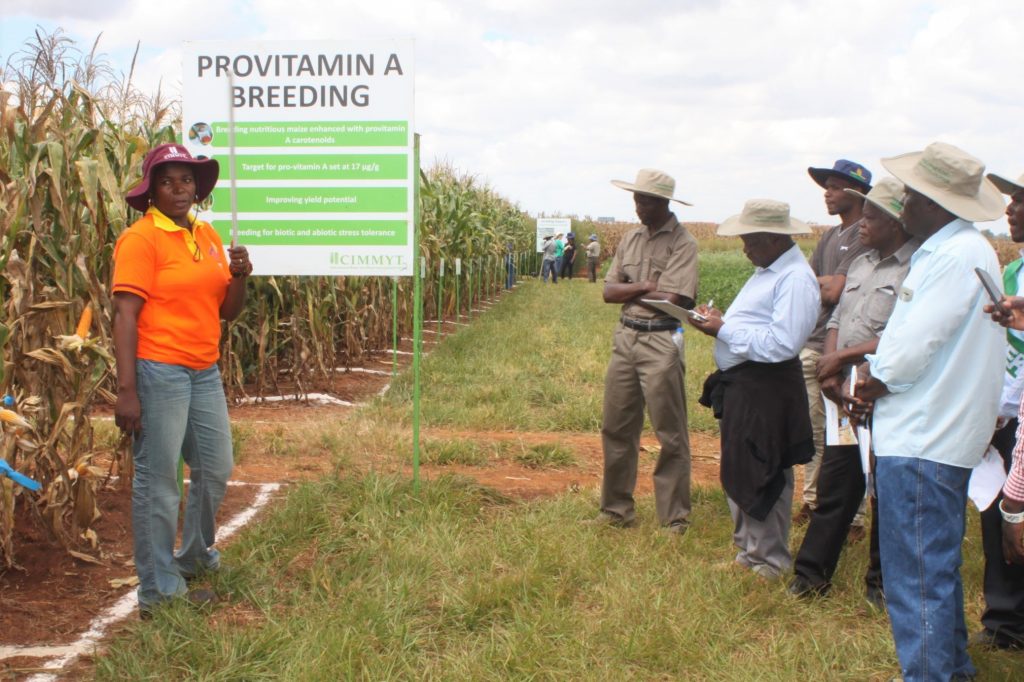 Kropff: Are you working on provitamin A maize?
Ndhlela: Yes!
Kropff: It's orange right? How are consumers adopting it? Does that require extra marketing activities?
Ndhlela: Yes, because in most countries where maize is a popular staple food, people use yellow maize mostly for livestock feeds. But when it comes to the main food, they mainly use white maize. So there has to be that extra effort. We have been working with HarvestPlus on that front, and so far in southern Africa we've made good strides in terms of getting people to accept the maize.
Back in the day, when they were first introduced to the idea of eating yellow maize as main food, that maize came from food relief and not in a good state, so there was that negative attitude, which they remembered when we came in with vitamin A maize [which has a yellow color]. We told them, "This is different" and the fact that we did demos, they grew the maize, they harvested and consumed it, led to their acceptance of it. Right now, we have so much demand for seed, especially across southern Africa. Seed companies that we work with say that the seed is sold out and people are still looking for it.
Kropff: I'm very happy to hear this. We have to make sure that what we do is demand-driven, right? And on your role as a woman in research in Zimbabwe. Do you feel like you are taken seriously as a scientist?
Ndhlela: I really do, yes. I am really given space to be myself, to do my work and have that impact on the ground.
Ibba: Martin, I have a question regarding One CGIAR. Will there be any changes within CIMMYT regarding redistribution of research areas? Will some of the research areas change the research focus or implement new research groups and strategies?
Kropff: I could talk for five hours about this. CGIAR has big plans to change the structure, to change the initiatives, to change everything this year.
I believe that CIMMYT is strong, we have a lot of impact. The quality of our work is really high, and I want to make sure that CIMMYT's work — your work — finds a solid landing in the new CGIAR.
They're envisioning a restructuring in three large science groups. Several Directors General suggest that we shouldn't start breaking everything up but that we take whole programs as we have them now and bring them into the new science groups. It's complicated but everyone wants the CGIAR to be successful.
In terms of research, what we do as CIMMYT already provides solutions, for example, the Integrated Development Programs, such as CSISA, MasAgro, SIMLESA. This has now been taken over by the whole CGIAR. These are programs where you work with national systems and you look at what is important to them, and where innovation is needed. Not focusing on single solutions but integrated solutions from different disciplines. When the research needs come directly from the stakeholders, we become more demand-driven. And that makes life even more exciting.
I think that when we listen to our stakeholders, there will always be a maize and wheat component [in agricultural research]. When we interviewed them in 2020, they stated that things [that are on top of their wish list for agricultural research and development are] breeding, agronomy, big data, and wheat, maize and rice.
I always say: what we need is food systems that deliver affordable — you said it already, Thoko — sufficient and healthy diets produced within planetary boundaries. And for all those criteria, wheat and maize are key because they are efficient, they are produced very well, they provide a good basis of nutrition, and you can produce them within planetary boundaries.
But, back to you. Could you share a story or anecdote about a turning point or defining moment in your work?
Ibba: Personally, I've had different turning points that led me to this career but I believe that one of the most important moments for me was when I started my PhD in Crop Science at Washington State University. There for the first time in my scientific career I understood the importance of working together with breeders, molecular scientists, cereal chemists and even with food companies in order to deliver a successful product from farmers all the way to consumers. The research done there had a real impact that you could see and I loved it. Also for this reason, I am happy to now work at CIMMYT because this happens here, as well, but at a bigger scale. You can clearly see that the work and research you do are directly used and go into new wheat lines and new varieties which are grown by different farmers across the world. It's amazing. That's what I think had a bigger impact for me.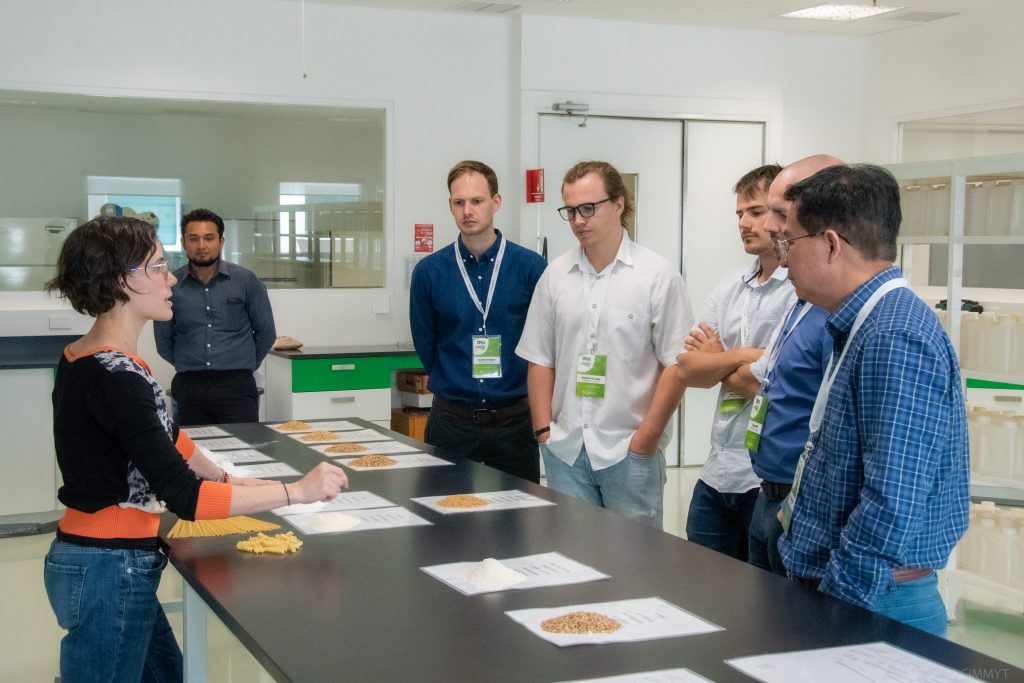 Ndhlela: I think the biggest moment in my work was when I was first employed as a scientist at CIMMYT. I always looked at CIMMYT scientists as role models. I remember many times that CIMMYT jobs were being advertised for technicians, and people would say, "Oh, this is yours now!" and I told them, "No, no, no, I will only join CIMMYT as a scientist." And I waited for that moment. And it came and was a turning point in my career and I really thought that now I can express myself, do my work without limitations. And to reach impact!
Another great moment in my work is when I hear that hundreds of farmers are growing and consuming the varieties that I am involved in developing and deploying. I really want to hear people talking of impact: how many tons of certified seed is being channeled from seed companies to the growers, and how many peoples' lives are we improving. I think that really defines my work. If the varieties don't get to the farmer, then it is just work going to waste.
Li: Sometimes I feel inferior because I can't breed a variety, or have big papers in agriculture-related journals, but one day I looked up my citation of my publications and I felt self-satisfied. I could feel my impact. Actually, several of my papers are highly cited; my total citation is more than 3,000 right now.
Kropff: Oh good!
Li: Yes! That means that my work has impact and many people are using the algorithm I developed to have even more impact. Papers that cite my work are published in Science and Nature, Nature Genetics, etc. I feel useful and like my work plays an essential role in research.
Kropff: That's the thing: there's impact in science and impact in farmers' fields and at CIMMYT it comes together. Colleagues at CIMMYT are taking your results and using them to make a difference through crop variety improvement and other things.
Ndhlela: How do you think that One CGIAR will help strengthen our research towards the Sustainable Development Goals across the geographies where we work?
Kropff: I have always promoted the idea of 'One CGIAR'. Even before joining CIMMYT. But it is complicated because we're bringing 13 CGIAR Centers together. I saw it at Wageningen University: when you have one organization, you can be so much stronger and more visible, globally.
Because together we [One CGIAR] are the global international organization for agricultural research. We add something [to our global partners such as] the Food and Agriculture Organization of the UN (FAO) which works on agricultural policy, and IFAD that has international development programs and World Food Programme which delivers food — most of it staple crops — to those who need it the most. But supplying food is not a sustainable approach, we want to have sustainable food systems in those countries, so that people can produce their own food. That's where research is necessary, and knowledge is necessary.
I am super proud that the wheat and maize and agronomy work we do is so well adopted. Farmers are adopting our varieties across the globe. These are new varieties I'm talking about — this is key — which are on average 10 years old and they respond to current challenges happening on the ground. Regarding your work, Thoko, with maize, I just got data from Prasanna [CIMMYT's Maize Program and CGIAR Research Program on Maize Leader, Prasanna Boddupalli] that farmers are growing drought-tolerant maize and other maize varieties from CIMMYT on 5 million hectares in eastern and southern Africa! All of this is because of a good seed systems approach with the private sector: small seed companies delivering our varieties scaling our great breeding work. Taking it to the farmers!
I think that the work that we do is super important to reach the Sustainable Development Goals. Number one —– well, it's number two, but for me it is the first —– is ending hunger. Because when you're hungry, you cannot think or live normally. Poverty is also an incredibly important challenge. But I would put hunger as number one. I don't think any of us here have had real hunger. My parents did, in the Second World War and let me tell you, when I heard those stories, I realized that that's something that nobody should go through.
Climate change as well. We have to keep innovating because the climate keeps changing. I was just reading today in a Dutch newspaper that 2 degrees won't be reached, it will be more. And in the Netherlands the land is so low, so that even with dykes, we will not be able to manage in the next 50 years. People will have to start moving. In the Indo-Gangetic Plains, they'll have to plant short duration rice, use smart machinery such as the Happy Seeder, then plant short duration wheat — all just to stay ahead of the looming 50 ˚C weather.
Do you agree?
Ibba: Well, yes, but I hope that in the end there will be good coordination between the CGIAR Centers and everything. But if it works well, then I definitely think that it will be more impactful. That's for sure.
Kropff: What can supervisors and mentors do to encourage women in science careers?
Li: I think this is a good question Martin. I am sure that Itria and Thoko will agree with me: women need more than just our salary. I think that women are more emotional, so, most of the time, when my supervisor is more considerate and careful in regard to my emotions, I feel touched and actually, more motivated. I simply need more consideration, emotionally. I have some experience in this with students [who work for me]. When I want to stimulate their motivation, I compare the two effects. Say, I increase their salary. I feel that the male student is happier than the female. [Laughs] On the other hand, I try to be more considerate with all of my students and ask them about their families or express concern about something. When I do this, I don't get much of a reaction from the males but the females are grateful. I think the same works for me.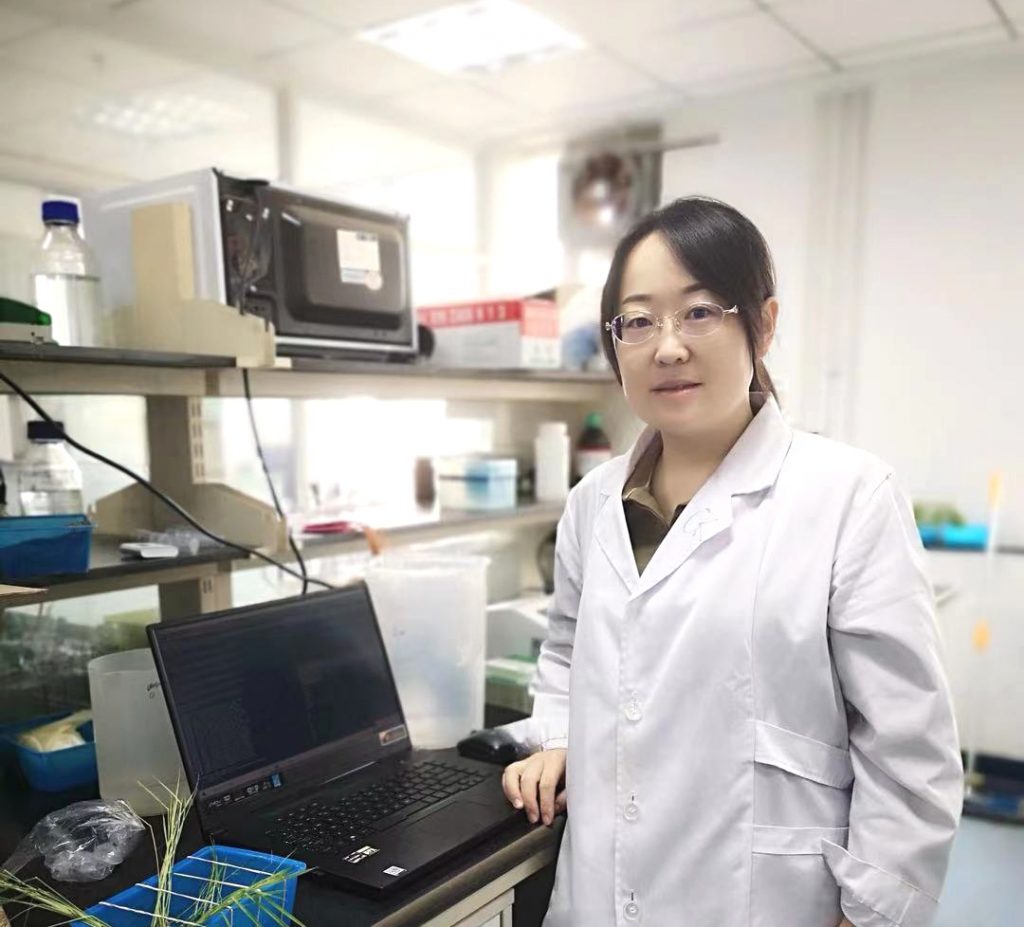 Kropff: I always intend to treat everyone equally and I think I do. But then some people need to be treated differently. That is situational management based on the capabilities and also the personality of people. Do we have to be more mindful of how one works with women?
Li: Well, people are diverse.
Kropff: Right. On the one hand, people should be treated as they want to be treated based on their individual personality, and then on the other hand you want to make sure that women are taken as seriously as men in, say, science.
Ndhlela: I agree with Huihui. Supervisors should give maximum support to women because they already have full plates. The field of science is challenging, so if they feel that they're not being given enough support, they tend to get discouraged and demoralized. So, supervisors and colleagues need to take that into account. Like Huihui said, women are more emotional than our counterparts. And they need that support. When dealing with women in a professional setting, supervisors could take a visionary style where they give us space to work and do our assigned duties without a lot of interference. Micromanagement is frustrating. From my experience, women in science are serious and they can work with minimum supervision and they are really out there to achieve objectives.
Ibba: I agree with both of you. Space and trust, and constructive criticism. Apart from the strength and support from one's supervisor, it would be good to implement a mentorship program for young scientists. Sometimes you need a non-supervisor voice or someone that can guide you [who you do not report to]. Human Resources also need to play a key role in supporting women and men, and ensuring zero discrimination. But I'm sure that all we really want is to be treated as humans [laughs]. We all have emotions.
Kropff: Thank you very much colleagues for this open discussion. This has been very interesting and given me a lot of food for thought. Our conversation makes me miss pre-COVID-19 informal moments at work and at conferences, social moments where people open up. But here we show, we can do that during Zoom meetings as well with videos on to read each other's body language and with groups that are small. Thank you for the inspiration!