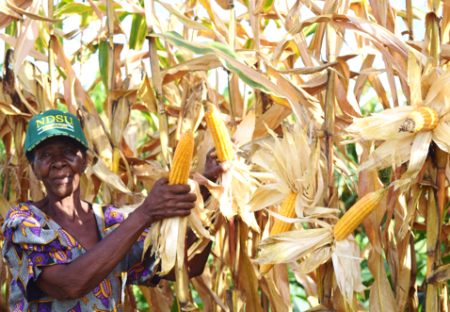 HARARE, Zimbabwe (CIMMYT) – More farmers in Zimbabwe are demanding high-yielding, highly nutritious and drought tolerant provitamin A maize.
In Zimbabwe, nearly one in every five children under the age of five years are vitamin A deficient. These deficiencies can lead to lower IQ, stunting and blindness in children, and increased susceptibility to disease across all ages.  While vitamin A is available from a variety of sources, such as fruit, green leafy vegetables and animal products, these are often too expensive or unavailable to the more than 10 million people living in Zimbabwe's rural areas.
Zimbabwe's ZS242 – an orange provitamin A maize variety released on the market by the government in October 2015 – is particularly popular with farmers due to its nice aroma and good taste.  Consuming foods made from orange maize, which is rich in beta-carotene, can provide maize-dependent populations with up to half their daily vitamin A needs, according to HarvestPlus.
Orange vitamin A maize has been conventionally bred to provide higher levels of provitamin A carotenoids, a naturally occurring plant pigment also found in many orange foods such as mangoes, carrots and pumpkins, that the body then converts into vitamin A.
These varieties are also high-yielding, disease resistant and drought tolerant, presenting an opportunity for farmers to not only increase yields but also enhance the availability of vitamins and minerals for people whose diets are dominated by micronutrient-poor staple food crops.
Mary Sikirwayi, a farmer from Murewa District, Zimbabwe, bought provitamin orange maize seed during a seed fair organized by the International Maize and Wheat Improvement Center (CIMMYT), in collaboration with the Technical Centre for Agricultural and Rural Cooperation.
The maize grew and matured so fast that by the time her family wanted to try the fresh cobs for cooking and roasting, they had already started to dry. After harvesting the grain, she decided to make sadza, a porridge-like staple food consumed in Zimbabwe. When her family ate the sadza, everyone was so excited about the good taste and flavor of the food.
In addition to the good taste of the sadza from the provitamin A maize, Sikirwayi said the yield from the orange maize is more than five times higher than the national maize average yield. In the coming year, she plans to double the planted area of orange maize, due to its high demand both on the market and in her household.
CIMMYT and HarvestPlus have been working with Zimbabwe's Department of Research and Specialist Services, Ministry of Health and Child Care, universities, seed companies, processors, retailers and the Food and Agriculture Organization of the United Nations, to demonstrate the benefits of orange maize since 2012. The Zimbabwe government has expressed strong support for enriching the micronutrient content of plants and other crops, including maize.