India has conferred posthumously upon Sanjaya Rajaram, 2014 World Food Prize laureate and former wheat breeder and Director of the Wheat Program at the International Maize and Wheat Improvement Center (CIMMYT), its prestigious 2022 Padma Bhushan Award in "Science and Engineering" in recognition of "distinguished service of high order."
Among the most successful crop breeders in history, Rajaram, who passed away in 2021, personally oversaw the development of nearly 500 high-yielding and disease-resistant wheat varieties that were grown on at least 58 million hectares in over 50 countries, increasing global wheat production by more than 200 million tons and especially benefiting hundreds of millions of the resource-poor whose diets and livelihoods depend on this critical crop. In India and the neighboring South Asian nations of Bangladesh, Nepal, and Pakistan, inhabitants consume more than 120 million tons of wheat and wheat-based foods each year.
"Dr. Rajaram was a true titan of wheat breeding and an inspiration for young researchers, training and mentoring more than 700 scientists from developing countries worldwide," said Bram Govaerts, CIMMYT director general. "He was also a complete gentleman, comporting himself with modesty and grace despite his many honors and accomplishments; his first priority was helping and crediting others. Rajaram is an example today for all of us to keep working with the final stakeholder — the farmer — in mind."
The rise from rural beginnings
Born on a small farm in District Varanasi, Uttar Pradesh, India, in 1943, Rajaram studied genetics and plant breeding at the Indian Agricultural Research Institute in New Delhi. After receiving his Ph.D. from the University of Sydney, he joined CIMMYT in 1969, working as a wheat breeder alongside Nobel Prize Laureate and CIMMYT scientist Norman Borlaug in Mexico. Recognizing his talent and initiative, Borlaug appointed Rajaram as head of CIMMYT's wheat breeding program at just 29 years of age.
The Padma Bhushan Award was announced by President Ram Nath Kovind of India on the country's Republic Day, January 26. In 2015, Rajaram received the Pravasi Bharatiya Samman award, the highest honor conferred on Indians overseas. In 2001 he accepted the Padma Shri award from the government of India and, in 1998, the Friendship Award from the government of China.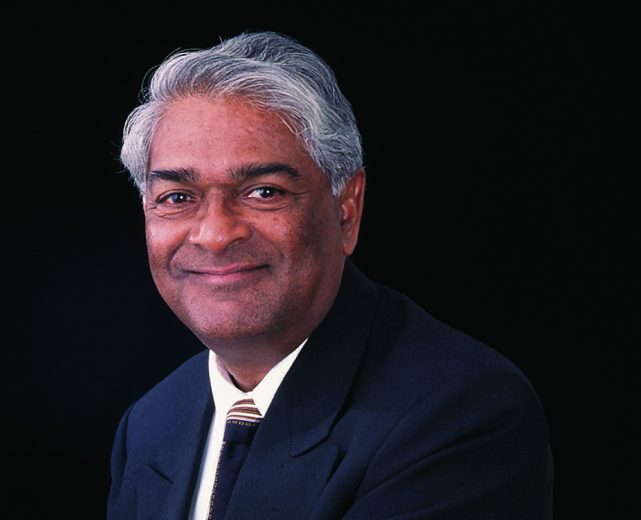 Though a plant breeder and scientist by profession, Rajaram used the platform of his 2014 World Food Prize to promote an expansive, integrated vision for agricultural development. "If we want to make a change, research won't do it alone; we need to work directly with farmers and to train young agronomists, ensuring they have a broad vision to address the problems in farmers' fields," Rajaram said at a news conference in Mexico City in 2014.
Rajaram also served as Director of the Integrated Gene Management Program at the International Center for Agricultural Research in the Dry Areas (ICARDA) before formally retiring in 2008. In his retirement, he continued as a special scientific advisor to CIMMYT and ICARDA.
Longstanding partners pushing forward for farmers
"India's agricultural research community is proud of the distinguished achievements of Dr. Rajaram," said Trilochan Mohapatra, Director General of the Indian Council of Agricultural Research (ICAR) and Secretary of the Department of Agricultural Research and Education (DARE), of India's Ministry of Agriculture and Farmers' Welfare. "ICAR greatly appreciates its valuable collaborations with CIMMYT to help farmers grow better crops and conserve resources under increasingly challenging conditions."
The partnership of India with CIMMYT harks back to the 1960s-70s, when Indian farmers tripled national wheat yields in a few years by growing Borlaug's high-yield wheat varieties and adopting improved farming practices.
In 2011, India and CIMMYT jointly launched the Borlaug Institute for South Asia (BISA) to improve cropping systems and food security, helping farmers to confront climate change and natural resource scarcities, among other challenges.
S. Ayyappan, former ICAR Director General who signed the joint declaration of intent for BISA's establishment in India, has been honored with the 2022 Padma Shri Award.
CIMMYT is a non-profit international agricultural research and training organization focusing on two of the world's most important cereal grains, maize and wheat, and related cropping systems and livelihoods. Wheat varieties derived from CIMMYT and ICARDA research cover more than 100 million hectares — nearly two-thirds of the area sown to improved wheat worldwide — and bring benefits in added grain worth as much as $3.8 billion each year.