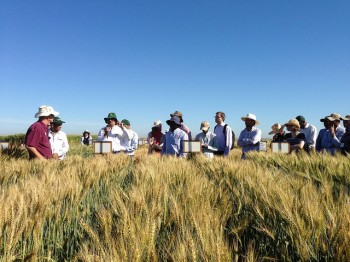 EL BATAN, Mexico (CIMMYT) – Food shortages will escalate due to climate change-related production shocks and the international community must prepare to respond to price increases and social unrest, particularly in less developed countries, cautioned a joint British-U.S. taskforce in a new report.
Instead of occurring once every hundred years, severe food production shocks are likely to occur once every 30 years by 2040, a problem compounded by global warming and increasing population, said the Taskforce on Extreme Weather and Global Food System Resilience.
By 2050, the current global population of 7.3 billion is projected to grow 33 percent to 9.7 billion, according to the United Nations. Demand for food, driven by population, demographic changes and increasing global wealth will rise more than 60 percent, the report said.
"We agree with the premise of the report and the interventions recommended to improve the resilience of the global food system to the impact of climate shocks," said Matthew Reynolds, a distinguished scientist at the International Maize and Wheat Improvement Center (CIMMYT).
"However, the report fails to address the urgent need for political will to make it happen," Reynolds said. "It presents a paradox, given the relatively modest economic investments required to bolster long-term food security, compared to the costs not only of crisis management resulting from food shortages, but the incalculable cost of predicted food price-hikes to billions of people who already spend most of their income on food."
For almost 50 years, CIMMYT and its sister CGIAR centers, which conduct research into agriculture and food security, have been building a vital infrastructure to reduce the risk of famine at a global level.
CIMMYT's work on wheat was developed in the 1960s and 1970s, helping to avert widespread famine in Asia and other regions. The Mexico-based research center continues its mission to deliver international public goods in the form of improved maize and wheat varieties and cropping systems, focusing on resource poor consumers, particularly in climate vulnerable regions.
"We are slightly baffled," Reynolds said. "The global food security system has been in a constant funding crisis since the end of the Cold War in 1991. Scientists are often overwhelmed by time-consuming, unrealistic demands to acquire funding, which limits time spent in the field conducting research. We're hoping the report signals a renewed zeal for allocating funds destined specifically for agricultural research."
FOOD SECURITY CONTRIBUTIONS
Scientific efforts at CGIAR have included producing heat and drought adapted cultivars of rice, wheat and maize, and disease and pest resistant crop cultivars for farmers who cannot afford protective, but costly, chemical applications.
Under the umbrella of the Borlaug Global Rust Initiative, scientists are working on a major project to avoid a global epidemic of swift-moving Ug99 stem rust wheat disease which, if left uncontrolled, could devastate productivity worldwide.
Under the CGIAR Research Program on Wheat, CIMMYT provided the groundwork for the recently launched $50 millionInternational Wheat Improvement Partnership (IWYP) initiative, which taps into the expertise of leading applied plant scientists worldwide to take wheat productivity to its maximum biological capacity within 25 years.
Similarly, more than 100 scientists representing 40 crop research institutes gathered at a recent meeting in Frankfurt, Germany, to develop a platform to translate decades of research in plant stress physiology and biotechnology into a new generation of wheat cultivars that will be productive under levels of heat and drought stress predicted by climate scientists.
The initiative, called the Heat and Drought Wheat Improvement Consortium (HeDWIC), involves applied plant scientists from all continents.
"HeDWIC scientists are eager to get started, they just need a 'green light' from funding agencies," Reynolds said.
"Ultimately, food shortages could cause wide-spread disillusionment with current political and economic models and have other unpredictable consequences."
The report, which was sponsored by Britain's Global Food Security program and was jointly commissioned by the UK Science and Innovation Network and Foreign and Commonwealth Office, notes that agriculture faces a triple challenge.
"Increases in productivity, sustainability and resilience to climate change are required," the report states, acknowledging that the effort "will require significant investment from the public and private sectors, as well as new cross-sector collaborations between scientists, agriculture, water and environmental specialists, technology providers, policymakers and civil engineers among others."