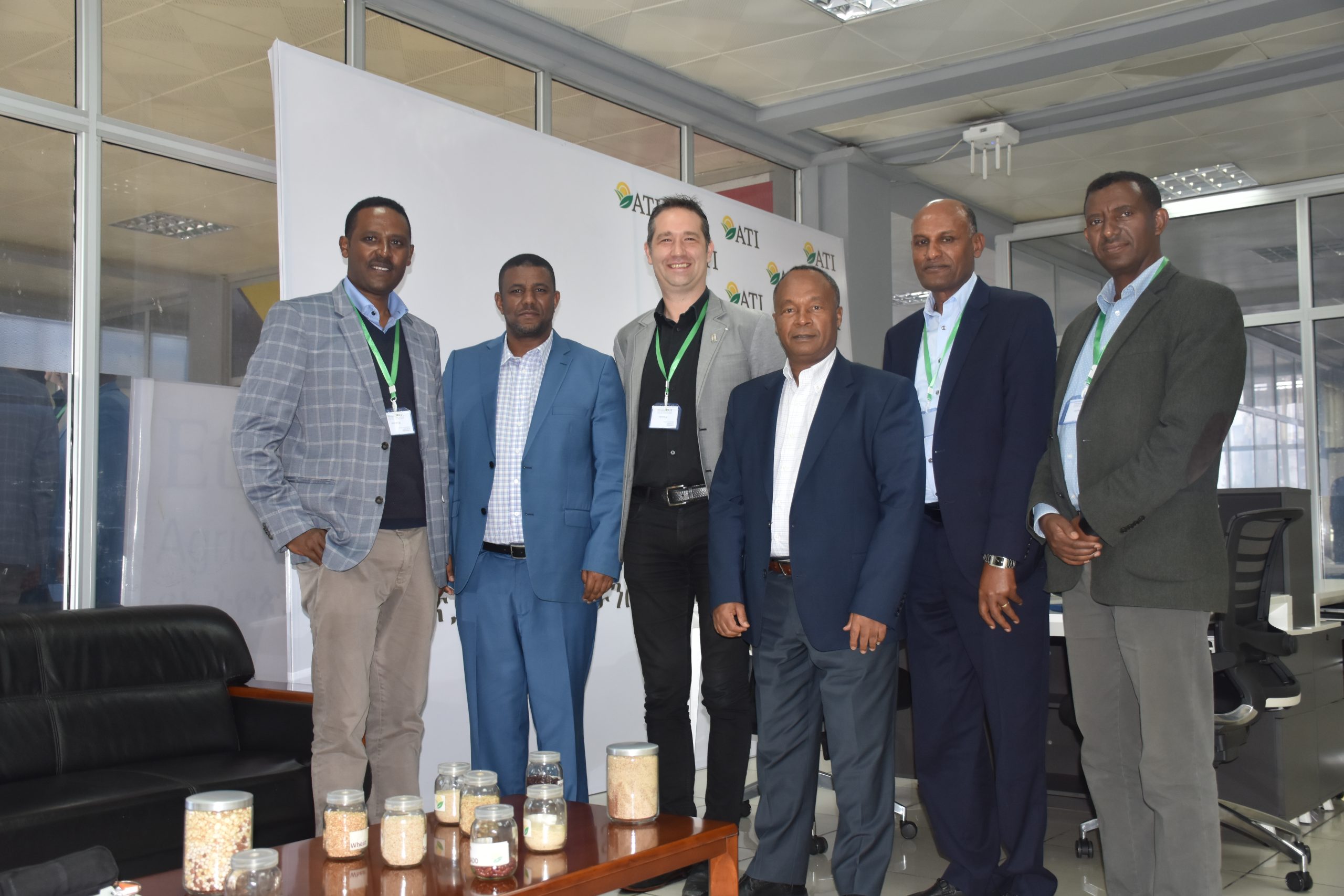 In early September 2022, the International Maize and Wheat Improvement Center (CIMMYT) Director General Bram Govaerts made a brief visit to Ethiopia — his first since taking on the role in 2021. Over two days in Addis Ababa he met with a number of government representatives, donors and partners, including the Agricultural Transformation Institute (ATI), the Ethiopian Institute for Agricultural Research (EIAR), Deutsche Gesellschaft fuer Internationale Zusammenarbeit (GIZ) GmbH, and The Development Fund.
Discussions centered around South-South cooperation and how CIMMYT's strategic priority to transform agrifood systems can support efforts to improve the livelihoods of resource poor farmers in Ethiopia and national food security. Through longstanding collaboration with local partners, CIMMYT has continued to support the country through maize and wheat germplasm supply, joint technology generation and demonstrations at scale, but the visit provided an opportunity to identify shared priorities and key areas for partnership.
Supporting a plan for self-sufficiency
In a meeting with representatives from the ATI and EIAR, the CIMMYT delegation were briefed on the elements of the Government of Ethiopia's ten-year development plan and its targets to achieve food self-sufficiency by 2030, with commercialization, advocacy on land ownership, and financial sector reform emerging as key areas of focus.
In terms of policy change, explained ATI Director General Mandefro Nigussie, there are ten core agendas that the government has set and plans to implement in the coming years. These include land governance and advisory; public-private partnership; marketing and infrastructure; and digital agriculture. The continued need for capacity building emerged as a key concern, as high staff turnover has meant many of those trained by CIMMYT previously had now left their posts.
Govaerts thanked ATI and EIAR for their collaboration so far, noting that this would surely continue as CIMMYT planned to double engagement, collaboration, production and partnerships in the coming years. Addressing the concerns raised around capacity building, particularly the training of experts, he explained that training opportunities had been limited in the last two years because of the COVID-19 pandemic and budget constraints, but capacity building for research and extension was included in the list of future action points, including a ministerial visit to CIMMYT offices in either Mexico or India.
The discussions were productive, and participants reached agreement on several other points, including collaboration on the establishment of a One Stop Shop by ATI; supporting EIAR's data warehouse development that will provide farmers with access to an agronomy advisory services hotline; and supporting the breading of wheat for heat tolerance and Ethiopia's irrigated wheat initiative.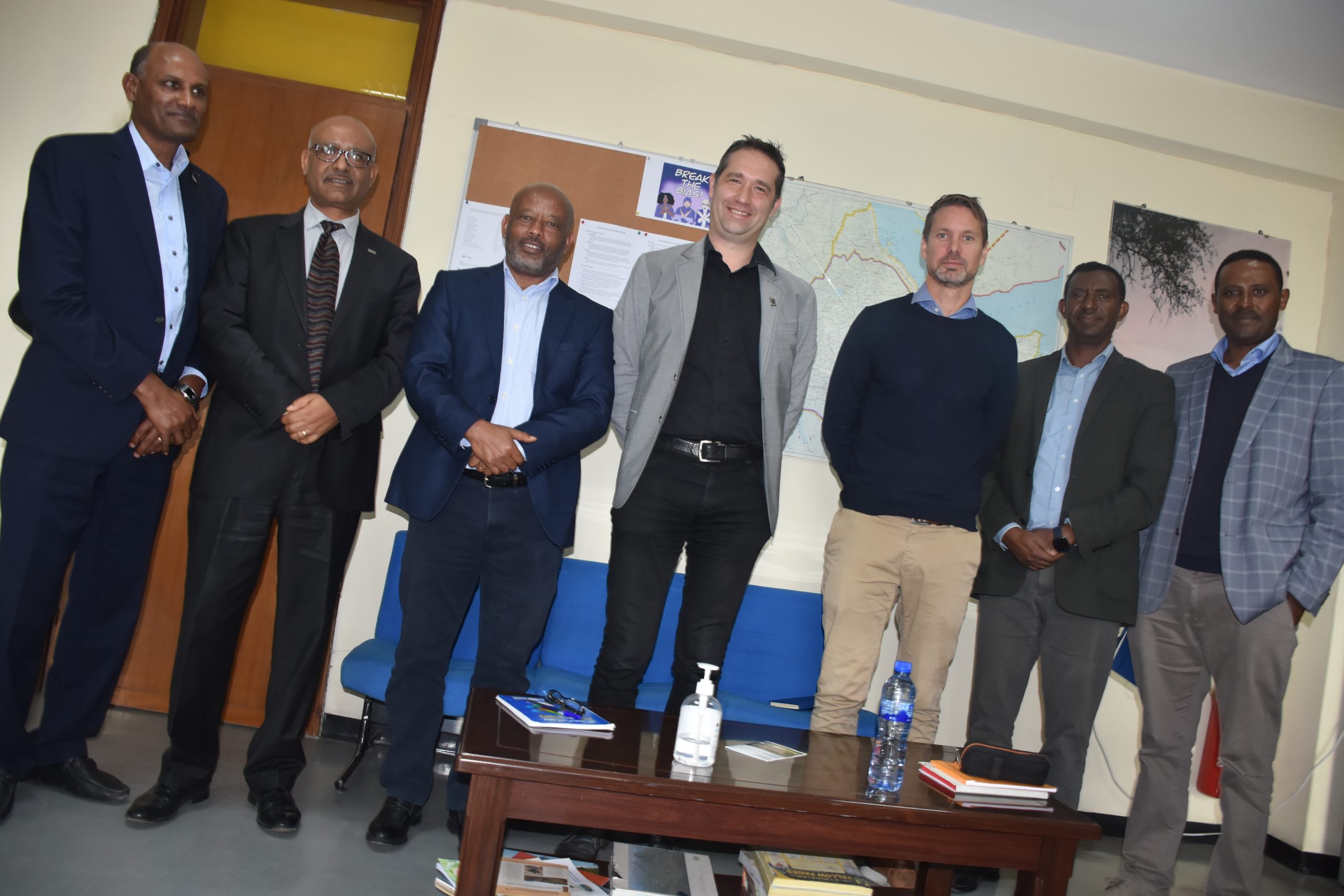 Strengthening collaboration
Govaerts later met with several representatives from The Development Fund, including Country Director for Ethiopia Ulf Flink, to discuss opportunities for strengthening partnerships for greater impact. The Development Fund's Ethiopian portfolio has evolved over four decades from supporting relief work by one Tigrayan organization to supporting multiple projects with several organizations in Tigray and Afar, with a focus on socio-economic development to alleviate poverty, and improve food security and natural resource management in dryland areas.
While the organization has recently encountered challenges in Tigray, with several programs disrupted by instability, Flink noted that the implementation of The Development Fund's collaborative projects with CIMMYT are progressing well and pointed out opportunities to scale-up joint operations in the region, where more than 5,000 farmers have been supported so far.
Govaerts thanked The Development Fund for the strong collaboration so far and emphasized CIMMYT's need for continued strategic partnership in South-South collaboration that can make a difference to smallholders in the country. He also pointed to CIMMYT's aim of doubling impact and coverage, highlighting that changes in partners' thinking and ways of intervening could be opportunities to strengthen collaboration with The Development Fund.
Cognizant of the limitations imposed by major challenges such as funding modalities — which are shifting towards humanitarian rather than development assistance — and the increasing price of mechanization, meeting participants were able to agree on a number of action points to support future collaborative work. These include continued support to project implementation in Tigray when the security situation allows; exploring opportunities to strengthen collaborations in other countries such as Malawi; and supporting research-based advocacy at both regional and zonal levels.
Additionally, CIMMYT will share its methodology for Integrated Development and research-based humanitarian development support, and work with The Development Fund to provide improved crop varieties and grain with smallholder famers in drought- and conflict-affected areas where projects are being implemented.