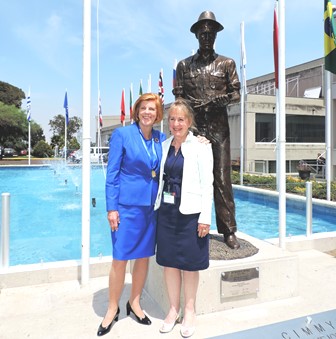 EL BATAN, Mexico (CIMMYT) – Artist Katharine McDevitt, creator of a new bronze representation of wheat scientist Norman Borlaug, is fascinated by sculptures representing pre-Hispanic deities – so much so that she relocated to Mexico from the United States to learn more about the ancient art form.
She studied, and then taught, sculpture at "La Esmeralda," the National School of Painting, Sculpture and Engraving in Mexico City, where renowned Mexican artists Frida Kahlo and Diego Rivera taught in the 1940s.
Almost 40 years later, McDevitt is still in Mexico where for the past 21 years she has worked at the Chapingo Autonomous University of agriculture and the National Museum of Agriculture as a sculpture instructor and artist in residence.
The Chapingo campus, in the city of Texcoco about 30 kilometers (20 miles) from Mexico City, is home to a mural painted by Rivera in the 1920s titled "Fertile Land."
Sculptor McDevitt says her personal pre-Hispanic favorite is a 16th century basalt depiction of the Aztec earth goddess Coatlicue, associated with agriculture, the cycle of life, the mother of the moon, stars and Huitzilopochtli, the god of war, sun and human sacrifice. The 2.6-meter (8.5-foot) tall sculpture, housed in Mexico's National Museum of Anthropology, represents Coatlicue decapitated, snakes emerging from her neck, clad in a skirt of snakes and a necklace of human hearts, hands and a skull.
"I'm always very moved by pre-Hispanic sculpture, I find it very powerful – it's a language that speaks across boundaries of culture, you can feel the tremendous energy," said McDevitt, who has also made her own pantheon of deities, including the Diosa del Maíz statue at Chapingo.
The massive stone Coatlicue sculpture is a far cry from her own gentle tribute in bronze to a more contemporary agricultural giant – 1970 Nobel Peace Prize laureate Norman Borlaug – which was unveiled in the presence of his daughter Jeanie Laube Borlaug and members of the international wheat community at CIMMYT headquarters near Texcoco last week.
Borlaug, who died in 2009 at age 95, led efforts that began at CIMMYT in Mexico to develop high-yielding, disease-resistant, semi-dwarf wheat varieties in the mid-20th century. His successes, which earned him the title "Father of the Green Revolution," are estimated to have helped save more than 1 billion lives in the developing world.
The life-size sculpture is based on an emblematic photograph of the scientist, McDevitt said. Borlaug, originally from Iowa, is wearing a familiar hat, jotting down notes in a book and wearing a class ring from the University of Minnesota where he earned his graduate degrees. The wheat stalks at his feet were made from casts of wheat plants of the varieties used for the Green Revolution, McDevitt said.
"This is the most inspiring figure I've ever had the privilege of doing," McDevitt said, adding that she considers Borlaug a modern god of agriculture. "This project has been the greatest honor of my career. There was a lot of input from CIMMYT staff who knew Dr. Borlaug well. They offered suggestions, useful comments and tips on how to make the sculpture more life-like, how to make it more faithful to who Dr. Borlaug was."
McDevitt also designs and produces pre-Hispanic rituals at the Chapingo Autonomous University, including a graduation ritual designed around Tlaloc, the Aztec god of rain, water, lightning and agriculture. Each August, McDevitt designs a welcome ritual for new students based around the story of Xilonen, the corn goddess.
In 2001, Borlaug participated in an interactive seed sowing-ritual inspired by Rivera's murals. As part of the ritual, which occurs every year on Agronomy Day on February 22, a hand – created by McDevitt – emerges from furrows of earth, laid out in the National Agricultural Museum.
Three life-size versions of McDevitt's Borlaug statue exist. One is in Ciudad Obregon in the northern Mexican state of Sonora and the other is in Delhi, India. A small number of miniature replicas have been distributed to recognize important achievements of key contributors to global food security, including 2014 World Food Prize laureate Sanjaya Rajaram, a former student of Borlaug's at CIMMYT.