South Asia was the epicenter of the Green Revolution, a historic era of agricultural innovation that fed billions of people on the brink of famine.
Yet despite the indisputably positive nutritional and developmental impacts of the Green Revolution of the 1960s, the era of innovation also led to the widespread use of farming practices—like intensive tilling, monoculture, removal and burning of crop residues, and over-use of synthetic fertilizer—that have a deleterious effect on the soil and cause off-site ecological harm. Excess pumping of irrigation water over decades has dried out the region's chief aquifer.
South Asia's woes illustrate the environmental costs of intensive food production to feed our densely-populated planet. Currently, one billion hectares of land worldwide suffers from degraded soils.
The International Maize and Wheat Improvement Center (CIMMYT) works with two of the world's most widely cultivated and consumed cereal crops. To grow enough of these staple foods to feed the world, a second Green Revolution is needed: one that avoids the mistakes of the past, regenerates degraded land and reboots biodiversity in farm areas.
M.L. Jat, a CIMMYT Principal Scientist, has spent 20 years studying and promoting sustainable agricultural practices for maize- and wheat-based farming systems. In the following Q&A, Jat tells us about regenerative agriculture: integrated farming and grazing practices intended to rebuild soil organic matter and restore degraded soil biodiversity.
Q: What major components or practices are part of regenerative agriculture?
A: Regenerative agriculture is a comprehensive system of farming that harnesses the power of soil biology to rebuild soil organic matter, diversify crop systems, and improve water retention and nutrient uptake. The depletion of biodiversity, degradation of soil health, warming, and drier weather in farm areas have necessitated a reversal in agriculture from "degeneration to regeneration."
The practices address food and nutritional security challenges while protecting natural resources and lowering agriculture's environmental footprint, in line with the United Nations Sustainable Development Goals. CIMMYT has worked for years to research and promote conservation agriculture, which contributes to the aims of regenerative agriculture, and is already practiced on more than 200 million hectares globally — 15% of all cropland — and is expanding at a rate of 10.5 million hectares per year.
Q: What are the potential roles of major food crops — maize, rice, and wheat — in regenerative agriculture systems?
A: Regenerative agriculture is "crop neutral;" that is, it is applicable to almost all crops and farming systems. The world's rice, wheat, and maize crops have an enormous physical and ecological footprint on land and natural resources, but play a critical role in food and nutrition security. Considering that anthropogenic climate change has reduced the global agricultural total factor productivity by about 21% in the past six decades, applying regenerative agriculture approaches to these systems represents a momentous contribution toward sustainable farming under increasing climatic risks.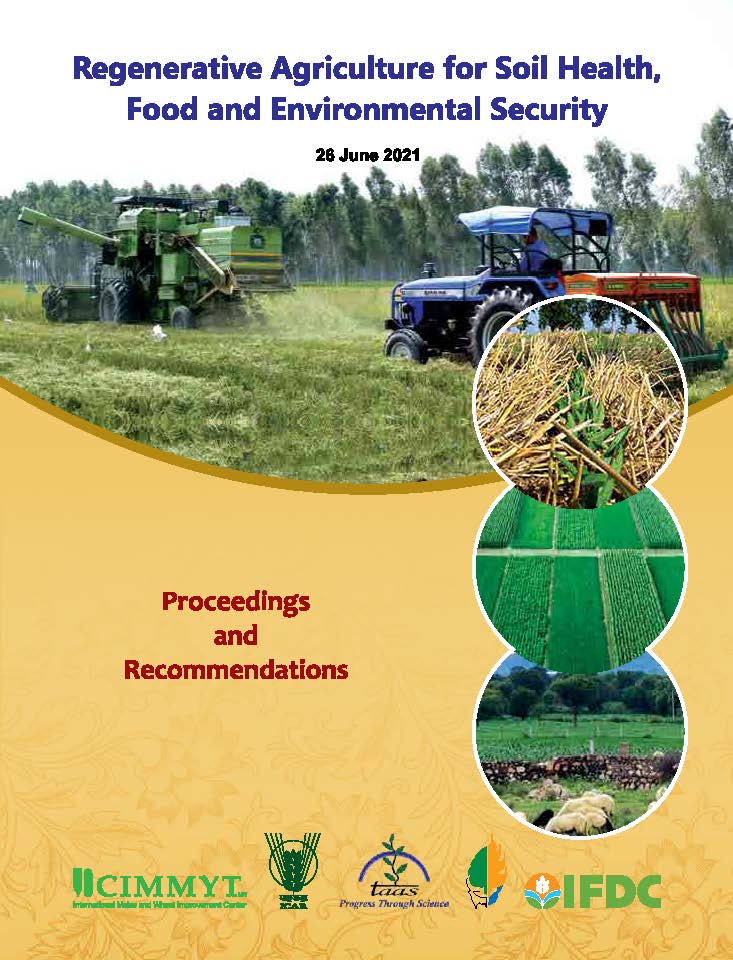 Q: What elements or approaches of regenerative agriculture are applicable in India and how can they be applied?
A: Regenerative practices for maize and wheat systems in India include no-tillage, crop residue recycling, legume inter-cropping and cover crops, crop diversification, integrated nutrient management, and precision water management.
The potential area of adoption for regenerative agriculture in India covers at least 50 million hectares across a diversity of cropping systems and agroecologies — including irrigated, rainfed, and arid farmlands — and can be approached through appropriate targeting, investments, knowledge and capacity enhancement, and enabling policies.
In the breadbasket region of the Indo-Gangetic Plains, regenerative agriculture can help address the aforementioned second-generation problems of the Green Revolution, as well as contributing to the Indian government's Soil Health Mission and its COP26 commitments.
Q: In order to get regenerative agriculture off the ground in South Asia, who will be involved?
A: Adapting and applying regenerative agriculture's portfolio of practices will require the participation of all stakeholders associated with farming. Application of these principles is location- and situation-specific, so researchers, extension functionaries, value chain actors, philanthropists, environmentalists, NGOs, farmers, and policy planners all have a role to play in the impact pathway.
CIMMYT, the Borlaug Institute for South Asia (BISA), public and private programs and agencies, and farmers themselves have been developing, refining, and scaling out conservation agriculture-based regenerative agriculture practices for some three decades in South Asia. CIMMYT and BISA will continue to play a key role in mainstreaming regenerative agriculture in local, national, and regional development plans through science-based policy and capacity development.
Q: Farmers constitute a strong economic and political force in India. How can they be brought on board to practice regenerative agriculture, which could be more costly and knowledge-intensive than their current practices?
A: We need to pursue business "unusual" and harness the potential opportunities of regenerative agriculture to sequester soil carbon and reduce greenhouse gas emissions. Regenerative agriculture practices can offer farmers additional income and certainly create a "pull factor" for their adoption, something that has already started and will constitute a strong business case. For example, innovative business models give farmers an opportunity to trade ecosystem services and carbon credits through repurposing subsidies and developing carbon markets for private sectors. CIMMYT, along with the Indian Council of Agricultural Research and private partners such as Grow Indigo, are already helping to put in place a framework to acquire carbon credits through regenerative agriculture in India.
For more information about the application of regenerative agriculture on India's farmlands, see "Regenerative Agriculture for Soil Health, Food and Environmental Security: Proceedings and Recommendations" from the Trust for Advancement of Agricultural Sciences.
Cover photo: Brown and green fields. (Photo: Elizabeth Lies/Unsplash)