Protected from the harsh midday sun with a hat, Pramila Mondal pushes behind the roaring engine of a two-wheel tractor. She cultivates a small plot of land with her husband in the small village of Bara Kanaibila, in the Rajbari district of Bangladesh, near the capital Dhaka.
Using this machine, she also provides planting services to farmers who need to sow wheat, maize, mungbean, mustard and jute, earning her between $600 and $960 in each planting season.
Mondal and her husband first heard about this technology five years ago, when they attended an event to promote agricultural mechanization, organized by the International Maize and Wheat Improvement Center (CIMMYT). After seeing a demonstration, they were convinced that the power-tiller-operated seeder could form the basis for a business.
Ultimately, Mondal bought the machine. She got training on how to operate and maintain it, as part of the Cereal Systems Initiative for South Asia – Mechanization Irrigation and Mechanization Extension Activity (CSISA-MI and CSISA-MEA) project, supported by USAID through Feed the Future.
Let's get it started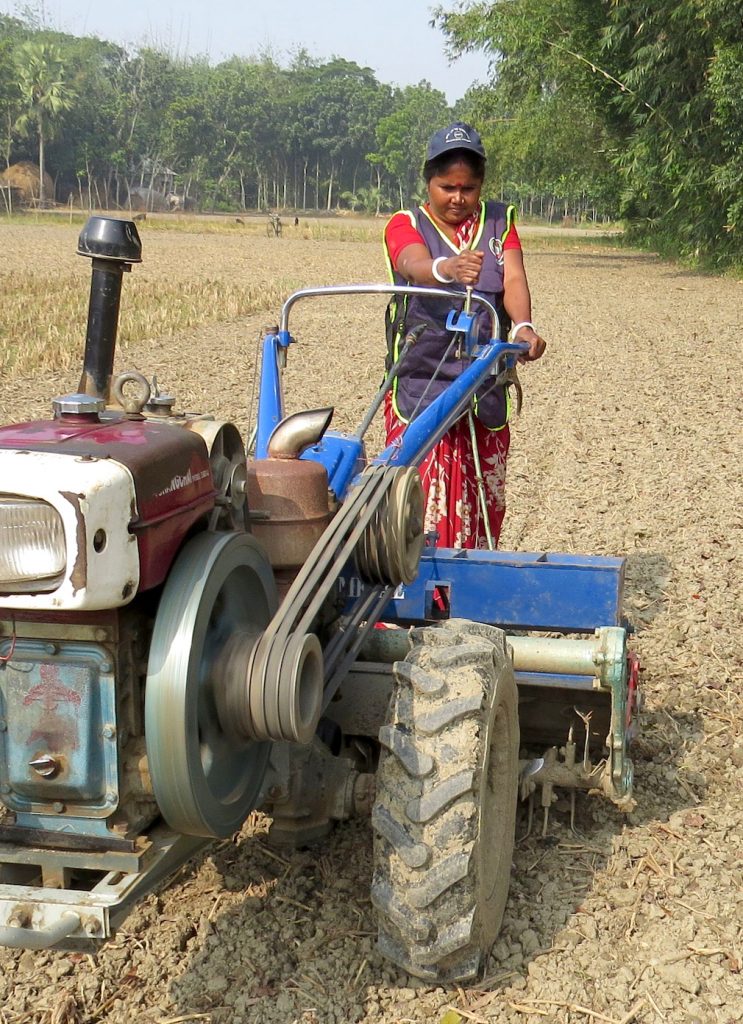 Mondal became the only woman in her area who could operate a seeder of this type, making her locally famous. After seeing the results of her business, others followed suit.
Eight more women in her area expressed interest in operating power-tiller-operated seeders and also went on to become service providers.
They all faced a similar problem: power tillers are hard to start. Pulling the starting rope or turning the hand crank requires a lot of strength.
The CSISA-MEA project team worked with a local engineering company to introduce a self-starting mechanism for power tiller engines. Since then, starting diesel engines is no longer a problem for women like Mondal.
Glee for the tillerwoman
Almost all of the 11 million hectares of rice planted every year in Bangladesh are transplanted by hand. It is becoming increasingly difficult to find people willing to do this type of backbreaking work. New machines are being introduced that transplant rice mechanically, but they require rice seedling to be raised in seedling mats.
As this new service is required, Mondal jumped at the opportunity. With support from CIMMYT through the CSISA-MEA project, she is now raising seedlings for this new type of rice transplanters.
CIMMYT facilitated training for machinery service providers on mat type seedling production, in partnership with private companies. Mondal and other women who were also trained produced enough seedlings to plant 3.2 hectares of land with a rice transplanter they hired from a local owner.
Mondal and her husband now have big dreams. They intend to buy a rice transplanter and a combine harvester.
"With our effort we can make these changes, but a little support can make big difference, which the CSISA-MEA project did," she said.