It is a general perception, globally and in Bangladesh, that women do not have a role in the agricultural mechanization sector. However, a deeper look into the sector shows a different reality. Women in Bangladesh are owners and managers in businesses supported by the Cereal Systems Initiative for South Asia Mechanization Extension Activity (CSISA-MEA), funded by the United States Agency for International Development (USAID) Feed the Future initiative.
Professions have no gender
Poly Rani married her husband, Poritosh Kumar Malo, when she was 15. He is an engineer who established his own machine manufacturing business, RK Metal Ltd of Faridpur. As the business expanded Rani began to help her husband with office administration work, leaving him time to supervise the manufacturing side.
"After my marriage, my husband asked me to spend some time in his shop, as he was busy with his job. I never thought I would work in a mechanical workshop where everything is related to machines and male-dominated. Eventually, I started to like it, and now it is my passion. I know every machine and their functions very well. Therefore, when customers arrive, I can explain things," Rani said.  
With support of CSISA-MEA, their business has expanded quickly, now employing 15 staff and manufacturing 38 types of small machines such as rice threshers, corn shellers and fodder choppers. They sell up to 400 machines a year. As the couple expanded the business, Rani's administrative role became more important and diverse. She now manages the finances and takes orders for machines, using Facebook and YouTube.
"I wish I was a bit more educated and knew better these technical things. I have a dream that one of my daughters will become an engineer and join our workshop, because professions have no gender — we put gender identity with professions. I can cook, raise children and manage a business as well."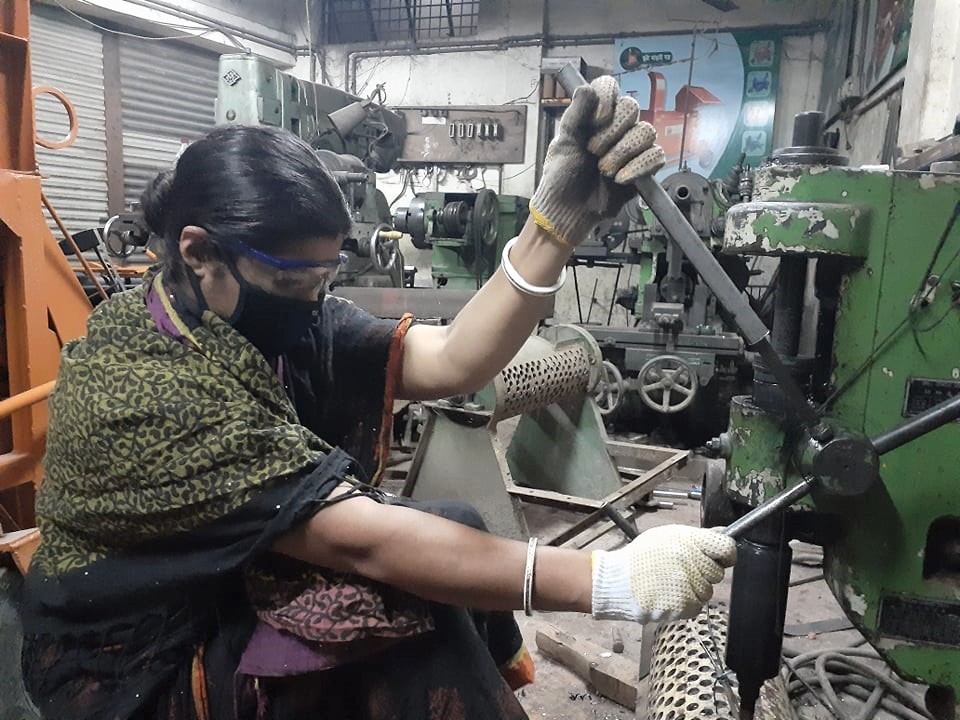 Seedlings of change
It is rare for women in Bangladesh to run businesses that provide farmers with mechanization services. One exception is a group of nine women from Baliakandi Upazila in Rajbari District. They have owned and provided planting services for four years using a power tiller operated seeder (PTOS), which annually earns them approximately $500 each. However, this machine cannot transplant rice.
Rice transplanting is a major labor-consuming activity in Bangladesh, where workers manually transplant 11 million hectares of rice each year. A new machine, called the rice transplanter, is being introduced to Bangladesh. However, to transplant rice seedlings with this machine, the seedlings have to be raised on plastic sheets so they have a mat of roots that allows the machine to pick them up and plant them. With the growing popularity of these machines, the women's group saw raising these seedlings as a good business opportunity. After learning the seedling raising technology from CSISA-MEA, they have produced and sold seedlings sufficient for 10 hectares. The next step is to buy a rice transplanter!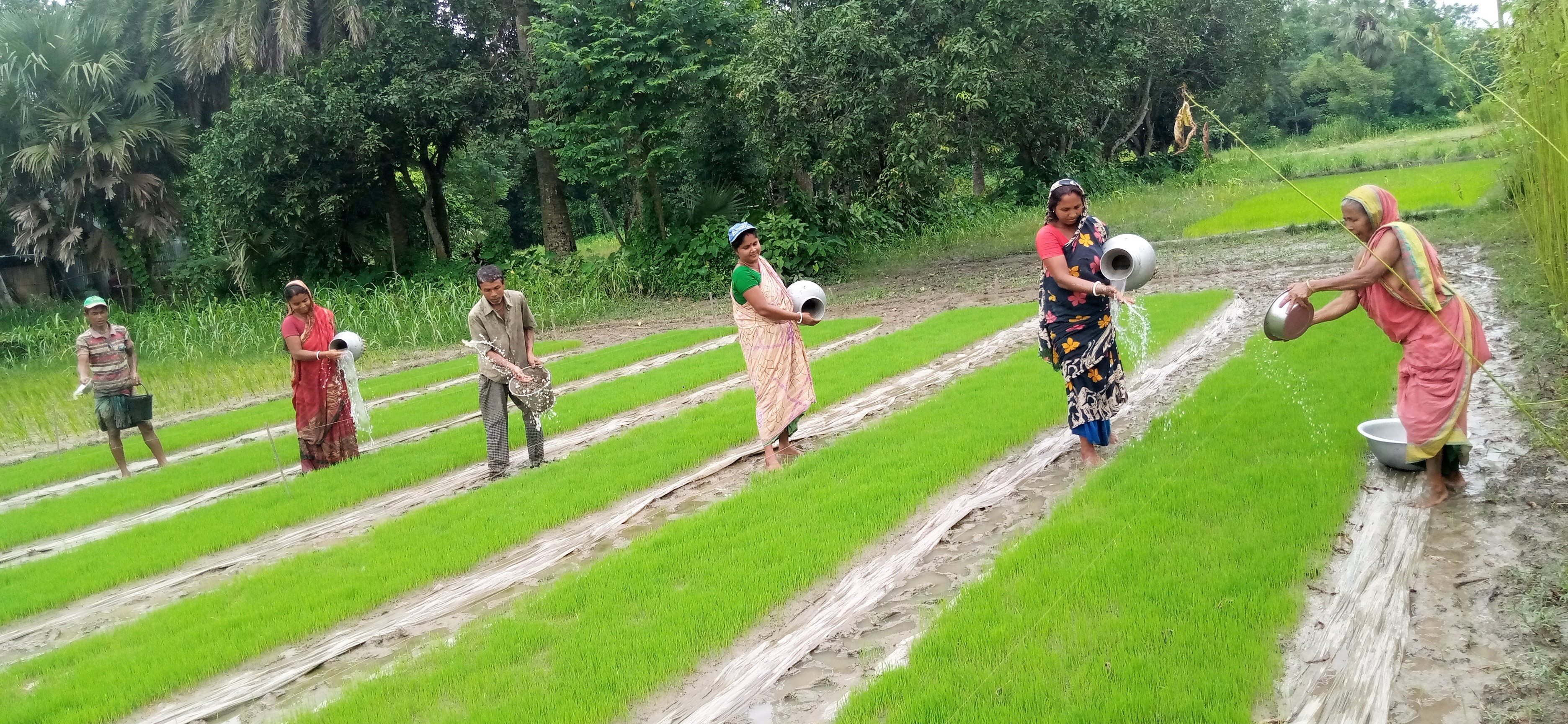 Gender gap
Jorina Begum is the sole breadwinner of her family at 25, caring for her mother, four-year-old son  and two disabled siblings in Ramnagor, Sadar, Jashore. After her father's death when she was ten years old, Begum had to abandon school and start working as a foundry cleaner. She married at an early age and quickly became a mother, but immediately after her son's birth, her husband left her.
She now works in a foundry where she paints machine parts. "My wage is 75% less than the male workers," said Begum. "I get only 200 taka [$2] per hour. I work the same hours as the men do but I am paid less, because I cannot do the heavy work and I do not have training."
In foundries and machinery workshops, women are considered less productive than men. "If I could receive some training, I could perform better and earn more, which will benefit my employer and my family," said Begum. 
To respond to this need, CSISA-MEA is working to raise women's capacity to work in the agricultural mechanization sector and manage machinery-based businesses through technical and business training. Through these opportunities, more women like Rani and Begum will be able to contribute to the development of this sector.
Cover photo: Jorina Begum works in the foundry workshop. (Photo: Touhidur Rahman)