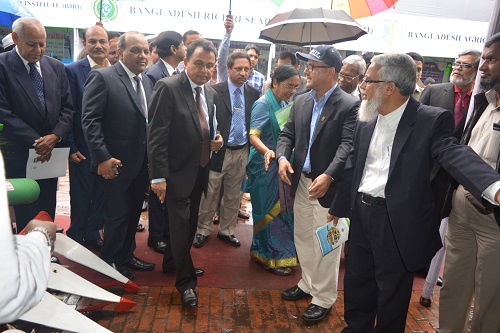 DHAKA, Bangladesh – On December 10 2017, The International Maize and Wheat Improvement Center (CIMMYT) joined the South Asian Association for Regional Cooperation (SAARC) in celebrating the 33rd SAARC Charter Day – the annual festivities commemorating the formation of SAARC. The day was celebrated through a special agricultural exhibition and regional seminar on agricultural mechanization in the Bangladesh Agricultural Research Centre (BARC) campus, Dhaka.
With the theme "International Year of Agricultural Mechanization", the event aimed to educate the attendees on improved farm machine and technologies, and promote agricultural mechanization for sustainable intensification of agriculture to achieve greater food and nutrition security in South Asia.
CIMMYT exhibited its conservation agricultural (CA) techniques and machines that have been developed in collaboration with public and private sector partners. The exhibition stall was visited by government officials (including two ministers in Bangladesh), NGOs and private sector organization, as well as people off the street.
The Minister for Planning A. H. M. Mustafa Kamal inaugurated the event and later visited CIMMYT's exhibition stall.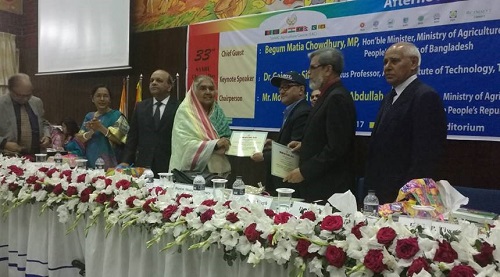 CIMMYT Country Representative for Bangladesh, Thakur Prasad Tiwari, along with senior scientists and staffs were present during the visit and explained CIMMYT activities to the delegates.
A book titled "Mechanisation for Sustainable Agriculture Intensification in SAARC region," with a chapter on the role of mechanization in CA written by McHugh, Ken Sayre and Jeff Esdaile, of CIMMYT's CA team was launched during the event.
Chowdhury presented a certificate of appreciation and plaque to Tiwari on behalf of CIMMYT and its keynote speaker, McHugh.