For Ethiopian smallholder farmers who have for millennia used the traditional animal-drawn maresha plow, two-wheel tractors could increase their productivity while reducing labor. They appear better suited to the Highlands of Ethiopia, characterized by small, fragmented farms and hilly terrain, than four-wheel tractors, which are only well-suited for large- and medium-scale farmers who comprise about 10% of the country's estimated 14.7 million farmers. Two-wheel tractors are also very versatile and can be used for seeding, pumping water, threshing wheat and transporting heavy loads.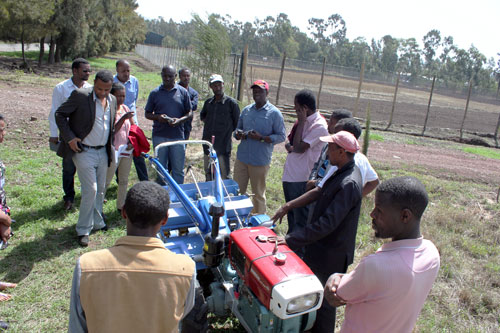 Although two-wheel tractors and their attachments are relatively cheap (about US $1,400) and easy to maintain, it is evident that most Ethiopian farmers won't be able to purchase them individually. Still, they could hire the services of dedicated providers trained to use two-wheel tractors. To make mechanization accessible to smallholder farmers, on 1-5 June 2015 CIMMYT and its partners organized a training course for service providers from Debre Birhan, Sinana and Lemo woredas (districts). They were trained in the operation, maintenance, business, financial management and marketing of two-wheel tractors.
The service model being tested by CIMMYT and its partners has been adopted in Bangladesh, where a single two-wheel tractor can service up to 30 farmers. The initiative to disseminate two-wheel tractors in the Highlands of Ethiopia is supported by the United States Agency for International Development's (USAID) Africa Research in Sustainable Intensification for the Next Generation (Africa RISING) program. After the course, trainees returned to their respective areas equipped with two-wheel tractors and various attachments, to start providing seeding, transport and water pumping services to local farmers.
Since the Growth and Transformation Plan was established by the Government of Ethiopia in 2011, tremendous progress has been made in the agricultural sector. Farmers now have access to better seeds and adequate quantities of fertilizer. Yields have increased dramatically, and improved connections between farmers and markets mean higher incomes for farmers and more food available for consumers in both rural and urban areas.
Sustaining such an increase in agricultural output, however, will require a proportionate increase in farm power. In response, the Ministry of Agriculture and the Ethiopian Agricultural Transformation Agency developed a draft national mechanization strategy in 2014, with the goal of increasing the farm power available to Ethiopian farmers 10-fold by 2025.