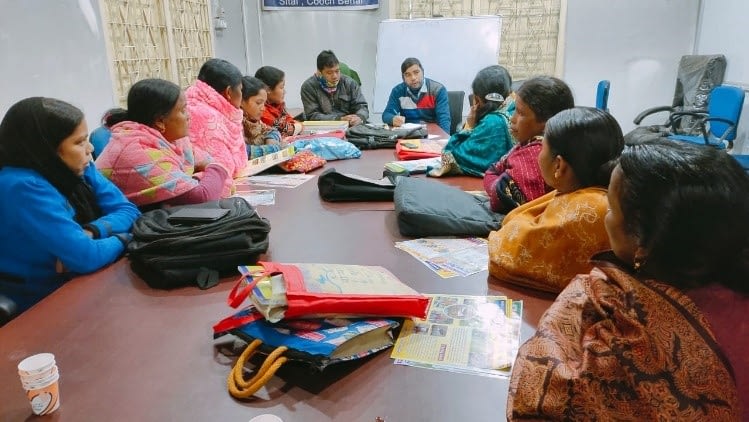 For many years, the International Maize and Wheat Improvement Center (CIMMYT) has been working to improve the productivity, profitability and sustainability of smallholder agriculture in India through conservation agriculture and sustainable intensification practices. The Sustainable and Resilient Farming Systems Intensification (SRFSI) project began in 2014 in the state of West Bengal, with participatory research in eight farming cooperatives from the cities of Cooch Behar and Malda. Through the SRFSI project, CIMMYT has helped encourage women to participate in agricultural processes, adopt sustainable practices for various crops and utilize new technologies to improve their livelihoods.
Women farmers in West Bengal have demonstrated an interest in part-time agribusiness occupations. Some of them are coming together to form farmer groups and cooperatives that make a profit.
Mooni Bibi and other women from her community founded the Mukta Self Help Group. This organization of female farmers, supported by CIMMYT through the SRFSI project, helped turned rice cultivation into a business opportunity that helps other women. As a result of these efforts, these women now enjoy more financial freedom, can afford healthier food, are able to provide a better education for their children and benefit from an improved social standing within the community.
The Satmile Satish Club O Pathagar (SSCOP), a CIMMYT partner, has been vital in this process. SSCOP is now a resource for technical support and a training hub for conservation agriculture. It is now focused on introducing conservation agriculture practices to more areas, beginning with Sitai, a new neighborhood in Cooch Behar. This area is rich in proactive female farmers, but its agricultural sector is not fully modernized yet.
A group of women in Sitai founded Grambikash Farmers Producer Company, another farming cooperative that aims to increase crop yields and promote sustainability. The company challenges social norms and helps women become more financially and socially independent. This group of entrepreneurs is committed to apply conservation agriculture and sustainable intensification technology on 30 acres of land, beginning in 2020, with continuous support from SSCOP.
Through its work helping farmers in Cooch Behar, SSCOP is now a center of excellence for rural entrepreneurship as well as an advocate for conservation agriculture in West Bengal. They provide technical support and serve as a training hub for conservation agriculture and various associated sectors. Much of the training done by SSCOP is now self-funded.
Since 2014, CIMMYT has been collaborating with SSCOP to reach out to more than 70,000 farmers in Cooch Behar, spreading the benefits of conservation agriculture and sustainable intensification beyond the lifespan of the SRFSI project.