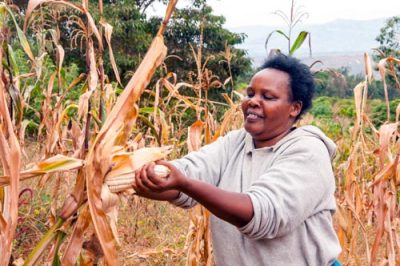 NAIROBI (CIMMYT) — A new study has revealed that sub-Saharan Africa's maize variety turnover continues to fall behind the rest of the world.
The study – which observed nearly 500 maize varieties grown across 13 African countries during the 2013-2014 main crop season – found that the average age of maize seed being planted in the region is 15 years, compared to 3 to 5 years in the U.S. and other world regions such as Latin America and Asia, making sub-Saharan Africa slower in maize variety turnover.
"We have witnessed a positive and accelerated trend over the last decade, but the performance of maize is still much lower than what could be achieved with improved varieties and good agronomic management practices," said Tsedeke Abate, lead author of the study.
The current low yield and slow variety turnover of the region contrasts sharply with the tremendous progress made to develop and release significant numbers of varieties. A record annual rate of 73 varieties were released from 2000-2014, compared to 12 varieties per year in the preceding five decades combined.
According to Abate, a major challenge is ensuring these newly released varieties are widely adopted by farmers, which is key for successful variety renewal and replacement. The study found adoption rates for hybrids and open pollinated varieties (OPVs) were just 37 and 21 percent, respectively, across the surveyed countries. Critical to successful adoption is sound government policy that facilitates increased investments in agriculture, availability and affordability of inputs like seeds and fertilizer, a strong extension system and market access for products, the authors of the study argue.
"This information should inform our breeding strategies to look at adaptability of the varieties in different agroecologies, and how this affects resources currently being used in breeding programs in the region," said Abate. Maize provides more calories than any other crop for over 200 million people in sub-Saharan Africa, so ensuring high-quality, improved seed is being grown is vital for ensuring food security in the region.
The study also indicates that many farmers have higher preference for open pollinated varieties due to affordability, ease of storage, high poundability, high flour-to-grain ratio and favorable taste. The study emphasizes the importance of incorporating production, processing and consumption traits that are valued by farmers, not just yield and stress tolerance. This can allow national breeding efforts to rid biased and inappropriate varietal promotions, and therefore low adoption of new varieties.
One of the key recommendations the study suggests is that all varieties older than 10 years should be eligible for replacement, to reverse the current slow varietal turnover.
Read the full study "Characteristics of maize cultivars in Africa: How modern are they and how many do smallholder farmers grow?" and learn more about CIMMYT's latest publications below.
But what do rural consumers in Africa think about GM Food? 2016. De Groote, H., Gitonga, Z., Kimenju, S.C., Keter, F., Ngigi, O. In: AgBioForum, vol.19, no.1, p.54-65.
By-laws formulation and enforcement in natural resource management: lessons from the highlands of eastern Africa. 2016. Mowo, J., Masuki, K., Lyamchai, C., Tanui, J., Adimassu, Z., Kamugisha, R. In: Forests, Trees and Livelihoods, vol.25, no.2, p.120-131.
Characterization of Research Nodes: an integrative approach through indexing. 2016. Das, K.K., Bhattacharya, P.M., Ghosh, A.K., Dhar, T., Pradhan, K., Chowdhury, A.K., Joshi, P.K., Gathala, M.K. In: International Journal of Bio-resource and Stress Management, vol.7, no.5, p.1083-1092.
Combined linkage and association mapping identifies a major QTL (qRtsc8‑1), conferring tar spot complex resistance in maize. 2016. Mahuku, G., Jiafa Chen, Shrestha, R., Narro, L., Osorio Guerrero, K.V., Arcos, A.L., Yunbi Xu. In: Theoretical and Applied Genetics, vol.129, p.1217-1229.
Identification and mapping of adult plant resistance loci to leaf rust and stripe rust in common wheat cultivar kundan. 2017. Ren, Y., Singh, R.P., Basnet, B.R., Caixia Lan, Huerta-Espino, J., Lagudah, E.S., Ponce-Molina, L.J. In: Plant Disease, vol.101, no.3, p.456-463.
Identification of genomic regions for grain yield and yield stability and their epistatic interactions. 2017. Sehgal, D., Autrique, E., Singh, R.P., Ellis, M., Sukhwinder-Singh, Dreisigacker, S. In: Nature Scientific reports, vol. 7, no. 41578.
Integrating islands of knowledge for greater synergy and efficiency in crop research. 2017. Borrell, A., Reynolds, M.P., In: Food and energy security vol. 6, no. 7, p. 26–32.
Is production intensification likely to make farm households food-adequate? A simple food availability analysis across smallholder farming systems from East and West Africa. 2017. Ritzema, R.S., Frelat, R., Douxchamps, S., Silvestri, S., Rufino, M.C., Herrero, M., Giller, K.E., Lopez-Ridaura, S., Teufel, N., Paul, B., Wijk, M.T. van. In: Food Security, vol. 9, no. 1, p. 115–131.
Maize market participation among female- and male-headed households in Ethiopia. 2017. Marenya, P., Kassie, M., Jaleta Debello Moti, Dil Bahadur Rahut. In: Journal of Development Studies, vol.53, no,4, p.1-14.