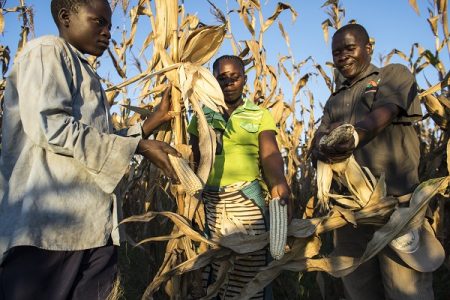 MEXICO CITY (CIMMY) – New evidence shows that not only do improved maize varieties increase crop productivity and farmer income, they can also decrease child malnutrition.
Malnutrition is the largest single factor contributing to the global disease and accounts for about 30 percent of infant deaths. Malnutrition is particularly widespread among children in Zambia, and is one of the leading contributors to the high burden of disease in the country. Around half of all Zambian children under the age of five are stunted, or too short for their age, indicating chronic malnutrition.
A recent Food Security study published by scientists at the International Maize and Wheat Improvement Center (CIMMYT) found that adoption of improved maize varieties significantly reduces the probability of stunting by an average of 26 percent in Zambian children.
The paper evaluated the impact of improved maize varieties with traits such as higher yields, early maturation and resistance to disease, on stunting in more than 800 households across eastern Zambia using an endogenous switching probit model to identify the determinants of child nutritional status and impact of improved maize varieties.
Researchers found that adoption of improved maize varieties held a key role in improving the income earning opportunities for rural households through increased maize yields. More maize – a staple of the Zambian diet – coupled with more money to spend on high calorie and protein foods led to a decline in malnutrition.
However, realizing the full benefits new technologies like improved maize can have on communities requires increased investment and policy support aimed at enhancing adoption by farmers, according to the study. Social dynamics and increasing education, especially among women, are particularly critical for promoting nutrition-enhancing child care practices, given that the probability of stunting was reduced by 16 percent with each additional year of schooling for the most educated female household member among adopters in the study.
Read the full study "Determinants of child nutritional status in the eastern province of Zambia: the role of improved maize varieties," and check out more new publications from CIMMYT scientists below.
Determinants of child nutritional status in the eastern province of Zambia: the role of improved maize varieties. 2016. Manda, J., Gardebroek, C., Khonje, M. G., Alene, A.D., Mutenje, M., Kassie, M. In: Food Security, vol. 8, no. 1, p. 239–253.
Determinants of Crop Residue use along an intensification gradient in West Africa's Savannah zones. 2016. Akinola, A. A., Abdoulaye, T., Valbuena, D.,  Erenstein, O., Amare Haileslassie, Germaine, I., Shehu, M., Ayedun, B. In: Tropicultura, vol. 34, no. 4, p. 396-410.
Development and deployment of a portable field phenotyping platform. 2016. Crain, J.L., Yong Wei, Barker, J., Thompson, S.M., Alderman, P.D., Reynolds, M.P., Naiqian Zhang, Poland, J. In: Crop Science, vol. 56, p. 1-11.
Development and Feasibility of innovative relay seeders for seeding wheat into standing cotton using a high clearance tractor in cotton-wheat system. 2016. Singh, M., Mahal, J.S., Sidhu, H.S., Manes, G.S., Jat, M.L., Singh, Y. In: Applied Engineering in Agriculture, vol. 32, no. 4, p. 341-352.
Development and validation of KASP assays for genes underpinning key economic traits in bread wheat. 2016. Rasheed, A., Weie Wen, Fengmei Gao, Shengnan Zhai, Hui Jin, Jindong Liu, Qi Guo, Yingjun Zhang, Dreisigacker, S., Xianchun Xia, He Zhonghu. In: Theoretical and Applied Genetics, vol. 129, p. 1843-1860.
The role of Hyalomma Truncatum on the dynamics of Rift Valley fever: insights from a mathematical epidemic model. 2017. Pedro, S.A., Abelman, S., Fisher, M., Tonnang, H., Mmbando, F., Friesen, D. In: Acta biotheoretica, vol.65, no.1, p.1-36.
Use of genomic estimated breeding values results in rapid genetic gains for drought tolerance in maize. 2017. Vivek, B., Krishna, G., Vengadessan, V., Babu, R., Zaidi, P.H., Le Quy Kha, Mandal, S.S., Grudloyma, P., Takalkar, S., Krothapalli, K., Singh, I.S., Ocampo, E.T.M., Fan Xingming, Burgueño, J., Azrai, M., Singh, R.P., Crossa, J. In: The Plant Genome, vol. 10, no. 1, p. 1-8.
Response to climate risks among smallholder farmers in Malawi: a multivariate probit assessment of the role of information, household demographics, and farm characteristics. 2017. Mulwa, C., Marenya, P.. Dil Bahadur Rahut. Kassie, M. In: Climate Risk Management, vol. 16, p. 208-221.