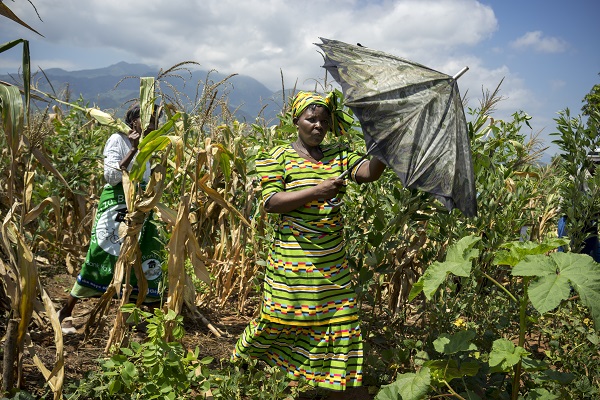 Smallholder farmers throughout southern Africa continue to be constrained by high rainfall variability and lack of access to agricultural inputs, resulting in poor harvests and challenges from food shortages to malnutrition.
Conservation agriculture (CA) practices such as minimal soil disturbance, permanent soil cover and the use of crop rotation have been promoted as a useful set of tools that could improve farmer resilience to these challenges. However, matching CA practices to agro-ecological and socioeconomic conditions remain contentious.
In a recent study conducted by scientists at the International Maize and Wheat Improvement Center (CIMMYT) with other partners, empirical data and results from a cropping system model were combined to quantify benefits and trade-offs, in terms of sowing opportunity, yield, and yield variability, from adopting CA practices in southern Africa.
Simulated results in the study showed that some practices like direct seeding and farming in a basin planting system prepared late and at the onset of the rains improved timeliness of operations, and enabled earlier planting across all locations compared to conventional systems. Mechanized CA systems also offered farmers potential flexibility on when to plant.
However, timely planting of CA systems did not translate into higher yields when carried out during periods of high rainfall variability. Yield benefits of early plantings in CA were only apparent in Zimbabwe.
The authors conclude that draught power mechanized CA systems offer farmers the capacity to plant closer to optimum dates, and that model-generated optimum planting dates could be used to provide farmers with site-specific planting date recommendations.
Learn more about the study "Planting date and yield benefits from conservation agriculture practices across Southern Africa" here and more new publications from CIMMYT staff below.
Breeding value of primary synthetic wheat genotypes for grain yield. 2016. Jafarzadeh, J.; Bonnett, D.G.; Jannink, J.L.; Akdemir, D.; Dreisigacker, S.; Sorrells, M.E. PLoS One 11 (9): e0162860.
Control of Helminthosporium leaf blight of spring wheat using seed treatments and single foliar spray in Indo-Gangetic Plains of Nepal. 2016. Sharma-Poudyal, D.; Sharma, R.C.; Duveiller, E. Crop Protection 88: 161-166.
Development and validation of KASP assays for genes underpinning key economic traits in bread wheat. 2016. Rasheed, A.; Weie Wen; Fengmei Gao; Shengnan Zhai; Hui Jin; Jindong Liu; Qi Guo; Yingjun Zhang; Dreisigacker, S; Xianchun Xia; He Zhonghu. Theoretical and Applied Genetics 129: 1843-1860.
Dwarfing genes Rht-B1b and Rht-D1b are associated with both type I FHB susceptibility and low anther extrusion in two bread wheat populations. 2016. Xinyao He; Singh, P.K.; Dreisigacker, S.; Sukhwinder-Singh; Lillemo, M.; Duveiller, E. PLoS One 11 (9): e0162499.
Genome-wide association study in wheat identifies resistance to the cereal cyst nematode Heterodera Filipjevi. 2016. Pariyar, S.R.; Dababat, A.A.; Sannemann, W.; Erginbas-Orakci, G.; Elashry, A.; Siddique, S.; Morgounov, A.I.; Leon, J.; Grundler, F. Phytopathology 106 (10): 1128-1138.
Genomic regions associated with root traits under drought stress in tropical maize (Zea mays L.). 2016. Zaidi, P.H.; Seetharam, K.; Krishna, G.; Krishnamurthy, S.L.; Gajanan Saykhedkar; Babu, R.; Zerka, M.; Vinayan, M.T.; Vivek, B. PLoS One 11 (10): e0164340.
Pm55, a developmental-stage and tissue-specific powdery mildew resistance gene introgressed from Dasypyrum villosum into common wheat. 2016. Ruiqi Zhang; Bingxiao Sun; Chen, J.; Aizhong Cao; Liping Xing; Yigao Feng; Caixia Lan; Peidu Chen. Theoretical and Applied Genetics 129: 1975-1984.
Stem rust resistance in a geographically diverse collection of spring wheat lines collected from across Africa. 2016. Prins, R.; Dreisigacker, S.; Pretorius, Z.A.; Schalkwyk, H. van.; Wessels, E.; Smit, C.; Bender, C.; Singh, D.; Boyd, L.A. Frontiers in Plant Science 7 (973): 1-15.
Wheat quality improvement at CIMMYT and the use of genomic selection on it. 2016. Guzman, C.; Peña-Bautista, R.J.; Singh, R.P.; Autrique, E.; Dreisigacker, S.; Crossa, J.; Rutkoski, J.; Poland, J.; Battenfield, S.D. Applied and Translational Genomics 11: 3-8.