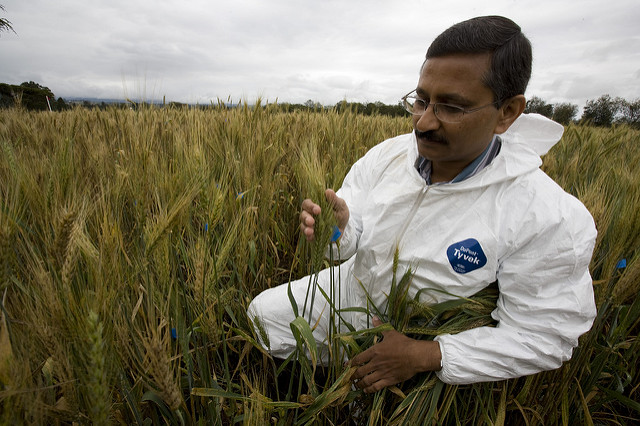 EL BATAN, Mexico — Leaf rust is increasingly having an impact on durum wheat production evidenced by the  appearance of races with virulence to widely grown cultivars in many durum producing areas worldwide, according to a recent study published by researchers at the International Maize and Wheat Improvement Center (CIMMYT), the United States Department of Agriculture, North Dakota State University and University of Minnesota Twin Cities.
Durum wheat is a major staple food used for pasta, couscous, bread and more across the globe, especially in developing countries. It is particularly important in developing countries where it often represents a large portion of total wheat planted as well as a major staple food. It is also attractive to farmers due to its adaptability to arid climate conditions, marginal soils and relatively low water requirements.
Despite this broad adaptability, durum wheat production is often limited by various fungal diseases including rusts. And while durum wheat is considered generally more resistant to rust than other types of wheat, new races of the leaf rust pathogen, virulent to widely grown durum cultivars in several production areas, are increasingly impacting production.
In 2001, a virulent rust race emerged in northwestern Mexico, which overcame the resistance of widely adapted durum wheat cultivars from CIMMYT which had been previously been resistant to rust for over 25 years. Throughout the early 2000s, increased susceptibility of durum wheat to rust was measured globally, including the Mediterranean basin which produces over half the world's durum wheat, and constitutes for over 75 percent of its growing area. The United States measured a race similar to that identified in Mexico in California and then in Kansas, suggesting the likely spread of the race to the northern Great Plains where over half of durum wheat is produced in the United States.
In response to the leaf rust epidemics in Mexico, extensive screening of the CIMMYT durum germplasm, resulted in the identification of several effective leaf rust resistance genes. The study "Genome-Wide Association Mapping of Leaf Rust Response in a Durum Wheat Worldwide Germplasm Collection" also identified 14 previously uncharacterized loci associated with leaf rust response in durum wheat. This discovery is a significant step in identifying useful sources of resistance that can be used to broaden the leaf rust resistance spectrum in durum wheat germplasm globally.
Learn more about this study and more from CIMMYT scientists, below.
Dissection of heat tolerance mechanism in tropical maize. 2016. Dinesh, A.; Patil, A.; Zaidi, P.H.; Kuchanur, P.H.; Vinayan, M.T.; Seetharam, K.; Ameragouda. Research on Crops 17 (3): 462-467.
Genetic diversity, linkage disequilibrium and population structure among CIMMYT maize inbred lines, selected for heat tolerance study. 2016. Dinesh, A.; Patil, A.; Zaidi, P.H.; Kuchanur, P.H.; Vinayan, M.T.; Seetharam, K. Maydica 61 (3): M29.
Genome-wide association for plant height and flowering time across 15 tropical maize populations under managed drought stress and well-watered conditions in Sub-Saharan Africa. 2016. Wallace, J.G.; Zhang, X.; Beyene, Y.; Fentaye Kassa Semagn; Olsen, M.; Prasanna, B.M.; Buckler, E. Crop Science 56(5): 2365-2378.
Line x testers analysis of tropical maize inbred lines under heat stress for grain yield and secondary traits. 2016. Dinesh, A.; Patil, A.; Zaidi, P.H.; Kuchanur, P.H.; Vinayan, M.T.; Seetharam, K. Maydica: 59.
Genome-wide association mapping of leaf rust response in a durum wheat worldwide germplasm collection. 2016. Aoun, M.; Breiland, M.; Turner, M.K.; Loladze, A.; Shiaoman Chao; Xu, S.; Ammar, K.; Anderson, J.A.; Kolmer, J.A.; Acevedo, M. The Plant Genome 9 (3): 1-24.