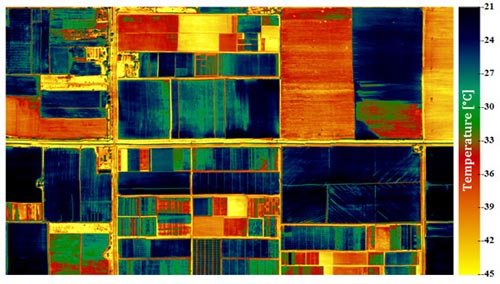 EL BATAN, Mexico (CIMMYT) — Micro-satellites are emerging as an effective low-cost option to collecting data like sow date and yields on small farms across the developing world. When used in combination with bio-physical and socio-economic data, micro-satellite data can improve monitoring and evaluation, better assess and understand changes and shocks in crop-based farming systems and improve technology targeting across farmer communities.
Data taken from satellites – remotely controlled communications systems that orbit the earth – can provide different spatial, spectral and temporal resolutions for agriculture that detail crop health, irrigation use, yield, soil analysis and more.
While this information has greatly benefited the accuracy and precision of farming across the globe, it's traditionally been a challenge to collect data on farms in the developing world. Many farmers have small pieces of land that can't be accurately observed by most freely available satellite imagery, and it's extremely expensive to access information that isn't free.
However, a trend in recent years towards smaller, often private organizations sending their own micro-satellites into the sky have made access to satellite imagery much more affordable due to their smaller size, shorter life cycles and lower upfront costs.
A recent study by scientists at the International Maize and Wheat Improvement Center (CIMMYT) looked at the impact of the micro-satellite SkySat in Bihar, India, which mapped sowing dates and yields of smallholder wheat fields during the 2014-2015 and 2015-2016 growing seasons. The study then compares how well sowing date and yield were predicted when using ground data, like crop cuts and self-reports, versus using crop models, which require no on-the-ground data, to develop and parameterize prediction models.
The study "Mapping Smallholder Wheat Yields and Sowing Dates Using Micro-Satellite Data," concludes that micro-satellite data can be used to map individual field-level characteristics of smallholder farms with significant accuracy, capturing roughly one-half and one-third of the variation in field-measured sow date and yields, respectively, when parameterized with field measures. These results suggest that micro-satellites and the data they provide will continue to serve as an important resource for mapping field-level farm characteristics, and that their utility will only improve as micro-satellites develop increased temporal frequency throughout the growing season.
Learn more about this and other recent publications from CIMMYT scientists below.
Association analysis of resistance to cereal cyst nematodes (Heterodera avenae) and root lesion nematodes (Pratylenchus neglectus and P. thornei) in CIMMYT advanced spring wheat lines for semi-arid conditions. 2016. Dababat, A.A.; Gomez-Becerra, H.F.; Erginbas-Orakci, G.; Dreisigacker, S.; Imren, M.; Toktay, H.; Elekcioglu, I.H.; Tesfamariam Mekete; Nicol, J.M.; Ansari, O.; Ogbonnaya, F.C. Breeding Science. Online First.
Developing and deploying insect resistant maize varieties to reduce pre-and post-harvest food losses in Africa. 2016. Tadele Tefera; Mugo, S.N.; Beyene, Y. Food Security 8 (1) : 211-220.
Mapping smallholder wheat yields and sowing dates using micro-satellite data. 2016. Meha Jain; Srivastava, A.; Singh, B.; Rajiv K. Joon; McDonald, A.; Royal, K.; Lisaius, M.C.; Lobell, D.B. Remote Sensing 8 (10) : 860.
Nitrogen fertilizer placement and timing affects bread wheat (Triticum aestivum) quality and yield in an irrigated bed planting system. 2016. Grahmann, K.; Govaerts, B.; Fonteyne, S.; Guzman, C.; Galaviz-Soto, A.P.; Buerkert, A.; Verhulst, N. Nutrient Cycling in Agroecosystems 106 : 185-199.
Resistance of Bt-maize (MON810) against the stem borers Busseola fusca (Fuller) and Chilo partellus (Swinhoe) and its yield performance in Kenya. 2016. Tadele Tefera; Mugo, S.N.; Mwimali, M.; Anani, B.; Tende, R.; Beyene, Y.; Gichuki, S.; Oikeh, S.O.; Nang'ayo, F.; Okeno, J.; Njeru, E.; Pillay, K.; Meisel, B.; Prasanna, B.M. Crop Protection 89 : 202-208.