CIMMYT's Global Maize Program will establish and operate a maize doubled haploid (DH) facility in Kiboko, Kenya. With financial support from the Bill & Melinda Gates Foundation, this centralized DH facility will be able to produce at least 100,000 DH lines per year by 2016, thus strengthening maize breeding programs in Africa and improving breeding efficiency. The DH technology will reduce the cost and time for breeding work as it enables rapid development of homozygous maize lines and fast-tracking development and release of elite maize varieties. The facility will be built at the Kiboko Experimental Station on 20 hectares of land provided by the Kenya Agricultural Research Institute (KARI). The Maize DHAfrica Project will both establish the facility and refine the DH technology in collaboration with the University of Hohenheim, Germany.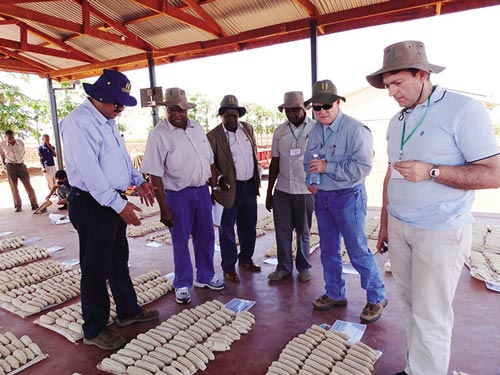 "One of the important ways to increase genetic gains and accelerate the development and deployment of improved varieties is to reduce the time needed for inbred development," said B.M. Prasanna, CIMMYT's Global Maize Program director. "The technology would also allow breeders to couple molecular marker-based selection for important traits such as disease resistance and quality at an early generation." A project planning and review meeting held in Nairobi during 18-19 February 2013 was attended by representatives from national agriculture research systems, Kenya Seed Company, Seed Trade Association of Kenya, University of Hohenheim, the International Institute of Tropical Agriculture (
IITA
), and CIMMYT. "This technology will help us significantly improve maize food security in sub-Saharan Africa," said Joseph Ochieng, KARI deputy director (food crops and crop protection), who spoke on behalf of the institute's director Ephraim Mukisira. The KARI official emphasized the importance of educating stakeholders on this novel technology to ensure they understand its benefits and use the DH lines efficiently in breeding programs.
The DH facility will also serve as a training hub for scientists and technical personnel from national programs and small and medium-sized seed companies that may not have advanced breeding facilities. It will enhance CIMMYT's capacity to generate DH lines for effective use in Africa-based breeding programs such as the Drought Tolerant Maize in Africa (DTMA), Water Efficient Maize for Africa (WEMA), Improved Maize for African Soils (IMAS), and the Maize HarvestPlus in Africa.
"We are fully enthused and geared towards establishing a state-of-the-art DH Facility in Kiboko," said Sotero Bumagat, CIMMYT maize DH operations manager and project leader. During a visit to the field site in Kiboko, Bumagat explained the proposed layout of the facility and received very positive feedback. Seed sector stakeholders who participated in the meeting expressed excitement and anticipation to see the DH facility established and operational in 2013. "This is a technology that the seed sector in Africa has been waiting for," said Willy Bett, managing director of the Kenya Seed Company and member of the Project Steering Committee. "Faster breeding of improved maize varieties is quite important for effectively managing problems such as the maize lethal necrosis disease," said Evans Sikinyi, executive officer of the Seed Trade Association of Kenya.