By Florence Sipalla/CIMMYT
CIMMYT is leading collaborative research efforts to control the deadly maize lethal necrosis (MLN) disease that is devastating crops in Kenya, Rwanda, Tanzania and Uganda. First identified in farmers' fields in eastern Africa in 2011, MLN results from the combined infection of two plant viruses and can cause nearly 100 percent crop loss.
Surveillance, avoiding seed movement from disease-prone areas, instituting maize-free seasons and the development and use of resistant maize varieties can help prevent its spread. CIMMYT is spearheading efforts to identify sources of MLN resistance, developing a strategy to contain the disease and studying the disease and insects that contribute to its spread.
In addition, CIMMYT has produced fact sheets and videos to raise awareness on MLN, in addition to organizing meetings and workshops to train partners from national research programs in eastern Africa on how to identify the disease and curb its spread. "We have to come together to stop the disease, as it affects food security for those who depend on maize," said CIMMYT pathologist George Mahuku during a Seed Trade Association of Kenya (STAK) congress from 6 to 8 November. "Developing MLN-resistant varieties is the most cost-effective way to deal with the disease." He also said the recently-launched CIMMYT-Kenya Agricultural Research Institute MLN Screening Facility and Maize Doubled Haploid Facility would help speed development of MLN-resistant varieties.
The MLN facility was established with funding support from both the Bill & Melinda Gates Foundation and the Syngenta Foundation for Sustainable Agriculture while the DH Facility was established with funding from the Bill & Melinda Gates Foundation. During the three-day event, issues that affect the seed sector – including MLN – were addressed. Mahuku described the disease and research efforts to control it, while dispelling fears about its transmission through seed. "Seed movement is crucial for us to increase productivity and widen our genetic base, but the seed should be clean, produced in MLN-free areas and certified MLN-free to minimize accidental introduction of MLN viruses," he said. Mahuku stressed the need for more research on the disease's seed transmission rate and alternative hosts.
CIMMYT will partner with the International Centre of Insect Physiology and Ecology (ICIPE) to study transmission of MLN through aphids, beetles and thrips, as well as their interactions with the MLN viruses. Mahuku also urged seed companies to recognize MLN symptoms and notify scientists if they spot them on their farms. Scientists can then investigate and design and adopt appropriate strategies for combating it.
He encouraged stakeholders to practice maize-free seasons to reduce sources of infection. MLN has created an emergency for sectors caught unaware and without funding to immediately address the disease. "We encourage the [seed] industry to set aside some funds for these kinds of emergencies," said Esther Kimani, general manager of phytosanitary services at the Kenya Plant Health Inspectorate Service (KEPHIS). Existing commercial hybrids in Kenya have already been tested for MLN, said STAK Executive Officer Evans Sikinyi during a field tour of Marula farm in Naivasha, where CIMMYT is testing a large selection of experimental and commercial varieties under MLN infection.
The participants also toured the Maize Lethal Necrosis Screening Facility in Naivasha and were invited to submit seed for screening at the facility. Mahuku also called for the standardization of screening protocols. "If we are speaking the same language, we will move far," he said. "We need to develop and use standardized protocols to ensure that the same material can be planted in 10 different areas in different countries for screening purposes, and this information can be harmonized."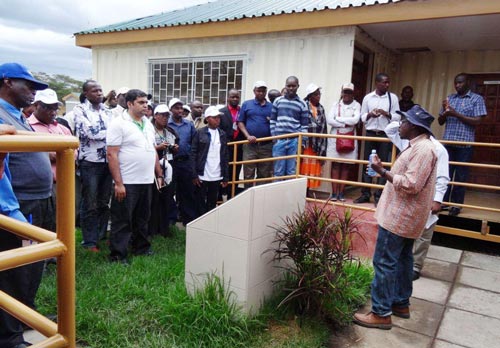 Participants will carry the messages of progress, hope and caution to colleagues, partners and farmers back home. "We will use lessons learned on this trip to strengthen surveillance of the disease in South Sudan," said Cirino Oketayot, head of the research unit in South Sudan's Ministry of Agriculture, Forestry, Tourism, Animal Production, Fisheries, Cooperatives and Rural Development. Added Gloria Ngila, the general manager of Dryland Seeds: "This helps one realize how much CIMMYT is working with the government to alleviate the problem." The STAK congress was attended by seed sector representatives from Burundi, India, Kenya, Malawi, Rwanda, South Africa, South Sudan and Zimbabwe.