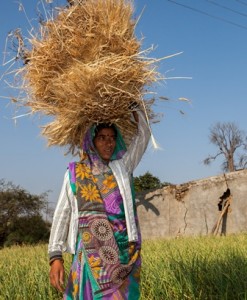 EL BATAN, Mexico (CIMMYT) — Almost half the world's wheat land is sown to varieties that come directly or indirectly from research by a longstanding, global network of crop scientists, according to a new report by CIMMYT.
Yearly economic benefits of that research ranged from $2.2 to 3.1 billion (in 2010 dollars), and resulted from annual funding of just $30 million, a benefit-cost ratio as high as 103:1, the study shows.
Published to coincide with CIMMYT's 50th anniversary, the new study tabulates and analyzes the pedigrees of 4,604 wheat varieties released worldwide during 1994-2014, based on survey responses from public and private breeding programs in 66 countries.
Fully 63 percent of the varieties featured genetic contributions from the breeding research of CIMMYT or of the International Center for Agricultural Research in the Dry Areas (ICARDA), both members of CGIAR, a publicly-funded agricultural-research-for-development consortium.
In 2014, those varieties — all developed through conventional cross-breeding and selection — accounted for 106 million of the approximately 220 million hectares of wheat harvested worldwide, according to Michael Baum, Director of ICARDA's Biodiversity and Integrated Gene Management Program and Morocco Platform.
"The fourth in a series of wheat impact assessments first published in 1993, the latest report highlights impressive CGIAR contributions in all wheat-growing regions," Baum said. "In South Asia, for example, which is home to more than 300 million undernourished people and whose inhabitants consume over 100 million tons of wheat a year, 92 percent of the varieties carried CGIAR ancestry."
FREE SEED, FUNDING CRUCIAL
CIMMYT and ICARDA depend on donor assistance and national partnerships to achieve meaningful farm-level impacts, but national co-investments do not figure in the current study, according to Hans Braun, director of CIMMYT's global wheat program. "In 2014 alone, CIMMYT distributed free of charge more than 12 tons of seed of experimental lines for testing and other research by 346 partners in public and private breeding programs of 79 countries," Braun said. "The partners return performance data to us, but can freely use lines they choose for their own breeding and varietal development efforts."
"Started in the 1950s by the late Norman Borlaug, this global wheat improvement pipeline has been the main source of new genetic variation for wheat yield increases, adaptation to climate change, and resistance to crop pests and diseases," Braun added. "The latest impact study attests to its continued worth, but reliable and consistent funding is critical, if global wheat breeding is to satisfy rising demand for the crop in developing countries."
Led by Borlaug, who won the 1970 Nobel Peace Prize for his contributions and worked at CIMMYT until 1979, wheat breeding advances during the 1960s-70s helped to spark the Green Revolution from which the 15-member CGIAR arose and to keep food prices at historically low levels for decades.
But by 2050 the current global population of 7.3 billion is projected to grow 33 percent to 9.7 billion, according to the United Nations. Demand for food, driven by population, urbanization, and increasing global wealth, will rise more than 60 percent, according to a recent report from the Taskforce on Extreme Weather and Global Food System Resilience.
Experts say that wheat farmers must meet this rising demand from the same or less land area, while confronting more extreme and erratic rainfall and temperatures and using inputs like water and fertilizer much more effectively.
Developing countries received the greatest benefit from CGIAR contributions, particularly in spring bread and spring durum wheat areas, an outcome that aligns with CGIAR's mandate to help resource-poor farmers and alleviate poverty and malnutrition. Still, adoption of CGIAR-related cultivars was not limited to developing countries and the study highlights significant spill-overs:
In Canada, three-quarters of the wheat area was sown to CGIAR-related cultivars.
In the U.S., nearly 60 percent of the wheat area was sown to CGIAR-related varieties.
In Western Australia, CGIAR-related varieties were used on more than 90 percent of the wheat area.
To view or download a copy of the study, click on the title below:
Lantican, M.A., H.J. Braun, T.S. Payne, R.P. Singh, K. Sonder, M. Baum, M. van Ginkel, and O. Erenstein. 2016. Impacts of International Wheat Improvement Research, 1994-2014. Mexico, D.F.: CIMMYT.