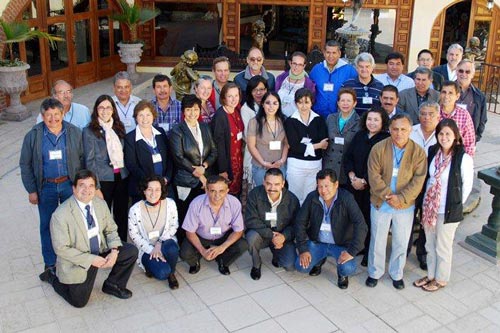 In order to define the research priorities for the Seeds of Discovery initiative in maize quality of landraces (a Strategic Initiative of both CRPs MAIZE and WHEAT funded by Mexico), a diverse group of food scientists, chemists, maize breeders, genebank curators, social scientists, and representatives of research institutions such as UNAM and Chapingo, met for a workshop to discuss future research on quality characteristics within native Mexican maize.
Held during 23-24 April 2012, at Mansión del Quijote, the workshop recognized the need to preserve cultural customs and identify market niches in order to ensure the conservation and use of germplasm. Many native maize landraces are grown by farmers for specific culinary uses. Tlayudas, for example, are normally prepared using native maize from Raza bolita, whilst Pozole is only prepared with pozolero maize belonging to the ancho, cacahuacintle, and eloteros occidentales races. These culinary and cultural niches are not easily filled by standard
commercial hybrids.
The workshop was organized by Martha Willcox (Genetic Resources Program) and Natalia Palacios (Global Maize Program). "We wanted to prioritize specific uses and areas of research," said Natalia Palacios. "By discussing state of the art research on quality, germplasm conservation
and characterization, and the uses and applications of landraces, we were able to identify some starting points for further research," she added. Whilst a great deal of work has focused on landrace quality, much of this research has gone undocumented. Therefore, one of the key focuses for 2012 will be on data analysis, documentation, and publication.
"Overall, we hope to identify and characterize accessions with exceptional quality parameters to be used in breeding, both at the landrace level and to introgress into improved breeding lines, in order to provide an economic benefit to farmers," stated Martha Willcox.