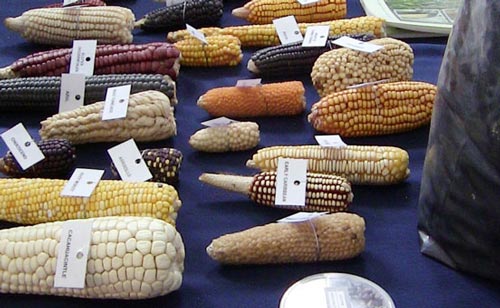 National Service Seed Inspection and Certification (SNICS) and National Plant Genetic Resources for Food and Agriculture (SINAREFI) organized the first Agro-biodiversity and Agroproducts Fair in Xochitla Ecological Park, Tepozotlan, Mexico, during 7-8 September 2012, to promote conservation and sustainable use of genetic resources of crop species which originated in Mexico (maize, squash, bean, avocado, tejocote, poinsettia, and vanilla). Production techniques, crop diversity, biodiversity, handicraft, agro-industrial processing, and culinary products were demonstrated to a large audience of farmers, educators, private entrepreneurs, policy-makers, donors, and international institutions representatives.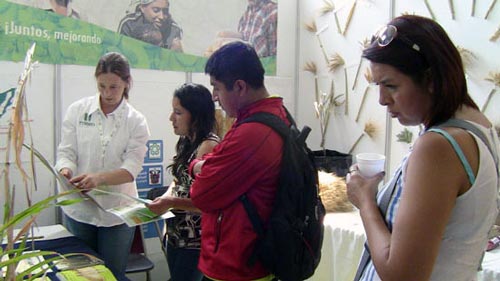 CIMMYT participated in the fair through its Seeds of Discovery (SeeD) initiative under the Genetic Resources Program. Martha Willcox (SeeD maize phenotyping coordinator) and Carolina Saint Pierre (SeeD wheat phenotyping coordinator) presented maize and wheat collections from the CIMMYT genebank and a poster prepared by Paulina González and Bibiana Espinosa from the germplasm bank emphasizing the importance of seed conservation and its long-term benefits for humanity. CIMMYT team was also represented by Isabel Peña, Institutional Relations Head, who provided visitors with information on CIMMYT. The CIMMYT booth was visited by many students, professors, and farmers. The students and professors expressed a particular interest in CIMMYT's publications on maize and wheat diseases, conservation agriculture, the SeeD initiative, breeding for drought and low nitrogen tolerance, breeding of native maize (criollos), and grain storage techniques. Farmers were mostly interested in CIMMYT maize collections samples. They also shared their experience working with different types of maize.
The Fair's program included many interesting presentations. SINAREFI highlighted their conservation networks including custodian farmers of native maize in the states of Sinaloa and Oaxaca. The farmers brought maize ears to demonstrate maize races they produce and maintain on their farms, and discussed the advantages of the dynamic on-site conservation system which allows for farmer selection and adaptation to changing environments. Other members of the agricultural research community were present at the Fair to discuss their recent research activities and demonstrate their products.
The Fair provided opportunities for interaction with local farmers and students from different parts of Mexico, and demonstrated various agro-products and sustainable technologies. CIMMYT's participation raised public awareness of CIMMYT's work and created a closer relationship with SNICS and SINAREFI.