July 29, 2019, was a remarkable day for Ethiopia. People across the country planted 353,633,660 tree seedlings in just 12 hours, according to the official count, in what is believed to be a world record. This figure also exceeded the target of a nationwide campaign calling citizens to plant 200 million trees in one day. This initiative was part of the Ethiopian government's "Green Legacy" initiative, which aims to plant 4 billion trees by October.
The International Maize and Wheat Improvement Center (CIMMYT) and other CGIAR centers working in Ethiopia joined the tree-planting campaign. In the morning of July 29, staff members turned out at Adwa park, near Addis Ababa's Bole International Airport, to plant tree seedlings. This activity was coordinated by the International Livestock Research Institute (ILRI) after receiving an invitation from the Bole subcity administration.
Ethiopia's tree-planting day received worldwide attention. Al Jazeera reported that, "in addition to ordinary Ethiopians, various international organizations and the business community have joined the tree planting spree which aims to overtake India's 66 million planting record set in 2017."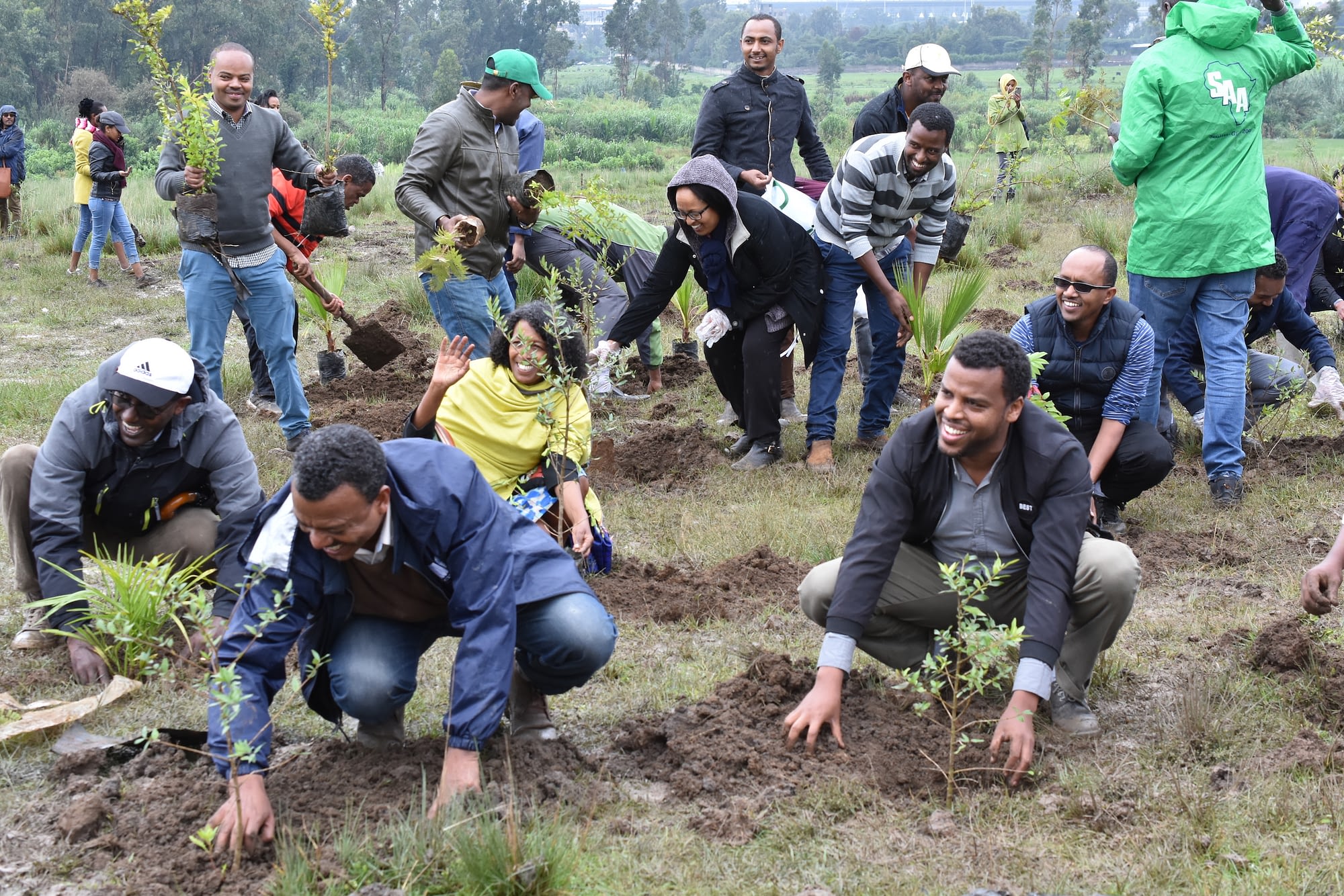 A greener future for CGIAR
Ethiopia's reforestation efforts align with CGIAR's sustainability strategy.
In its current business plan, CGIAR has five global challenges including planetary boundaries. Food systems are driving the unsustainable use of the planet's increasingly fragile ecosystem. A stable climate, water, land, forests and the biodiversity they contain are a precious, yet finite, natural resource.  Food systems account for about one-third of greenhouse gas emissions and will be profoundly affected by its impacts. Agriculture is driving the loss of the world's forests and productive land, with 5 million hectares of forests lost every year and a third of the world's land already classified as degraded.  Agriculture accounts for about 70% of water withdrawals globally, is a major cause of water stress in countries where more than 2 billion people live, and water pollution from agricultural systems poses a serious threat to the world's water systems.
With Ethiopia's increasing population, there is a high pressure on farmland, unsustainable use of natural resources and deforestation.
At the Agriculture Research for Development Knowledge Share Fair organized in Addis Ababa on May 15, 2019, CGIAR centers demonstrated how they are working together to improve agriculture production and environmental sustainability, tackling local challenges and generating global impact in partnership with other organizations, communities and governments.
At the fair's opening ceremony, Seleshi Bekele, Ethiopia's Minister of Water, Irrigation and Electricity, noted that the country has policies, institutional arrangements as well as human and financial resources to work towards sustainability. As a result, Ethiopia has made remarkable achievements towards meeting the Sustainable Development Goals with the continued support and contributions from partners like CGIAR. He also called CGIAR centers to support the efforts to plant 4 billion tree seedlings in 2019, as part of Ethiopia's climate change adaptation and mitigation goals.