Around 115 members of the CGIAR breeding community, plus others representing national programs, universities, funders and the private sector, met for a three-day discussion of how to co-develop the next generation of advanced breeding programs that will improve the rate at which resource-poor farmers are able to adopt improved varieties that meet their needs.
The annual Excellence in Breeding Platform (EiB) Contributor's meeting, held this year in Amsterdam from 13-15 November, caps a year of engagement with CGIAR Centers and national agricultural research system (NARS) partners around the world.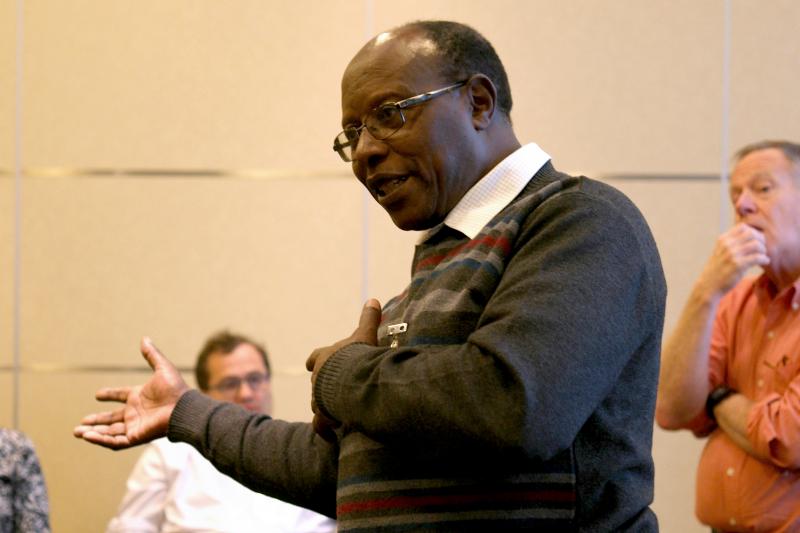 "Although breeding is one of the oldest functions in CGIAR, we have never had a meeting like this with scientists from all the centers," said Michael Baum, director of Biodiversity and Crop Improvement at the International Center for Agricultural Research in the Dry Areas, (ICARDA). "Within CGIAR, plant breeding started as a science, but now we are looking at how to implement it not as a science but as an operation, as it is done in the private sector, so there are many new concepts."
Key items on the agenda for November were new tools to develop product profiles and create improvement plans that will define the modernization agenda in each center and across the Platform itself, based in part on the Breeding Program Assessment Tool (BPAT) that most Centers completed in 2018.
The conversation was enriched by Paul Kimani (University of Nairobi) presenting on the Demand-led Variety Design project, which produced the book, "The Business of Plant Breeding."
Ranjitha Puskur, gender research coordinator at the International Rice Research Institute (IRRI), started an animated discussion on how to incorporate gender into product design by thinking about customer segments.
Tim Byrne from AbacusBio introduced methods for identifying farmer preferences to be targeted by breeding programs.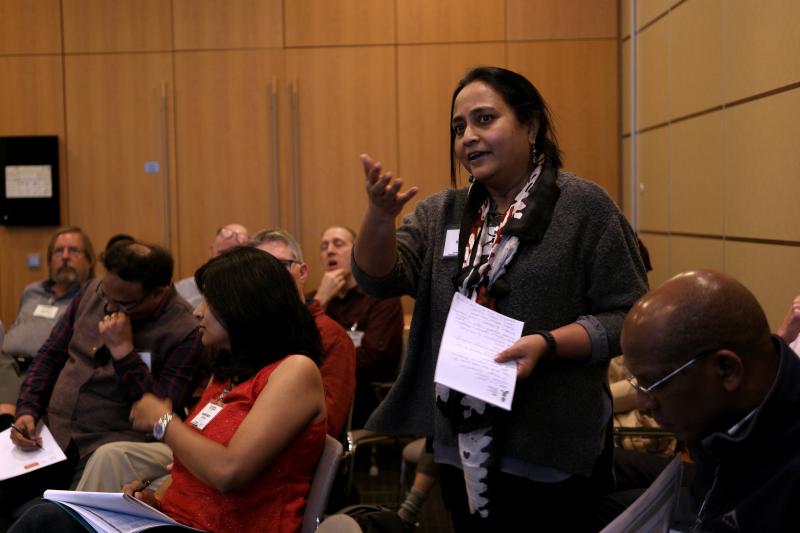 In breakout sessions, contributors were able to have detailed discussions according to their various specializations: phenotyping, genotyping and bioinformatics/data management. The direct feedback from contributors will be incorporated into EiB workplans for training and tool development for the coming year.
A key outcome of the meeting was an agreement to finalize the product profile tool, to be made available to EiB members in early December 2018. The tool helps breeders to work with other specialisms, such as markets, socioeconomics and gender, to define the key traits needed in new products for farmers. This helps to focus breeding activities towards areas of greatest impact, supports NARS to play a greater role, and creates accountability and transparency for donors, in part by defining the geographic areas being targeted by programs.
"Breeding trees is different to the annual crops," said Alice Muchugi, genebank manager at the World Agroforestry Centre (ICRAF), "but we are seeing what we can borrow from our colleagues. By uploading what we are doing in maps, for example, donors are able to perceive the specific challenges we are undertaking."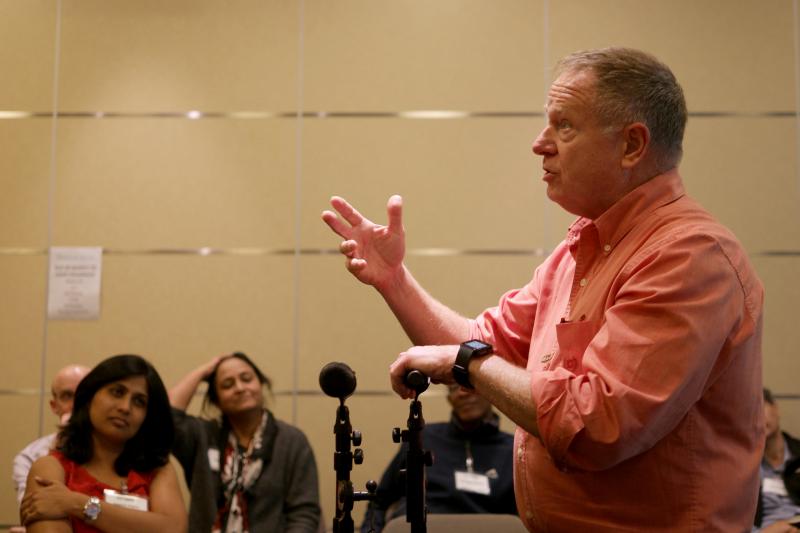 "I think we have realized there are lot of challenges in common, and the Platform is helping us all work on those," said Filippo Bassi, durum wheat breeder at ICARDA. "I like to see all the people around the room, if you look at the average age there is a big shift; the number of countries present also tells you a lot."
Tabare Abadie, R&D external academic outreach lead at Corteva Agriscience, also saw the meeting as a good opportunity to meet a broader group of people. "One of the take homes I hear is [that] there are a lot of challenges, but also a lot of communication and understanding. For me as a contributor it's an incentive to keep supporting EiB, because we have gone through those changes before [at Corteva], and we can provide some know-how and experience of what happens," Abadie explained.
"There are still a lot of gaps to fill, but this is a good start," said Thanda Dhliwayo, maize breeder at the International Maize and Wheat Improvement Center (CIMMYT). "We need to get everyone involved, from leadership down to the guys working in the field."
Michael Quinn, director of the CGIAR Excellence in Breeding Platform, discusses the CGIAR's initiative on crops to end hunger.