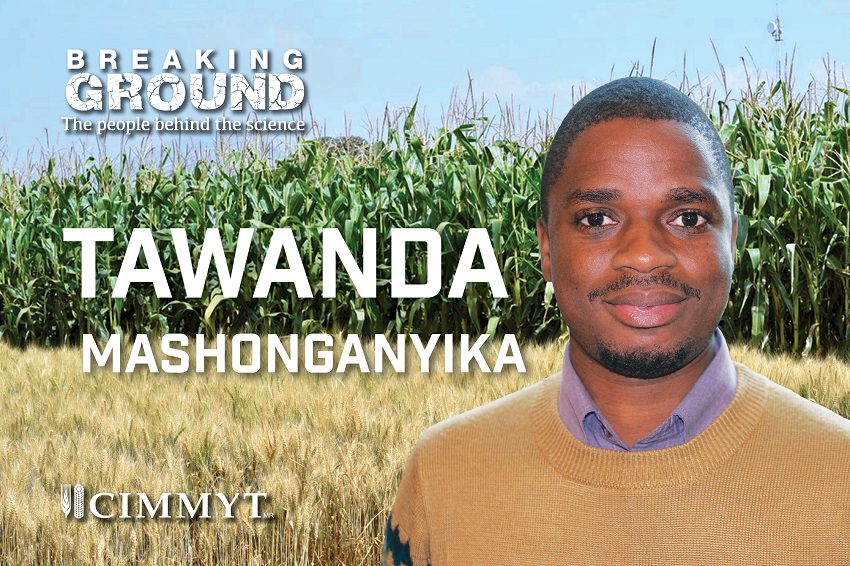 The low rate at which farmers adopt improved varieties is one of the biggest obstacles to overcoming food insecurity. The average maize variety grown by farmers in sub-Saharan Africa is 15 years old, even though maize breeders have been releasing more than 50 new varieties every year.
When it comes to climate change, for example, thanks to a plentiful arsenal of genetic diversity crop breeders are developing varieties adapted to increased heat and drought, but farmers continue to grow crops developed for the climate of yesterday.
One part of the answer is that it is not enough merely to create a variety resistant to heat, drought or flooding; complex dynamics are at play in crop markets and in farmers' fields that must be reflected in the design of new varieties.
This where product manager Tawanda Mashonganyika comes in, working for the CGIAR Excellence in Breeding Platform (EiB) out of CIMMYT-Kenya, and one of the first to occupy such a role in the CGIAR system.
"This position is supposed to bring in a business kind of thinking in the way products and varieties are developed," said Mashonganyika, who studied agricultural economics, agribusiness and value chains at the universities of Reading, U.K. and Queensland, Australia, and has professional experience with crops grown in Africa.
"You need to know who you are developing varieties for, who are your customers and clients, and you also need to design products so that they can have success on the market."
Mashonganyika's role is to support CGIAR and national agricultural research system (NARS) breeders to design new varieties focused on replacing older products in a specific market, as opposed to only breeding for an agro-ecological zone. Key to this approach is the involvement of experts from other disciplines such as gender, socioeconomics and nutrition, as well as people involved in the value chain itself, such as food processors, seed producers and farmers.
The outcome of this collaboration is a product profile: a written description of a new product with all the traits needed to replace the variety that currently dominates the target market. The profile serves as a common goal for CGIAR and NARS collaboration, and as a tool to communicate with donors. With the breeding program accountable for delivering a pipeline of new products designed for impact, they can ensure that these varieties also deliver traits such as biofortification to farmer's fields.
Instead of breeding for all the traits that may be desirable in a new variety, what sets the product profile approach apart is that breeding programs can then focus resources on the traits that will have the greatest impact in the market, and therefore the field. This market-focused approach also enables better collaboration between breeders and experts from other disciplines:
"When you bring a cross-functional team together, you really need to give them an understanding of the desired goal of what we want to design and eventually put onto the market," said Mashonganyika. "We put an emphasis on data-driven decisions, so it is not just a meeting of experts with different opinions; we always try to create a platform to say 'we need to follow what the market is saying.'"
"[Non-breeding experts] are usually very excited to talk about the data that they have about markets, and the knowledge that they have about how gender or nutrition affects products on the market," said Mashonganyika. "There are so many women farmers, especially in Africa, so when you begin to incorporate gender, we are increasing the scope of impact."
Although actors such as seed producers or food processors may have no breeding expertise, Mashonganyika views their input as essential: "They are the ones that are at the mouthpiece of the market, they eventually take up the varieties and they multiply the seed, so they have very good information."
One example is a collaboration with the National Agricultural Research Organization (NARO), Uganda, where representatives from private sector seed companies are being included to help breeders better understand their customers. "They give information about seed multiplication processes, and what makes a variety be considered for multiplication in seed systems."
EiB has created a standardized tool to create product profiles, and 200 were submitted to the growing database in the first three months of the pilot period alone, including profiles submitted by 10 national agricultural research programs in Africa and Asia.
In addition to promoting the use of product profiles, a product manager is also involved ensuring communication and accountability throughout the development of new products.
"With product profiles we say a breeder should be accountable for delivering each product in a certain timeframe," said Tawanda. "We always emphasize that a breeding program should have an annual product review process, because markets are dynamic, they are bound to change. This is a good habit to ensure that your products remain relevant and designed for impact."
Although Mashonganyika is one of the first CGIAR product managers, a desire to see greater impact in the field is turning others in the same direction.
"I hope that in the near future we will see other CGIAR centers developing similar positions," said Mashonganyika.