Introducing mechanization services in any smallholder farming community has proven to yield multiple benefits largely aimed at increasing farming efficiency but importantly creating a solid economic base to boost farmer incomes. Anchored on the two-wheel tractor along with implements for land preparation, planting, harvesting, shelling, transporting, appropriate-scale mechanization has in the last seven years gained currency across African farming households.
Interventions such as the mechanization pilot implemented by the International Maize and Wheat Improvement Center (CIMMYT) provide a channel through which smallholder farmers with access to some financial resources can invest to become a viable enterprise.  The aim of this intervention is not to make every farmer own its own machinery, which would be costly and inefficient, but to train farmers to become service providers to other community members. This model has been effectively tried before in other places under the Farm Mechanization and Conservation Agriculture for Sustainable Intensification (FACASI) project.
A recent visit to two service providers in southern Zimbabwe, demonstrates the high returns on investment achieved through enrolling in mechanization service provision.
Two service providers, one vision: Profit
Julius Shava (53) and Prince Chimema (22), shared their experience in offering diverse transporting and land preparation services using the two-wheel tractor, trailer, direct seeder, and sheller procured through the initiative.  Narrating how he learnt about the mechanization pilot and his subsequent enrolment, Shava explains how potential service providers had to make a financial commitment to the business before accessing the equipment.
"Through this mechanization business model, we would receive a two-wheel tractor, trailer, sheller, and seeder worth USD5,000, at a subsidized price of $USD2,500. The main condition for accessing this package was to pay a commitment fee of USD500 – there was no way I could let that opportunity slip away," explains Shava.
"My wife and I decided to sell two cows to raise the funds and made the payment. Some community members were initially skeptical of the approach when it seemed that the consignment was delayed yet when the two-wheel tractor arrived, they were among the first to inquire about the services I was offering," Shava adds.
"I made sure they all understood what I could provide for them using the 2WT and trailer such as land preparation and transportation – of manure, gravel stones and pit sand among other things."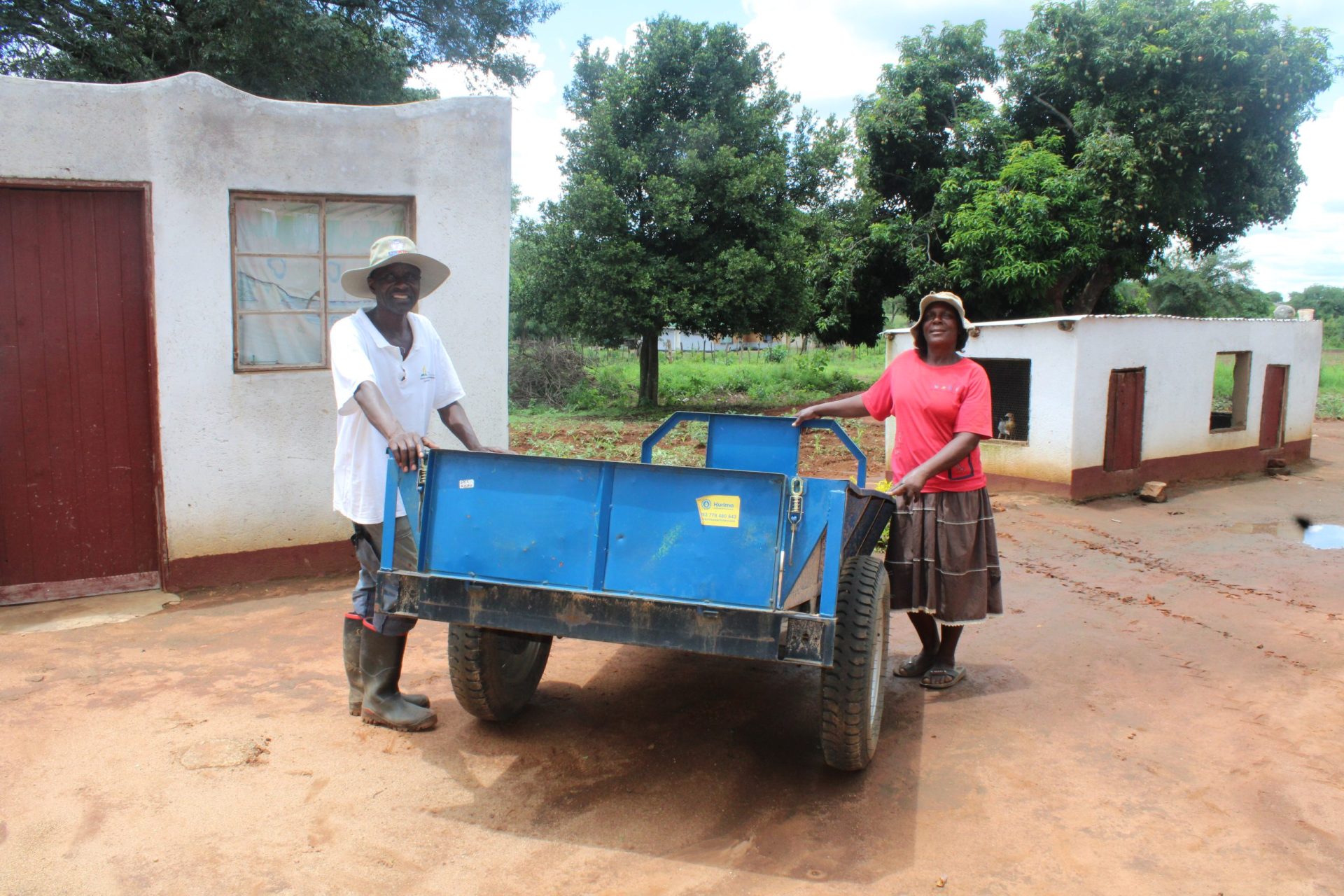 Shava and Chimema are among fifteen service providers leading in the mechanization pilot initiative launched in July 2020 in Masvingo district. The initiative is supported by the Swiss Agency for Development and Cooperation (SDC) and managed by the World Food Program (WFP). The private sector machinery company Kurima Machinery facilitates provision of the two-wheel tractor, planter, trailer and sheller while the Zimbabwe Agriculture Trust (ZADT) manages the lease-to-own business model anchoring the mechanization pilot to the financial sector.
Counting the cost and returns
"How much turnover does a service provider realise on average?" is a question frequently asked by other farmers keen to take up the enterprise.
Shava explains the factors he considers, "When someone is hiring my services, I charge according to the distance and load to be transported." For example, for a 200m delivery radius, I can charge USD5. However, for land preparation and ploughing, I charge USD100 per hectare." He quickly adds that he also factors in his labor, fuel requirements and time into the final price of his service – a principle he learnt during a specialized technical and business training provided by Gwebi College of Agriculture for the mechanization pilot.
In addition, using the two-wheel tractor is efficient as a hectare is completed in about one hour where an animal drawn plough takes up to six hours or more, depending on the soil type. The reduced drudgery allows farmers to rest their livestock and adopt more efficient and sustainable land preparation technologies. Shava notes that these advantages are immediately apparent to farmers who seek the service.
Customers often pay in cash which is convenient for him as he saves the money or uses some of it to meet expenses related to the service provision. "So far I have reached up to 7 customers after two months from the Nemamwa area in Ward 12 of Masvingo and they were seeking different services. "For land preparation they were paying USD100 per hectare. In Ward 8, I managed to get about three customers.
"When it comes to pricing, I leave room for negotiation because it is inevitable that customers will always ask for a discount, but I ensure that I do not incur losses." Since venturing into mechanization service provision, Shava has realized a gross income of USD$600 before deducting expenses such as fuel and regular maintenance. However, the two-wheel tractor is fuel efficient – utilizing at least seven liters of diesel per hectare. Diesel fuel is purchased in Masvingo town or from informal markets at the business center at a cost of USD1 per liter.
Young service providers making their mark
Service providers such as Prince Chimema, who are young, energetic and business minded are also among those quickly realizing the high returns on the small mechanization investment. Coming from a family of seven, Chimema – recently married and with a two-year old child – has found a secure income stream in service provision of different mechanization services.
"I am grateful for the financial support from my parents that enabled me to enroll into the mechanization pilot program," says Chimeme. Like Shava, Chimema's parents sold two cows to raise the USD500 commitment fee.  Soon, Chimema was approaching his relatives and neighbors in the community demonstrating the transporting, planting and land preparation services that he could provide. "Some of my customers would have seen me delivering manure or quarry stones to another household before requesting for my services; that is how my customer base has increased steadily."
When pricing, Chimema considers the distance, fuel and time it will take to deliver the load. "In this area, requests are for transporting manure, quarry stones, pit sand and river sand. The price ranges from USD4 – USD8 per load. While most villagers pay in cash, a few may request to pay in kind using chickens,"
Chimema's marketing strategy has been to push volumes by advertising his transporting services to other farmers outside of Ward 18. To date, he has focused on clients requiring transportation services. In Wards 18 and 19, Chimema has served a total of 60 customers, generating USD400 within the first two months of commencing the business.
Challenges and early lessons
Venturing into small mechanized service provision has not been without its challenges as attested by Chimema and Shava, "A lesson I learnt from the onset is never to overload the trailer beyond the recommended capacity," explains Chimema. "During the mechanization training, we were advised that the trailer's maximum carrying capacity is between 750-1000kg but at times I could overlook this leading to faults developing on my tractor," says Prince.
Fuel access also presents challenges at times. "We have to get fuel from Masvingo because the quality of fuel here in the ward may be compromised while the price is slightly inflated because of the middlemen selling the fuel.
The delay in delivery of tractor-drawn direct seeders reduced the potential number of customers for both Chimema and Shava for planting services, as most farmers had proceeded to plant given the early onset of the rainy season. However, both service providers are hopeful that in the next season, with all the equipment in place, they can provide the full range of services to fellow smallholders.
Continuous improvement of the technology by including a toolbar is currently underway, which eases the level of effort required to operate the two-wheel tractor, making it more flexible for the service providers.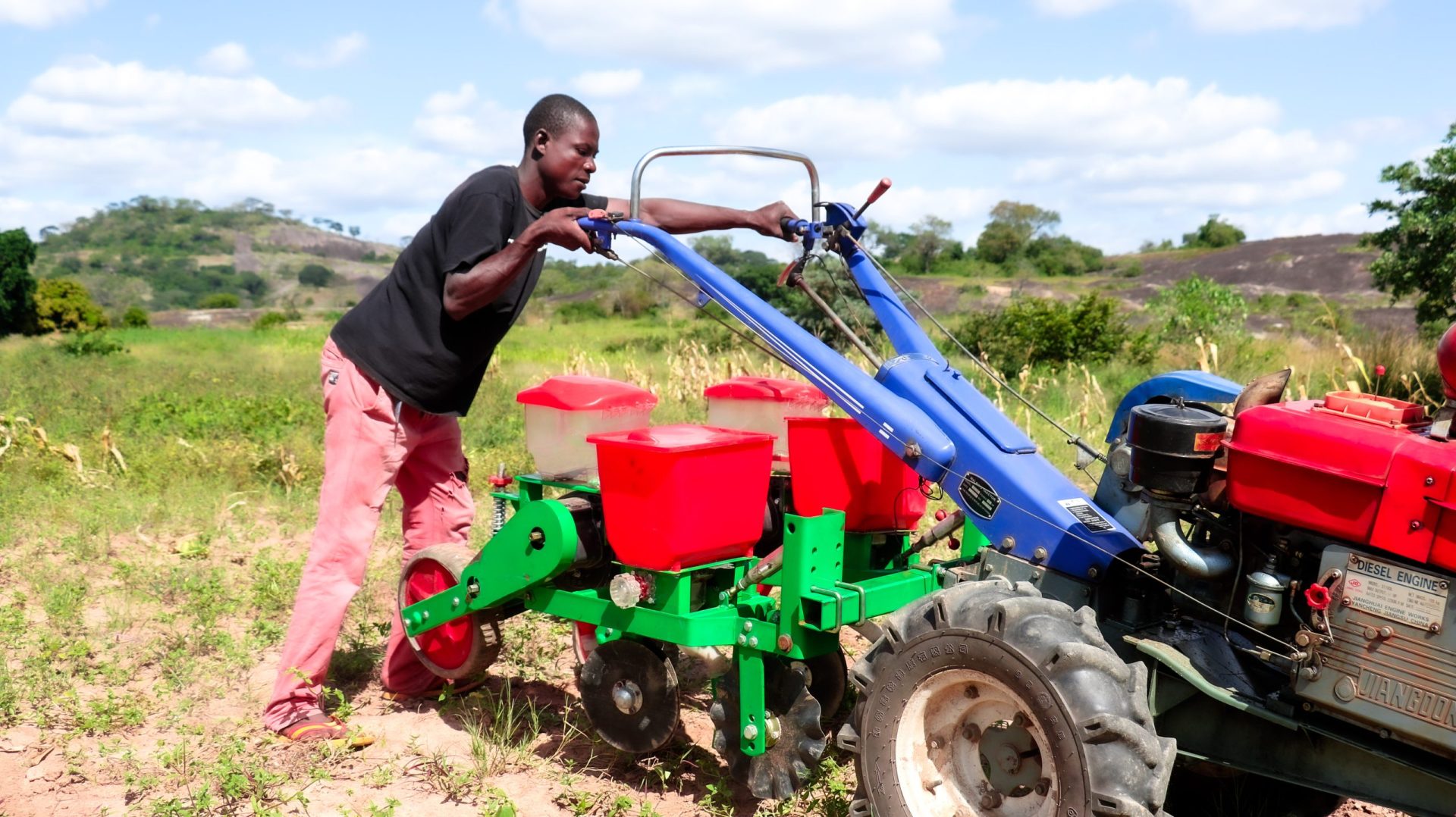 A vision for expansion and rural transformation
Chimema and Shava are optimistic about the future growth and performance of their business. Both aspire to expand their service provision over the coming five years by purchasing a second two-wheel tractor and creating employment for other villagers. "The income for the second two-wheel tractor should be generated from the current business" explains Shava.
In addition to the land preparation and transporting services, the maize sheller is set to increase their income. With a shelling capacity of 3-4 tons per day, the maize sheller significantly reduces the amount of time and effort required to shell a ton of maize manually (12.5 days).
"The priority now is to make sure that the loan repayment happens smoothly because I am generating enough income to pay back up for my package," explains Shava. Once the payment is done, Shava would like to set up a borehole and drip irrigation system for their family plot and complete construction of his house in Masvingo town.
Chimema, on the other hand, is keen to start a poultry project. He is currently assisting his parents to pay school fees for his younger sibling but believes the poultry project will increase his income stream. "As I broadcast and market my services by word of mouth and through mobile platform messages; there is room for me to expand beyond Ward 18 and 19," says Chimema. "I hope to employ at least two more people in the coming two or three years, to help me deliver the services to other farmers," he adds.
"With the business experience gained from the current season, small mechanization service providers such as Chimema and Shava can increase the portfolio of services to customers", says Christian Thierfelder, Principal Scientist at CIMMYT, leading the effort. "For example, at planting stage, service providers could provide a complete package for farmers including seed and fertilizer as well as a supply of appropriate herbicides for weed control as part of the land preparation and direct seeding service. Such an offering increases the value of the service and affords farmers the opportunity to witness the full benefits of small mechanized agriculture", Thierfelder says.
"We have to provide farmers with options to abandon the hoe. The drudgery of farming has made this profession so unattractive that a rural exodus is looming. Providing business, employment and entrepreneurship will bring back hope and will lead to a true rural and agriculture transformation in Zimbabwe." The high return on investment of the mechanized package makes it a viable year-round business option for farmers and entrepreneurs in rural Masvingo. The pilot is providing a proof of concept that this model works, even under low-potential environments.
Cover photo: Julius Shava and his wife standing at their lease-to-own two-wheel tractor which is part of the starter package for small-mechanization service providers in Masvingo District. (S.Chikulo/CIMMYT)