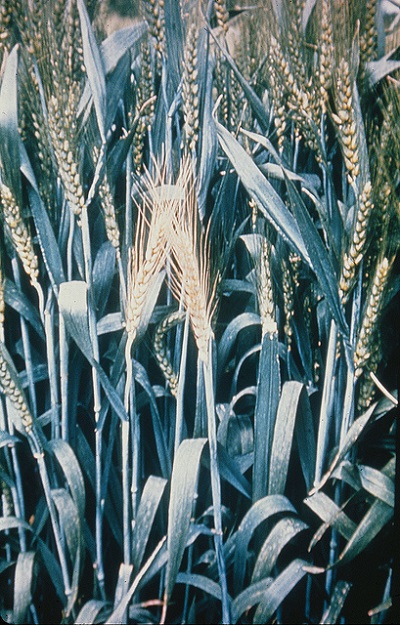 EL BATAN, Mexico – Agriculture faces many threats from climate change – drought, heat, irregular weather among other environmental challenges. However, the spread of insects to new regions as the world's climate changes is an additional threat to farmers globally, especially in Africa where climate-change effects are projected to be some of the most severe in the world.
Most agricultural pests are expected to respond to climate change. To predict what areas will face the greatest threat of the spread of pests, scientists from The International Maize and Wheat Improvement Center (CIMMYT) modeled the current and future habitat suitability under changing climatic conditions for Tuta absoluta, Ceratitis cosyra and Bactrocera invadens, three important insect pests that are common across some parts of Africa and responsible for immense agricultural losses.
The scientists found that habitat suitability for the three insect pests is partially increasing across the continent, especially in those areas already overlapping with or close to most suitable sites under current climate conditions. The three pests are likely to have an impact on productive agricultural areas under future climatic conditions.
Read the full study "Future risks of pest species under changing climatic conditions," and check out the other latest publications from CIMMYT scientists, below.
Evaluation of grain yield and quality traits of bread wheat genotypes cultivated in Northwest Turkey. 2016. Bilgin, O.; Guzman, C.; Baser, I.; Crossa, J.; Kayıhan Zahit Korkut; Balkan, A. Crop Science 56 (1): 73-84.
Harnessing diversity in wheat to enhance grain yield, climate resilience, disease and insect pest resistance and nutrition through conventional and modern breeding approaches. 2016. Mondal, S.; Rutkoski, J.; Velu, G.; Singh, P.K.; Crespo-Herrera, L.A.; Guzman, C.; Bhavani, S.; Caixia Lan; Xinyao He; Singh, R.P. Frontiers in Plant Science 7 (991):  1-15.
Sources of the highly expressed wheat bread making (wbm) gene in CIMMYT spring wheat germplasm and its effect on processing and bread-making quality. 2016. Guzman, C.; Yonggui Xiao; Crossa, J.; González-Santoyo, H.; Huerta-Espino, J.; Singh, R.P.; Dreisigacker, S. Euphytica 209: 689-692.
Unlocking the genetic diversity of Creole wheats. 2016. Vikram, P.; Franco-Barrera, J.; Burgueño, J.; Huihui Li; Sehgal, D.; Saint Pierre, C.; Ortiz, C.; Sneller, C.; Tattaris, M.; Guzman, C.; Sansaloni, C.P.; Fuentes Dávila, G.; Reynolds, M.P.; Sonder, K.; Singh, P.K.; Payne, T.S.; Wenzl, P.; Sharma, A.; Bains, N.; Gyanendra Pratap Singh; Crossa, J.; Sukhwinder-Singh. Nature Scientific Reports 6: No. 23092
Wheat waxy proteins: polymorphism, molecular characterization and effects on starch properties. 2016. Guzman, C.; Alvarez, J.B. Theoretical and Applied Genetics 129 (1): 1-16.
Climate change impacts and potential benefits of heat-tolerant maize in South Asia. 2016. Kindie Tesfaye Fantaye; Zaidi, P.H.; Gbegbelegbe, S.D.; Bober, C.; Dil Bahadur Rahut; Getaneh, F.; Seetharam, K.; Erenstein, O.; Stirling, C. Theoretical and Applied Climatology. In press.
Diversity of phenotypic (plant and grain morphological) and genotypic (glutenin alleles in Glu-1 and Glu-3 loci) traits of wheat landraces (Triticum aestivum) from Andalusia (Southern Spain). 2016. Ayala, M.; Guzman, C.; Peña-Bautista, R.J.; Alvarez, J.B. Genetic Resources and Crop Evolution 63: 465-475.
Future risks of pest species under changing climatic conditions. 2016. iber-Freudenberger, L.; Ziemacki, J.; Tonnang, H.; Borgemeister, C. PLoS One 11 (4): e0153237.
Genomic selection for processing and end-use quality traits in the CIMMYT spring bread wheat breeding program. 2016. Battenfield, S.D.; Guzman, C.; Gaynor, C.; Singh, R.P.; Peña-Bautista, R.J.; Dreisigacker, S.; Fritz, A.K.; Poland, J. The Plant Genome 9 (2): 1-12.
Participation in rural land rental markets in Sub-Saharan Africa: who benefits and by how much? evidence from Malawi and Zambia. 2016. Chamberlin, J.; Ricker-Gilbert, J. American Journal of Agricultural Economics 98 (5): 1507-1528.