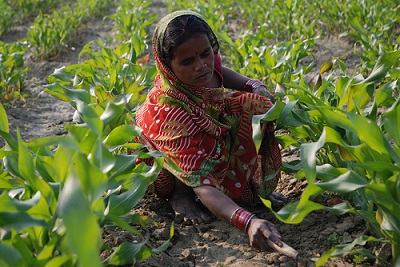 EL BATAN, Mexico (CIMMYT) — In northwestern India, growing maize is being advocated as an alternative to rice to address resource degradation challenges such as declining water tables and climate change induced variability in rainfall and temperature.
Sustainable agriculture practices have proven to increase farmer income, improve irrigation productivity and reduce greenhouse gas emissions in the cereal systems of the Indo-Gangetic plains (IGP), a fertile area extending over 2.5 million square kilometers across Bangladesh, India, Nepal and Pakistan.
The IGP currently abstracts 25 percent of global groundwater withdrawals, sustaining agricultural productivity across the region. However, aquifers are being depleted at rates faster than they can recharge, threatening food security for more than 500 million people.
In response, researchers from the International Maize and Wheat Improvement Center (CIMMYT) observed the impact of sustainable conservation agriculture practices like zero-tillage (ZT) and permanent bed planting (PB) in irrigated maize-based systems integrated with legumes in the IGP of northwestern India.
ZT and PB practices reduced irrigation water requirement by up to 65 and 98 hectares per millimeter, respectively, compared to conventional tillage systems, resulting in a water productivity boost of nearly 20 percent. Net profit from maize-based systems under ZT was over 30 percent higher than conventional systems.
The study concludes that by adopting sustainable practices like ZT and PB, farmers can sustainably increase productivity throughout the IGP region.
Read the study "Conservation agriculture in irrigated intensive maize-based systems of north-western India: Effects on crop yields, water productivity and economic profitability," and check out other new publications from CIMMYT staff, below.
Comparative performance of top-cross maize hybrids under managed drought stress and variable rainfed environments. 2016. Menkir, A., Meseka, S., Bossey, B. Ado, S., Obengantiwi, K., Yallou, C., Coulibaly, N., Olaoye, G., Alidu, H., Crossa, J. In: Euphytica, vol.212, p.455-472.
Conservation agriculture in irrigated intensive maize-based systems of north-western India: effects on crop yields, water productivity and economic profitability. 2016. Parihar, C.M., Jat, S.L., Singh, A.K., Kumar, B., Singh, Y., Pradhan, S., Pooniya, V., Dhauja, A., Chaudhary, V., Jat, M.L., Jat, R.K., Yadav, O.P. In: Field Crops Research, vol.193, p.104-116.
Control of Helminthosporium leaf blight of spring wheat using seed treatments and single foliar spray in Indo-Gangetic Plains of Nepal. 2016. Sharma-Poudyal, D., Sharma, R.C., Duveiller, E. In: Crop Protection, vol.88, p.161-166.
Dairy farm households, processor linkages and household income: the case of dairy hub linkages in East Africa. 2016. Rao, E.J.O., Omondi, I., Karimov, A., Baltenweck, I. In: The International Food and Agribusiness Management Review, vol. 19, no. 4, p. 95-108.
Detection of wheat stem rust races TTHSK and PTKTK in the Ug99 race group in Kenya in 2014. 2016. Fetch, T.G., Zegeye, T., Park, R.F., Hodson, D.P., Wanyera, R. In: Plant Disease, vol. 100, no. 7, p. 1495.
Occurrence and population dynamics of the root lesion nematode Pratylenchus thornei (Sher and Allen) on wheat in Bolu, Turkey. 2017. Imren, M., Ciftci, V., Senol Yildiz, Kutuk, H., Dababat, A.A. In: Turkish Journal of Agriculture and Forestry, vol. 41, no. 1, p. 35-41.
Population structure and genetic diversity analysis of germplasm from the Winter Wheat Eastern European Regional Yield Trial (WWEERYT). 2017. Beil, C. T., Manmathan, H. K., Anderson, V. A., Morgounov, A.I., Haley, S. D. In: Crop Science, vol. 57, p. 1-9.
QTL mapping for grain zinc and iron concentrations and zinc efficiency in a tetraploid and hexaploid wheat mapping populations. 2017. Velu, G., Yusuf Tutus, Gomez-Becerra, H.F., Yuanfeng Hao, Demir, L., Kara, R., Crespo-Herrera, L.A., Orhan, S., Yazici, A., Singh, R.P., Cakmak, I. In: Plant and Soil, vol. 411, no. 1, p. 81–99.
Ratooning pigeonpea in maize-pigeonpea intercropping: productivity and seed cost reduction in eastern Tanzania. 2017. Rusinamhodzi, L., Makoko, B. Sariah, J. In: Field Crops Research, vol.203, p.24-32.