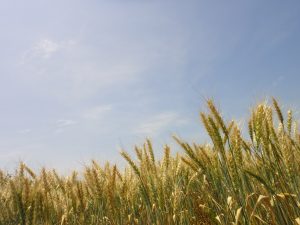 New research by an international team of scientists, including International Maize and Wheat Improvement Center (CIMMYT) agricultural systems and climate change scientist Tek Sapkota, has identified the optimum rates of nitrogen fertilizer application for rice and wheat crops in the Indo-Gangetic Plains of India.
By measuring crop yield and nitrous oxide (N2O) fluxes over two years, Sapkota and his colleagues reported that the optimum rate of N fertilizer for rice is between 120 and 200 kg per hectare, and between 50 and 185 kg per hectare for wheat. The results of the study have the potential to save farmer's money and minimize dangerous greenhouse gas emissions while maintaining crop productivity.
Nitrous oxide, one of the most important greenhouse gases in the earth's atmosphere, is responsible for ozone depletion and global climate change, and has a global warming potential 265 times that of carbon dioxide (CO2).
Research has shown that agricultural soils account for around 60% of global nitrous oxide emissions. These emissions are directly related to the application of nitrogen fertilizers to croplands. While these fertilizers help crop yields, studies show that only about one third of the applied nitrogen is actually used by crops. The rest is released as nitrous oxide or seeps into waterways, causing harmful algal blooms.
In India, the total consumption of nitrogen fertilizer is about 17 million tons — expected to rise to 24 million tons by 2030 to feed a growing population. Nitrous oxide emissions will rise along with it if farmers do not minimize their fertilizer use and manage application more efficiently. What's more, farmers receive a higher subsidy for nitrogen fertilizer — a policy that leads farmers to apply more fertilizer than the recommended dose.
Measured methods
The study, led by Sapkota, estimated the rate of nitrogen fertilizer application with the most economically optimum yield and minimum environmental footprint. Applying more fertilizer than this would be a waste of farmer's money and cause unnecessary harm to the environment.
Researchers measured crop yield and nitrous oxide fluxes for two wheat seasons and one rice season from 2014 to 2016.  The scientists found that nitrogen fertilization rate clearly influenced daily and cumulative soil nitrous oxide emissions in wheat and rice for both years. Nitrous oxide emissions were higher in both wheat and rice in the nitrogen-fertilized plots than in the control plots.
Using statistical methods, the researchers were able to measure the relationship between crop productivity, nitrogen rate and emissions intensity, in both rice and wheat. This gave them the optimum rate of nitrogen fertilizer application.
This work was carried out by International Maize and Wheat Improvement Center (CIMMYT) and implemented as part of the CGIAR Research Program on Climate Change, Agriculture and Food Security (CCAFS), with support from the CGIAR Trust Fund and through bilateral funding agreements.
Read the full study:
Identifying optimum rates of fertilizer nitrogen application to maximize economic return and minimize nitrous oxide emission from rice–wheat systems in the Indo-Gangetic Plains of India
See more recent publications by CIMMYT researchers: 
Landscape composition overrides field level management effects on maize stemborer control in Ethiopia. 2019. Kebede, Y., Bianchi, F., Baudron, F., Tittonell, P. In: Agriculture, Ecosystems and Environment v. 279, p. 65-73.
From plot to scale: ex-ante assessment of conservation agriculture in Zambia. 2019. Komarek, A.M.| Hoyoung Kwon, Haile, B., Thierfelder, C., Mutenje, M., Azzarri, C. In: Agricultural Systems v. 173, p. 504-518.
Importance of considering technology growth in impact assessments of climate change on agriculture. 2019. Aggarwal, P.K., Vyas, S., Thornton, P., Campbell, B.M., Kropff, M. In. Global Food Security v. 23, p. 41-48.
Evaluating maize genotype performance under low nitrogen conditions using RGB UAV phenotyping techniques. 2019. Buchaillot, M.L., Gracia-Romero, A., Vergara, O., Zaman-Allah, M., Amsal Tesfaye Tarekegne, Cairns, J.E., Prasanna, B.M., Araus, J.L., Kefauver, S.C. In: Sensors v. 19. No. 8, art. 1815.
Understanding tropical maize (Zea mays L.): the major monocot in modernization and sustainability of agriculture in sub-Saharan Africa. 2019. Awata, L.A.O., Tongoona, P., Danquah, E., Ifie, B.E., Mahabaleswara, S.L., Jumbo, M.B., Marchelo-D'ragga, P.W., Sitonik, C. In: International Journal of Advance Agricultural Research v. 7, no. 2, p. 32-77.
Genome-wide genetic diversity and population structure of tunisian durum wheat landraces based on DArTseq technology. 2019. Robbana, C., Kehel, Z., Ben Naceur, M., Sansaloni, C.P., Bassi, F., Amri, A. In: International Journal of Molecular Sciences v. 20, no. 6, art. 1352.
High-throughput phenotyping for crop improvement in the genomics era. 2019. Mir, R., Reynolds, M.P., Pinto Espinosa, F., Khan, M.A., Bhat, M. In: Plant Science     v. 282, p. 60-72.
Conservation agriculture based sustainable intensification: increasing yields and water productivity for smallholders of the Eastern Gangetic Plains. 2019. Islam, S., Gathala, M.K., Tiwari, T.P., Timsina, J., Laing, A.M., Maharjan, S., Chowdhury, A.K., Bhattacharya, P.M., Dhar, T., Mitra, B.,Kumar, S., Srivastwa, P.K., Dutta, S.K., Shrestha, R, Manandhar, S, Sherestha, S.R, Paneru, P, Siddquie, N, Hossain, A, Islam, R,Ghosh, A.K., Rahman, M.A., Kumar, U., Rao, K. K., Gerard, B. In: Field Crops Research v. 238, p. 1-17.
Application of remote sensing for phenotyping tar spot complex resistance in maize. 2019. Loladze, A., Rodrigues, F., Toledo, F.H., San Vicente, F.M., Gerard, B., Prasanna, B.M. In: Frontiers in Plant Science v. 10, art. 552.
10. Investigation and genome-wide association study for Fusarium crown rot resistance in Chinese common wheat. 2019. Xia Yang, X., Yubo Pan, Singh, P.K., Xinyao He, Yan Ren, Lei Zhao, Ning Zhang, Cheng Shun-He, Feng Chen In: BMC Plant Biology v. 19, art. 153.
Is labour a major determinant of yield gaps in sub-Saharan Africa?: a study of cereal-based production systems in Southern Ethiopia. 2019. Silva, J.V., Baudron, F., Reidsma, P., Giller, K.E. In: Agricultural Systems v. 174, p. 39-51.
Stakeholders prioritization of climate-smart agriculture interventions: evaluation of a framework. 2019. Khatri-Chhetri, A., Pant, A., Aggarwal, P.K., Vasireddy, V.V., Yadav, A. In: Agricultural Systems v. 174, p. 23-31.
Effect of crop management practices on crop growth, productivity and profitability of rice-wheat system in western Indo-gangetic plains. 2019. Sharma, P.C., Datta, A., Yadav, A.K., Choudhary, M., Jat, H.S., McDonald, A. In: Proceedings of the National Academy of Sciences India Section B – Biological Sciences v. 89, no. 2, p. 715-727.
Economic benefits of blast-resistant biofortified wheat in Bangladesh: the case of BARI Gom 33. 2019. Mottaleb, K.A., Velu, G., Singh, P.K., Sonder, K., Xinyao He, Singh, R.P., Joshi, A.K., Barma, N.C.D., Kruseman, G., Erenstein, O. In: Crop Protection v. 123, p. 45-58.
Genetic architecture of maize chlorotic mottle virus and maize lethal necrosis through GWAS, linkage analysis and genomic prediction in tropical maize germplasm. 2019. Sitonik, C., Mahabaleswara, S.L., Beyene, Y., Olsen, M., Makumbi, D., Kiplagat, O., Das, B., Jumbo, M.B., Mugo, S.N., Crossa, J., Amsal Tesfaye Tarekegne, Prasanna, B.M., Gowda, M. In: Theoretical and Applied Genetics v. 132, no. 8, p. 2381-2399.
Sub-Saharan african maize-based foods: processing practices, challenges and opportunities. 2019. Ekpa, O., Palacios-Rojas, N., Kruseman, G., Fogliano, V., Linnemann, A. In: Food Reviews International v. 35, no. 7, p. 609-639.
Provitamin A carotenoids in grain reduce aflatoxin contamination of maize while combating vitamin A deficiency. 2019. Suwarno, W.B., Hannok, P., Palacios-Rojas, N., Windham, G., Crossa, J., Pixley, K.V. In: Frontiers in Plant Science v. 10, art. 30.
The 4th International Plant Phenotyping Symposium. 2019. Reynolds, M.P., Schurr, U. In: Plant Science v. 282, P. 1.
Soil hydraulic response to conservation agriculture under irrigated intensive cereal-based cropping systems in a semiarid climate. 2019. Patra, S., Julich, S., Feger, K., Jat, M.L., Jat, H.S., Sharma, P.C., Schwärzel, K. In: Soil and Tillage Research v. 192, p. 151-163.
Effects of crop residue retention on soil carbon pools after 6 years of rice-wheat cropping system. 2019. Sharma, S., Thind, H.S., Singh, Y., Sidhu, H.S., Jat, M.L., Parihar, C.M. In: Environmental Earth Sciences v. 78, no. 10, art. 296.
21. How to increase the productivity and profitability of smallholder rainfed wheat in the Eastern African highlands?: Northern Rwanda as a case study. 2019. Baudron, F., Ndoli, A., Habarurema, I., Silva, J.V. In: Field Crops Research v. 236, P. 121-131.
Agro-ecological options for fall armyworm (Spodoptera frugiperda JE Smith) management: providing low-cost, smallholder friendly solutions to an invasive pest. 2019. Harrison, R., Thierfelder, C., Baudron, F., Chinwada, P., Midega, C., Schaffner, U., van den Berg, J. In: Journal of Environmental Management v. 236, p. 121-131.
Preliminary characterization for grain quality traits and high and low molecular weight glutenins subunits composition of durum wheat landraces from Iran and Mexico. 2019. Hernandez Espinosa, N., Payne, T.S., Huerta-Espino, J., Cervantes, F., González-Santoyo, H., Ammar, K., Guzman, C. In: Journal of Cereal Science v. 88, p. 47-56.
Tissue and nitrogen-linked expression profiles of ammonium and nitrate transporters in maize. 2019. Dechorgnat, J., Francis, K.L., Dhugga, K., Rafalski, A., Tyerman, S.D., Kaiser, B.N. In: BMC Plant Biology v. 19, art. 206.
CGIAR Operations under the Plant Treaty Framework. 2019. Lopez-Noriega, I., Halewood, M., Abberton, M., Amri, A., Angarawai, I.I., Anglin, N., Blummel, M., Bouman, B., Campos, H., Costich, D.E., Ellis, D., Pooran M. Gaur., Guarino, L., Hanson, J., Kommerell, V., Kumar, P.L., Lusty, C., Ndjiondjop, M.N., Payne, T.S., Peters, M., Popova, E.,Prakash, G., Sackville-Hamilton, R., Tabo, R., Upadhyaya, H., Yazbek, M., Wenzl, P.  In: Crop Science v. 59, no. 3, p. 819-832.