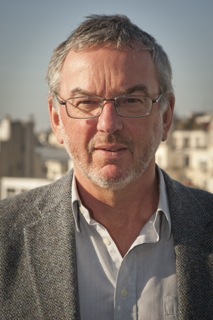 John R. Porter of The University of Copenhagen, the Natural Research Institute of the University of Greenwich, UK, and member of the WHEAT Independent Steering Committee, was granted Knight of the French Order of Agriculture Merit at a ceremony on 1 March.
The Order of Agricultural Merit is awarded to those that have made extraordinary contributions to agriculture via research or practice. The Order, which was established in 1883 by France's Ministry of Agriculture, is one of the most important recognitions awarded in the country.
To become a knight, a person must be at least 30 years of age and have dedicated at least 15 years of service to the agricultural community, covering both developed and developing country farming.
"France has had an extremely important role in the development of agriculture and food production in Europe and the world. The production of food serves one of the most basic human needs, and this award and its history recognizes that fact," said Porter in an acceptance speech at the French Embassy in Denmark. "I was extremely honored and surprised when I learned that I would be bestowed with this honor."
Porter is best known for his pioneering work in the development of crop simulation models that are now regarded as being central to guiding research identifying new crop phenotypes, the impacts of and adaptation to climate change and carbon mitigation to the benefit of agriculture globally. He has also made major contributions to agriculture via his multi-disciplinary work in the response to arable crops, energy crops and complex agro-ecosystems to their environment with an emphasis on climate change, agronomy and ecosystem services.
Focusing on agriculture in the developing world, Porter took the initiative to bring the secretariat and hub of the CGIAR Research Program on Climate Change, Agriculture and Food Security (CCAFS), to his university in Copenhagen. He has also collaborated with European pasta manufacturers to develop methods to identify high quality sources of durum wheat prior to harvest by using a combination of models and remote sensing technologies.
Porter has published more than 140 papers in reviewed journals and has won three international prizes for his research and teaching. Apart from serving on the WHEAT Independent Steering Committee, he was appointed by the French Ministry of Agriculture and serves as a member of the Science Council of the French National Institute for Agricultural Research (INRA) and previously served as the president of the European Society for Agronomy.
Most recently, Porter was the lead author of a critically important chapter for the Intergovernmental Panel on Climate Change (IPCC) on food production systems and food security for the IPCC 5th Assessment Report, which was the scientific bedrock of the COP21 agreement, signed December 2015.
Congratulations to John R. Porter on this prestigious award!