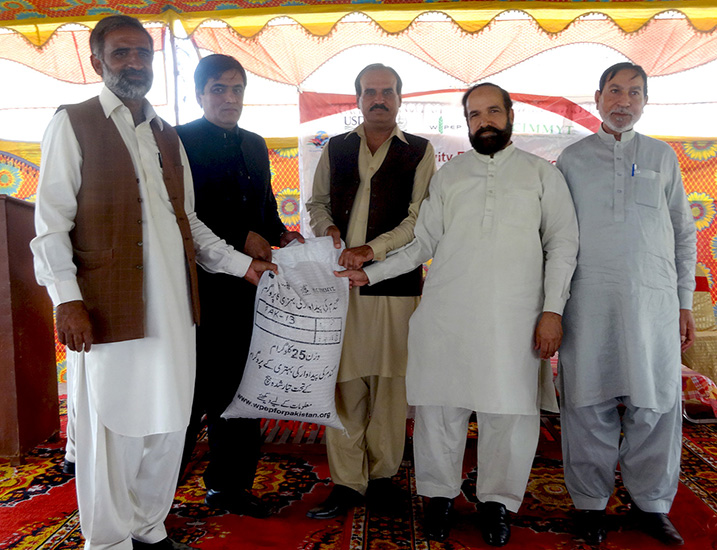 As part of seed multiplication and distribution, an objective of the Wheat Productivity and Enhancement Program (WPEP), CIMMYT-Pakistan distributed quality wheat seed free of charge to smallholder farmers in Punjab province with the aim of replacing outdated, susceptible wheat varieties.
A distribution ceremony was held at the Wheat Research Institute (WRI) Faisalabad on 3 November 2015. The event was attended by Makhdoom Hussain, WRI-Faisalabad Director, and M. Imtiaz, CIMMYT Country Representative.
In the third round of wheat seed distribution by WPEP, each of 40 farmers received 25 kg of seed of PAKISTAN-2013 and NARC-2011, wheat varieties derived from CIMMYT germplasm that are resistant to rust (especially Ug99).
When addressing the farmers, Makhdoom indicated that they could obtain good crops from the seed by observing all the required cultural practices, and also provide pure seed for a larger area, to be distributed among other farmers in the community.
Imtiaz informed farmers that in view of the speed at which the Ug99 rust pathogen is spreading around the globe, CIMMYT-Pakistan started this effort in partnership with Pakistan national scientists to tackle rust epidemics, especially of Ug99. Distributing these varieties on a large scale would help minimize the risk of rust epidemics in the future. Makhdoom Hussain and M. Imtiaz then distributed seed among the selected farmers.
On 4 November 2015, another wheat seed distribution ceremony organized by CIMMYT, in collaboration with the Rotary Club, was held in Nankana-Sahib District. The event was attended by Asghar Ali Dogar, Executive District Officer of Agricultural Extension Nankana Sahib; Rana Jameel Hassan Khan, Union Council Chairman; Muhammad Tayyab, Rotary Club President; and M. Imtiaz. More than 100 farmers from a small rice-growing community who are in a real need of new technologies, including improved seed, attended the event. Thirty randomly selected farmers received wheat seed from Imtiaz.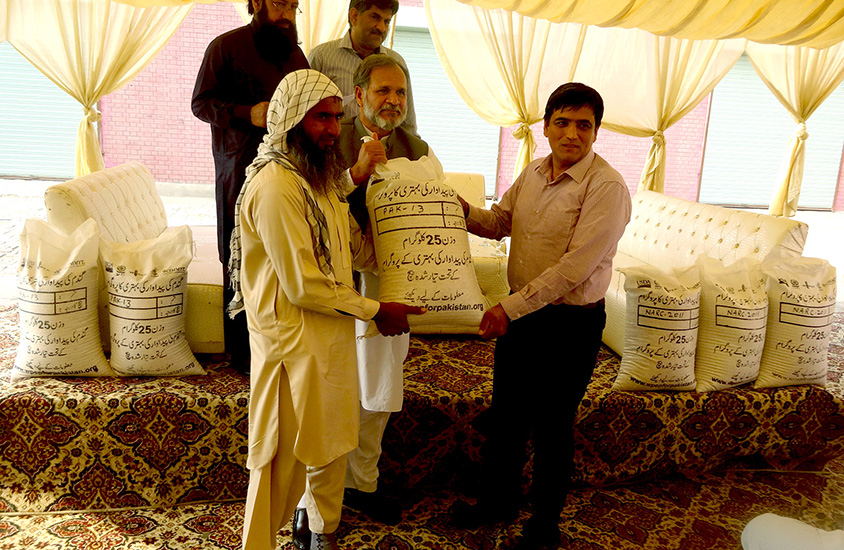 Speaking to the farmers, Tayyab said that the plan is that every farmer in Nankana-Sahib will be able to produce their own seed in the future and that CIMMYT is helping to reach this goal.
While addressing the event, M. Imtiaz advised the farmers of Nankan-Sahib to get pure wheat seed to sow in the next cycle and said that CIMMYT would train them on seed production techniques.
At both locations, farmers were guided to get pure and quality wheat seed to sow the next season. The team collected farmers' information for future follow-up on the varieties' performance and yield in farmers' fields.
The farmers expressed appreciation for CIMMYT's efforts and vowed to multiply and provide quality seed to other farmers. Several farmers who received wheat seed last year offered their fellow farmers seed for the current sowing. This program has enabled many of Pakistan's smallholder farmers to begin the process of reproducing seed for future use.