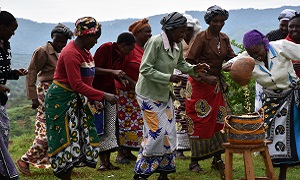 KOLA, Kenya (CIMMYT) – A new video aimed at raising awareness among farmers about high-yielding, drought-tolerant maize varieties is set for distribution in eastern Kenya ahead of the long rains that begin in March 2016. In the video, which was made by Michigan State University, farmers discuss the challenges of food scarcity related to poor maize seeds that wither because of moderate drought conditions prevalent in the area. The climate, coupled with poor agronomic practices, results in very low yields that cannot sustain households, the video shows.
"The actors are local farmers who are known and trusted," said Charles Steinfield, a professor at Michigan State University (MSU), who led the project, which focuses on Kola village in Machakos County, about 62 kilometers East of Nairobi.
"The context of the story is real, therefore, this approach comes out as more engaging, practical and has some entertaining bits to appeal to the audience."
Additional cast members include a leader, an agro-dealer and an agronomic expert who guides the farmers to use improved drought-tolerant maize varieties and recommended agronomic management practices during land preparation, planting, harvesting and post-harvest.
The video was made in the farmers' homesteads and farms, as a way of including them in the filming and encouraging them to become part of the process. David Kyule and Winfred Kyule were among the main actors. They said they found the experience exciting; adding that they think the video will encourage farmers to plant improved drought-tolerant seeds.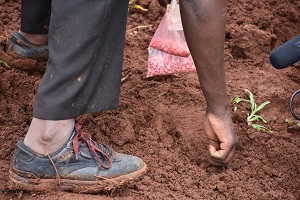 The videos will be shown to farmers in local meetings called barazas organized by Farm Input Promotions Africa (FIPS), which supports farmers in Kola and the greater eastern Kenya region to access improved farm inputs through a network of village-based advisors and network coordinators. Given the lack of electricity in the targeted areas, some of which are remote, the video will be screened using portable battery-operated projectors.
The plan is to screen the videos just before the farmers start their next planting season in March 2016, Steinfeld said. In addition to sharing information, farmers will be encouraged to engage in discussions about drought-tolerant varieties before and after they see the video. Any change in perception and adoption of these varieties in the coming planting season will be monitored. The screening will target at least 600 farmers in Kola location.
"Our key message in the video is on the benefit of Drought Tolerant varieties and we want farmers to simply try the varieties and see how they perform," Steinfeld said.
"We are not asking farmers to throw away their local varieties, but giving them a chance to know and experiment the improved drought tolerant varieties that will give them much better yield. All they have to do is try the seeds."
Through FIPS, the farmers will receive small packets of the drought-tolerant varieties to plant on a small portion of their land to see how it performs.
Plans are underway to air the videos by mid-February 2016 when farmers will be preparing to plant during the March-to-May long rains season.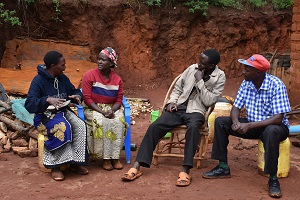 Soon after the video screening, pre-recorded mobile phone voice messages will be sent to farmers to remind them to buy improved certified drought-tolerant varieties. The messages will be followed up in April by another voice message recommending required agronomic practices that include fertilizer or manure application and weeding. In August, farmers will receive messages including advice on drying and storing the maize harvest.
SEED ACCESS
After raising awareness about the drought-tolerant varieties, demand for the seed is expected to increase. The Drought Tolerant Maize for Seed Scaling project, run by CIMMYT is currently working with seed companies to increase availability of affordable drought-tolerant seed. Some of the varieties, which feature in the video, include DroughtTego, KDV2, KDV4 and KDV6 developed under International Maize and Wheat Improvement Center (CIMMYT) maize projects – Drought Tolerant Maize for Africa and Water Efficient Maize for Africa.
The participatory farmer video filming project in Kola location, Machakos County in eastern Kenya was developed by Michigan State University and funded by the U.S. Agency for International Development with support from FIPS and CIMMYT.