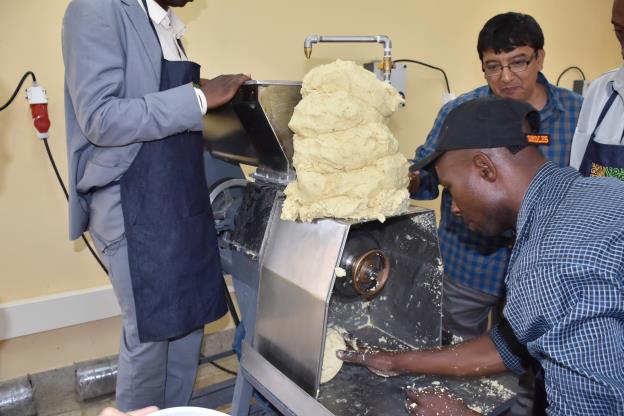 NAIROBI, Kenya (CIMMYT) — Although maize is a staple food for millions of Kenyans it is usually consumed in one of five ways: roasted or boiled; mixed with beans, or in ugali (a dough-like dish made from maize flour, millet flour or sorghum flour) and porridge. This is nothing compared to over 600 dishes derived from maize in Mexico, about 300 of them made through a process called nixtamalization or lime-cooking.
The process includes cooking and steeping dried maize grain in water and food-grade lime (calcium hydroxide), rinsing the maize to remove the outer kernel cover (pericarp) and milling it to produce dough that can be consumed in different ways, according to Natalia Palacios, maize quality specialist at the International Maize and Wheat Improvement Center (CIMMYT). This method, first developed in Mesoamerica where the crop was originally cultivated, has existed in the region for thousands of years.
If adapted, modern nixtamalization technology could increase maize uses and offer Kenyans invaluable benefits. Food-grade lime is rich in calcium, providing nutritional and health benefits. Nixtamalized food products such as tortillas (small circular-shaped flatbreads) are said to have same nutritional value as milk. About 94 percent of Mexicans eat tortillas, with 79 kilograms (174 pounds) per capita being consumed in rural areas and 57 kilograms per capita in urban areas every year.
By removing the pericarp, the technology contributes to reduce aflatoxin fungal contamination levels in maize kernels by 30 to 60 percent. Due to aflatoxins, Kenya has suffered maize production losses and, more importantly, a loss of human lives. In 2004, 124 people died due to aflatoxin contamination, and 155,000 90-kilogram bags of maize had to be discarded, according to government reports. Nixtamalization technology may therefore also contribute to increasing food safety for Kenyan consumers, who, according to the U.N. Food and Agriculture Organization, are not fully aware of the harvest, drying and storage techniques necessary to prevent mycotoxin growth and contamination.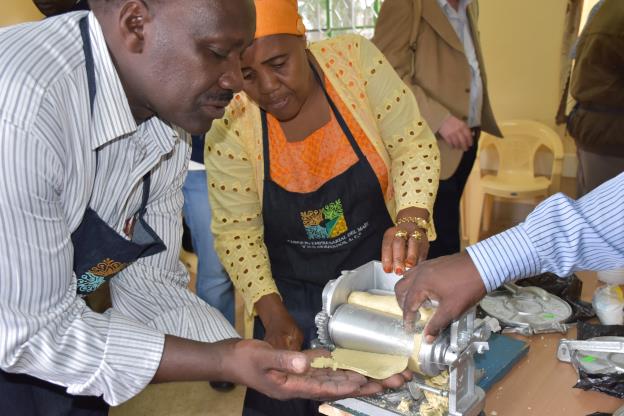 The benefits of nixtamalization will soon become a reality for Kenyans following the official presentation of nixtamalized maize mills to the Cabinet Secretary of Kenya's Ministry of Agriculture, Livestock and Fisheries by Mexico's ambassador to Kenya, Erasmo Martínez, which took place on 4 April 2016 in Nairobi. This event marked the official launch of a new project titled "Expanding maize utilization as food and enhancing nutrition improved health and development in Kenya through processing technologies from Mexico," which will contribute to disseminating new technology across the country. The three-year project will be led by the Kenya Agricultural Livestock and Research Organisation (KALRO).
The launch was followed by a week of training of 27 trainers from the public and private sectors led by CIMMYT and its collaborators from the tortilla industry in Mexico City and the National Autonomous University of Mexico. The training focused on building the capacity of partners who will be the major drivers of the commercialization of nixtamalized products.
"Geographically Mexico is very far from Kenya, but we want to bring a technology that is benefiting millions of people in Mexico every day, and it's my hope that this will go beyond Kenya," Martínez said, lauding this milestone.  The Mexican embassy and the Mexican Agency for International Cooperation and Development played a crucial role in bringing the technology to Kenya.
"This technology is important because of its value addition to our food sector through reduction of aflatoxin exposure, increased market and income opportunities for youth and women, which will attract and improve their involvement in agribusiness," said Sicily Kariuki, Cabinet Secretary for Public Service and Youth, who played a key role in the initial discussion on transferring this technology to Kenya.
KALRO will support raising awareness of the technology among small- and medium-sized companies, increasing their investment opportunities. KALRO is the custodian of the equipment donated by the Mexican government that is being used for training. CIMMYT will support this work by providing technical and capacity building expertise.
"We will help to evaluate and monitor grain quality besides developing resilient maize to ensure we have improved materials that fit the purpose of an efficient nixtamalization," Palacios said. CIMMYT will also continue to collaborate with its partners on research aimed at finding further scientific evidence of the use of nixtamalization as a way of decreasing aflatoxin exposure.