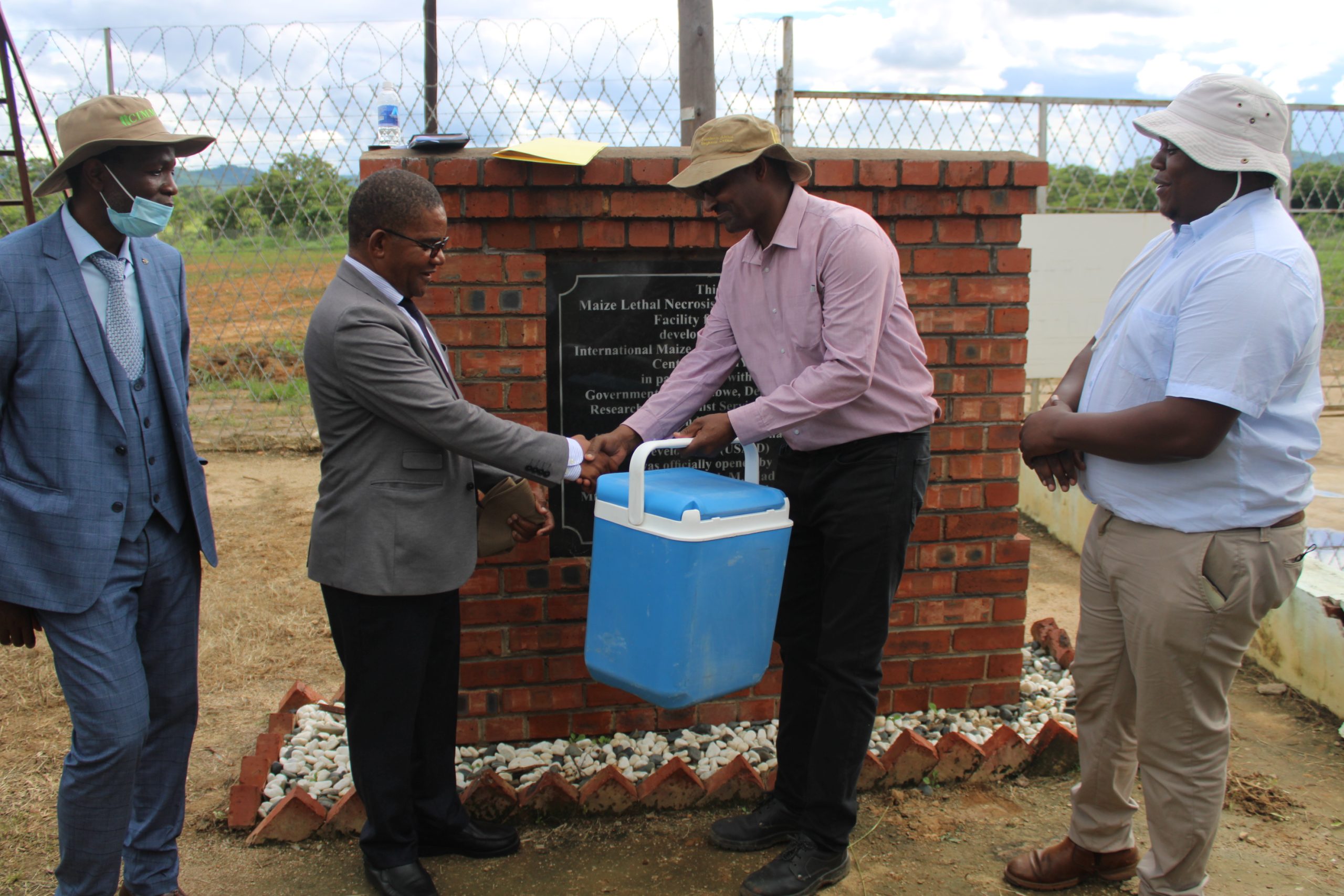 The best results in combating pests and diseases exacerbated by climate change and protecting agricultural food systems originate from strategic partnerships between national governments and international research organizations. Such a synergy between Zimbabwe's Department of Research and Specialist Services (DRSS) and the International Maize and Wheat Improvement Center (CIMMYT) was recognized for its effectiveness at an event hosted by Zimbabwe Plant Quarantine Services on January 9, 2023.
"The mandate of ensuring that Zimbabwe is protected from plant diseases and invasive pests is one which cannot be attained by government alone, but together with partners such as CIMMYT," said Dumisani Kutywayo, Chief Director of DRSS.
Dagne Wegary Gissa, CIMMYT senior scientist in maize breeding, presented Kutywayo with the latest advanced PCR testing kits for detecting maize lethal necrosis. "We are committed to ensuring that we support Zimbabwe with improved maize and wheat varieties but also with rapid disease detection," said Gissa.
Kutywayo and senior directors were given a tour of the plant quarantine services station, where they observed where all introduced maize seed is quarantined and tested before being incorporated into the local seed systems. Tanyaradzwa Sengwe, a seed health and quality expert, summarized the quarantine procedures and explained how the day-to-day operations between the two institutes are being implemented. This involves the management of imported seed, protocols of seed management and biosafety measures for the quarantine facility.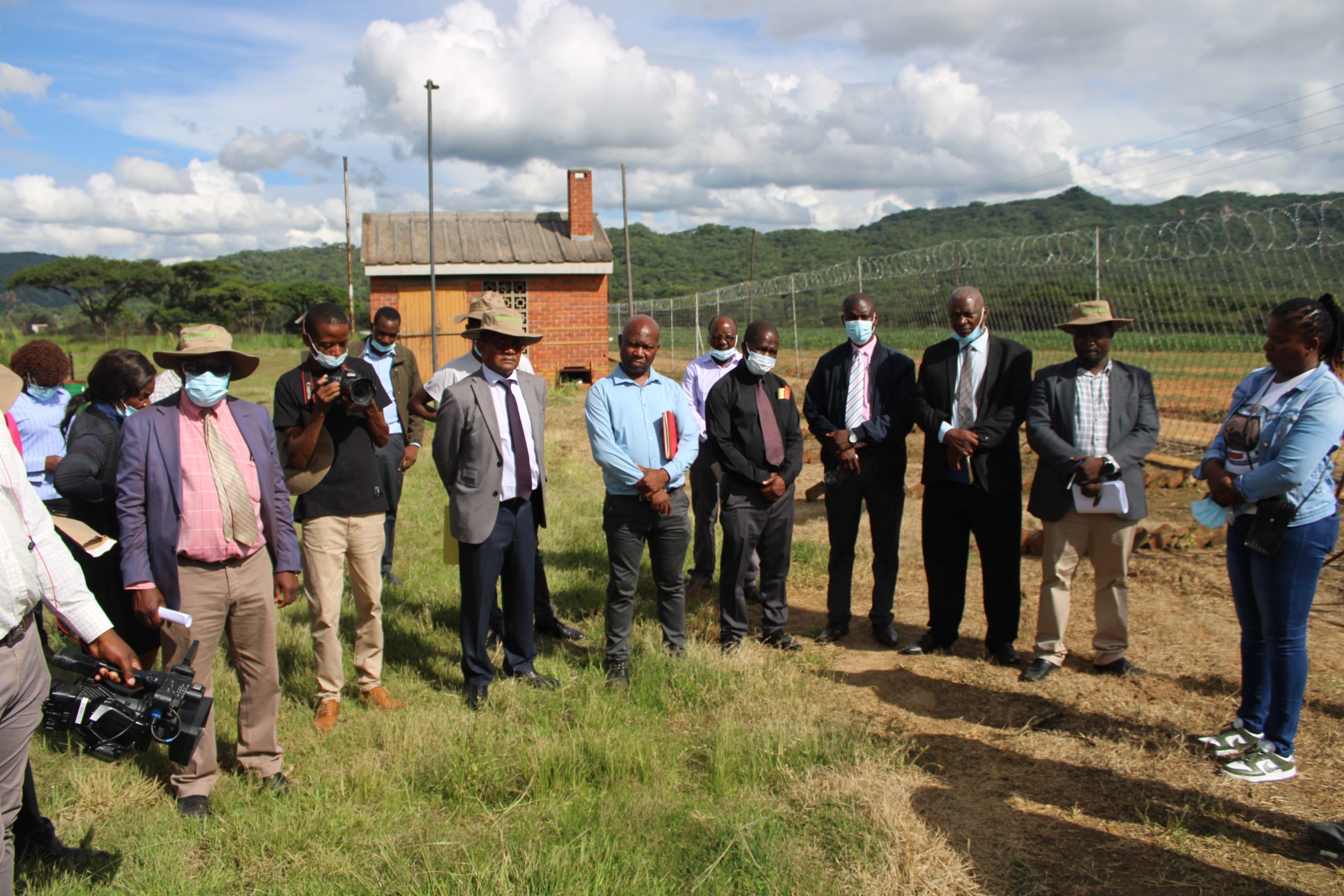 Expanding partnerships
Zimbabwe can now accelerate its crop improvement programs, Gissa indicated, because CIMMYT has provided the government access to doubled haploid (DH) technology. This technology significantly shortens the breeding cycle from seven years to approximately 3-4 years. DH technology has become an integral part of many commercial maize breeding programs, as DH lines offer several economic, logistic and genetic benefits over conventional inbred lines. Further, new advances in DH technology continue to improve the efficiency of DH line development and fuel its increased adoption in breeding programs worldwide.
CIMMYT-Zimbabwe has facilitated access for Zimbabwe's maize breeding program to a CIMMYT DH facility in Kenya. Busiso Mavankeni, the head of the Crop Breeding Institute, related how it was very expensive for governments of developing countries to keep up with the latest breeding technology trends and so collaborating with CIMMYT is helping Zimbabwe. "Having access to the DH facility has been a great boon to our breeding program," said Mavankeni.
CIMMYT and Zimbabwe are also engaged in capacity building exercises; involving training sessions across a variety of food system frameworks. Nhamo Mudada, Head of Plant Quarantine Services, acknowledged the multiple trainings ranging from disease identification and prevention systems to entomology related concepts. "Our technical capabilities have increased significantly, and we strongly attribute this to CIMMYT's knowledge sharing mandate," Mudada said.
"This sustainability is enabled by ensuring that our systems can screen genetic materials coming into the country and detect diseases which may be foreign to the agroecological region. CIMMYT has, over the years, supported the government not only from a financial perspective but also from a technical capacity perspective.
"Having reliable partners such as CIMMYT who generously invest in government priorities helps our country to be well positioned against threats to our food security," said Kutywayo, "The key for creating and maintaining sustainable innovation is for development partners like CIMMYT to work within existing national frameworks," said Kutywayo. "As the adverse effects of climate change intensify, such strategic partnerships are the only way to establish appropriate responses."
"Our goal is to serve as critical partners for Zimbabwe's agrifood programs. We have dedicated ourselves to be a long-term partners and will provide as much support as we can to ensure Zimbabwe's food security," Gissa said.