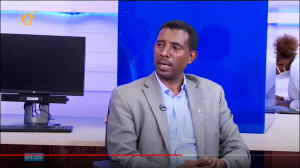 As the COVID-19 pandemic continues to widen, its effects on the agriculture sector are also becoming apparent. In countries like Ethiopia, where farming is the backbone of the nation's economy, early preparation can help mitigate adverse effects.
Recently, Fana Broadcasting Corporate (Fana Television) organized a panel discussion on how the Ethiopian government and its partners are responding to this crisis. Analyzing this topic were Kindie Tesfaye from the International Maize and Wheat Improvement Center (CIMMYT), Mandefro Negussi of the Ethiopian Institute of Agricultural Research (EIAR) and Esayas Lemma from the Ministry of Agriculture.
The panelists highlighted Ethiopia's readiness in response to COVID-19. The country established a team from various institutions to work on strategies and to ensure no further food shortages occur due to the pandemic. The strategy involves the continuation of activity already started during the Bleg season — short rainy season — and the preparation for the Meher season — long rainy season — to be complemented by food production through irrigation systems during the dry season, if the crisis continues beyond September 2020.
Tesfaye indicated that CIMMYT continues to work at the national and regional levels as before, and is represented in the advisory team. One of the activities underway, he said, is the plan to use the Agro-Climate Advisory Platform to disseminate COVID-19 related information to extension agents and farmers.
Panelists agreed that the pandemic will also impact the Ethiopian farming system, which is performed collectively and relies heavily on human labor. To minimize the spread of the virus, physical distancing is highly advisable. Digital media, social media and megaphones will be used to reach out to extension agents and farmers and encourage them to apply all the necessary precaution measures while on duty. Training will also continue through digital means as face to face meetings will not be possible.
Full interview in Amharic: