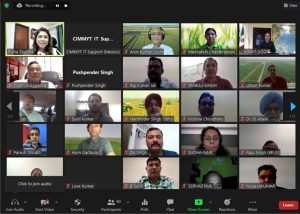 A decade ago, a foundation was laid with a vision to secure food, nutrition, livelihoods, and the environment in South Asia. The Borlaug Institute of South Asia (BISA) was formed and the principles were set following the path of Norman Borlaug to translate the agrarian challenges into opportunities by collaborating with the International Maize and Wheat Improvement Center (CIMMYT) and the Indian Council of Agricultural Research (ICAR). BISA was established as an independent, non-profit research organization.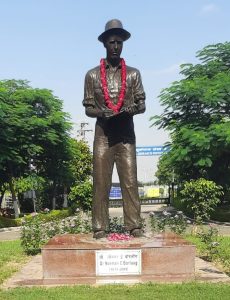 To commemorate the 10th anniversary of BISA, Bram Govaerts, Director General, CIMMYT-BISA, gathered BISA staff for a virtual celebration on 5 October 2021. He congratulated BISA colleagues and said "[…] BISA has continued to expand Norman Borlaug's vision and legacy. It has […] been committed and achieved excellence in science, seeds and partnerships by touching lives of millions of farmers and consumers."
"Perhaps one of the most impactful outcomes of BISA's work has been its contribution to build a strong and wide network for evaluating and disseminating new high yielding and climate-resilient wheat varieties for southern Asia in close partnership with ICAR and national agricultural research systems. CIMMYT-BISA has not only contributed towards this but will also make sure that India's farmers are the happiest. Efforts will and have been made towards their income generation, livelihood for families, a clean environment and building of future agricultural resilience," he added.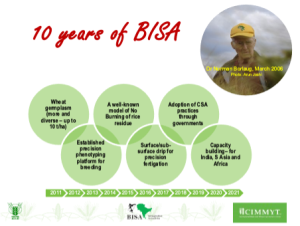 Pramod Aggarwal, Regional Program Leader, BISA and CGIAR Research Program on Climate Change, Agriculture and Food Security (CCAFS), gave suggestions for the way forward and BISA's future collaborations. He said, "It's time to strengthen BISA and further expand it to other South Asian countries."
Arun Joshi, Managing Director, BISA, spoke about the achievements of BISA throughout the last decade and about the establishment of the 'Farms of the Future'. "BISA farms are equipped with state-of-the-art technology. BISA's no residue burning, efficient resource management, precision phenotyping, climate resilient germplasm, quality seed and capacity development activities are just a few examples of BISA's successful programs," he said.
"BISA has been scaling climate smart agriculture technologies not only in Indian villages but to other countries of South Asia, as well, and has supported African colleagues in capacity development." Joshi recalled the support provided by numerous funding partners, by ICAR (Government of India), state governments (Punjab, Bihar, Madhya Pradesh, Maharashtra), other governmental institutions, CIMMYT's Board of Trustees and Management Committee team members and different research programs to strengthen BISA.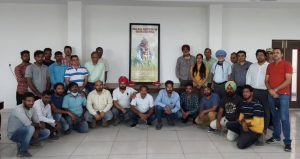 Celebrations galore  
In addition to the virtual celebration with the leadership of BISA and CIMMYT, numerous teams scattered across India celebrated the success and fruitful journey of BISA. The teams at BISA farms in Jabalpur (Madhya Pradesh), Pusa (Bihar), and Ludhiana (Punjab) marked the occasion by gathering at a COVID-19-appropriate distance and paid regards to Norman Borlaug and spoke about the objectives and vision of BISA.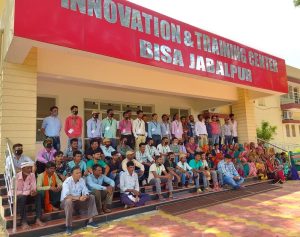 The New Delhi team celebrated by garlanding the statue of Borlaug, that stands in front of the office of BISA based at the National Agriculture Science Complex (NASC).
Capturing the decade-long journey
The ten-year journey of BISA is captured in "A Decade of Research in Borlaug Institute for South Asia (BISA) 2011-2021," a research highlights report that was unveiled during the virtual celebration and that will soon be available online. Arun Joshi explained that the document encapsulates the spirit of BISA and its achievements throughout the last ten years. Its sixteen themes define the work of BISA and its reach across South Asia.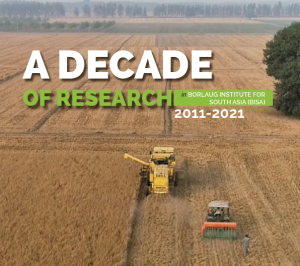 The report also informs of BISA's outreach activities throughout the last decade and its impact on climate resilient agriculture. Themes such as 'Managing Rice Residue Burning', 'Climate Smart Village Approach', 'Precision Phenotyping in Wheat Breeding', 'Developing Improved Crop Insurance Products', 'Mainstreaming Gender in Climate-Resilient Agriculture' reveal how BISA scaled up these approaches with its advanced technology mechanisms. In addition, every theme captures information related to funding and research partners.
Overall, the ten-year report is a robust document which showcases how millions of farmers in South Asia have benefitted from the strong scientific partnership of BISA and national programs.