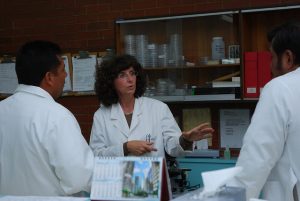 Breaking Ground is a regular series featuring staff at CIMMYT
EL BATAN, Mexico (CIMMYT) — At the International Maize and Wheat Improvement Center (CIMMYT) it all starts with a seed. Each year, the non-profit receives requests and sends more than 700,000 packets of seed to researchers, agricultural organizations and farmers around the world from its headquarters near Mexico City. These seeds stand up to climate change, produce higher yields with fewer resources and provide the nutrition a growing global population needs.
However, before each seed travels across an international border, it is essential to ensure that each one has a clean bill of health, free from virus, fungus and bacteria pathogens. Infected seeds must be controlled or there is a risk that plant pathogens will spread, affecting crop health and potentially threatening food security.
That is where plant pathology expert Monica Mezzalama, head of CIMMYT's Seed Health Laboratory, gets involved.
"Seed movement around the world is regulated to limit the spread of pathogens across international borders," said the senior scientist. "I coordinate and supervise seed health testing to ensure all seeds that pass through CIMMYT meet these international standards and do not pose a risk."
Securing the health of seeds ensures that researchers, breeders and partner organizations don't encounter infected seed and is essential to maintaining efficient agricultural research that has impact, she added.
Since taking the helm of the Seed Health Laboratory 15 years ago, all seed that has been inspected on its way out of CIMMYT must meet certification. If unhealthy seed is found it must be quarantined and destroyed under the law, explained Mezzalama.
Seeds arriving from partner organizations, researchers or farmers are also tested for disease and granted a "seed release" by Mezzalama and her team. Authorized seed then moves on to CIMMYT researchers to be studied for disease resistance, heat tolerance and micronutrient content and added into international breeding programs. Others are placed in the maize and wheat germplasm bank, where over 175,000 different varieties are preserved on behalf of humanity and are freely available to all upon request.
A curiosity for disease and a passion to cure led Mezzalama to a career as a plant pathologist. While studying for an undergraduate degree in agronomy in her hometown of Turin, Italy, she visited nearby vineyards to study plant pathogens for the first time.
"It was working in the vineyards where I first saw plant pathogens at work and where I saw the impact they have on farmers, and what it means for their livelihoods," she said.
After graduating in 1986, Mezzalama began her first job at CIMMYT working alongside virologist Peter Burnett on a project dedicated to barley yellow dwarf (BYD) virus, which effects barley, wheat, maize, rice and other grasses worldwide. The experience opened her mind to a new world where she learned the inner workings of plant pathogens and started to study for a doctoral degree in plant pathology in Italy.
Since returning to CIMMYT in 2001, Mezzalama has led the Seed Health Laboratory, set institutional biosafety protocols to protect against harmful incidents, which include regular reviews of the biosafety in laboratory settings, as well as well as guidelines to follow, and participated in several research projects. Most recently, she joined a project to control the spread of Maize Lethal Necrosis (MLN), a devastating virus that poses a severe risk to food security in eastern Africa.
The complex disease results from the infection of two deadly viruses, maize chlorotic mottle virus and sugar cane mosaic virus. It spreads through infected maize seed and insect pests. Mezzalama's skill in plant pathology detection was called upon to organize the opening of seed health laboratories in Kenya and Zimbabwe and also train staff on how to detect seed infected with MLN or the two associated viruses.
Currently, Mezzalama is in the final stages of developing a standard of detection protocol, providing the agriculture industry with knowledge of best practices and affordable tools to detect MLN infected maize seed.
"There are several products and methods that may be used for MLN detection in seed, these must be tested to see which obtain the most accurate results efficiently while taking into price into account," she said.
Accuracy, time and cost are important factors when developing MLN detection protocols as common practice, implemented by partners in Kenya and other impacted countries, she explained.
Key donors to CIMMYT's efforts in controlling MLN include the CGIAR Research Program on Maize (MAIZE), the United States Agency for International Development (USAID), the Bill & Melinda Gates Foundation (BMGF), Syngenta Foundation for Sustainable Agriculture (SFSA), the Association for Strengthening Agricultural Research in Eastern and Central Africa (ASARECA), the Alliance for a Green Revolution in Africa (AGRA), the Kenya Agriculture and Livestock Research Organization (KALRO), and the Rwanda Agriculture Board (RAB), CGIAR Fund Donors and other generous contributors to CIMMYT maize research.