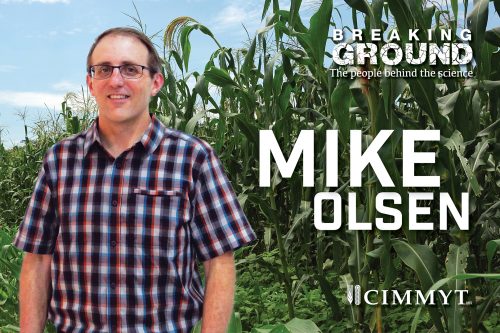 EL BATAN, Mexico (CIMMYT) — Global challenges to agriculture such as climate change, crop diseases and pests mean that the International Maize and Wheat Improvement Center (CIMMYT) is constantly working to develop new, improved, resistant varieties for farmers.
However, crop breeding is expensive, time-consuming work, meaning that it takes several years for farmers to get seed solutions to the challenges they are facing today.
Mike Olsen, upstream research coordinator for CIMMYT maize program, works with scientists to use new technologies to increase breeding program efficiency and genetic gain — developing improved maize varieties with the traits smallholder farmers' need, such as disease resistance or drought tolerance, using less time and resources than ever before.
"Our whole team is trying to improve genetic gain for various traits, and to deliver more genetic gain with fewer resources, through the application of phenotyping innovation, genomics and molecular markers for crop improvement," Olsen said. "Our work at CIMMYT assists our breeding teams to be more effective in developing improved products for farmers."
Originally from the United States, Olsen grew up on a small farm in Wisconsin and would go on to study plant breeding and genetics at the University of Minnesota. "During my undergrad years I had the chance to visit South Africa and saw rural poverty for the first time. At the time, I was taking classes in plant biology and genetics and I was inspired by the idea of using agricultural improvement as a method for poverty eradication—it's a big part of why I went into plant breeding," he said. "As a graduate student, I became very interested in the mission of CIMMYT. I was studying at Norman Borlaug's alma mater — working in Borlaug Hall, in fact — which inspired me to pursue a career at a CGIAR center. CIMMYT was a perfect fit that allowed me to do something I've wanted to do since I was 19 years old."
The farmers he has met around the world inspire Olsen to come into work every day. "Knowing that the outcome of our work is providing income and food security to millions of vulnerable people is what's so exciting about what we do. Being able to serve as a conduit for bringing advanced technology for crop improvement for resource poor farmers and consumers is incredible," he said.
Beyond the day-to-day activities of conference calls, travel and airports, the big picture work of what Olsen does is to lead a global team of talented scientists, help with grant writing and project oversight, with a focus on breeding program optimization. "I have been very involved with the Genomics and Open Source Breeding informatics initiative (GOBii), which helps breeding programs efficiently use genetic information, and I'm currently working on a collaboration with DuPont Pioneer on seed production in Africa to deliver higher quality seed to smallholder farmers," Olsen said. "What I most enjoy about my work is the people. I have to be honest, coming to CIMMYT I was moving out of a hands-on science role into working with people, and the collaborative nature of this job has been really energizing for me. I've had the opportunity to mentor some of our talented young scientists into greater leadership roles, and it has been really exciting seeing their professional growth. It's the CIMMYT mission that gets us all out of bed in the morning, but I really enjoy the people I work and collaborate with."