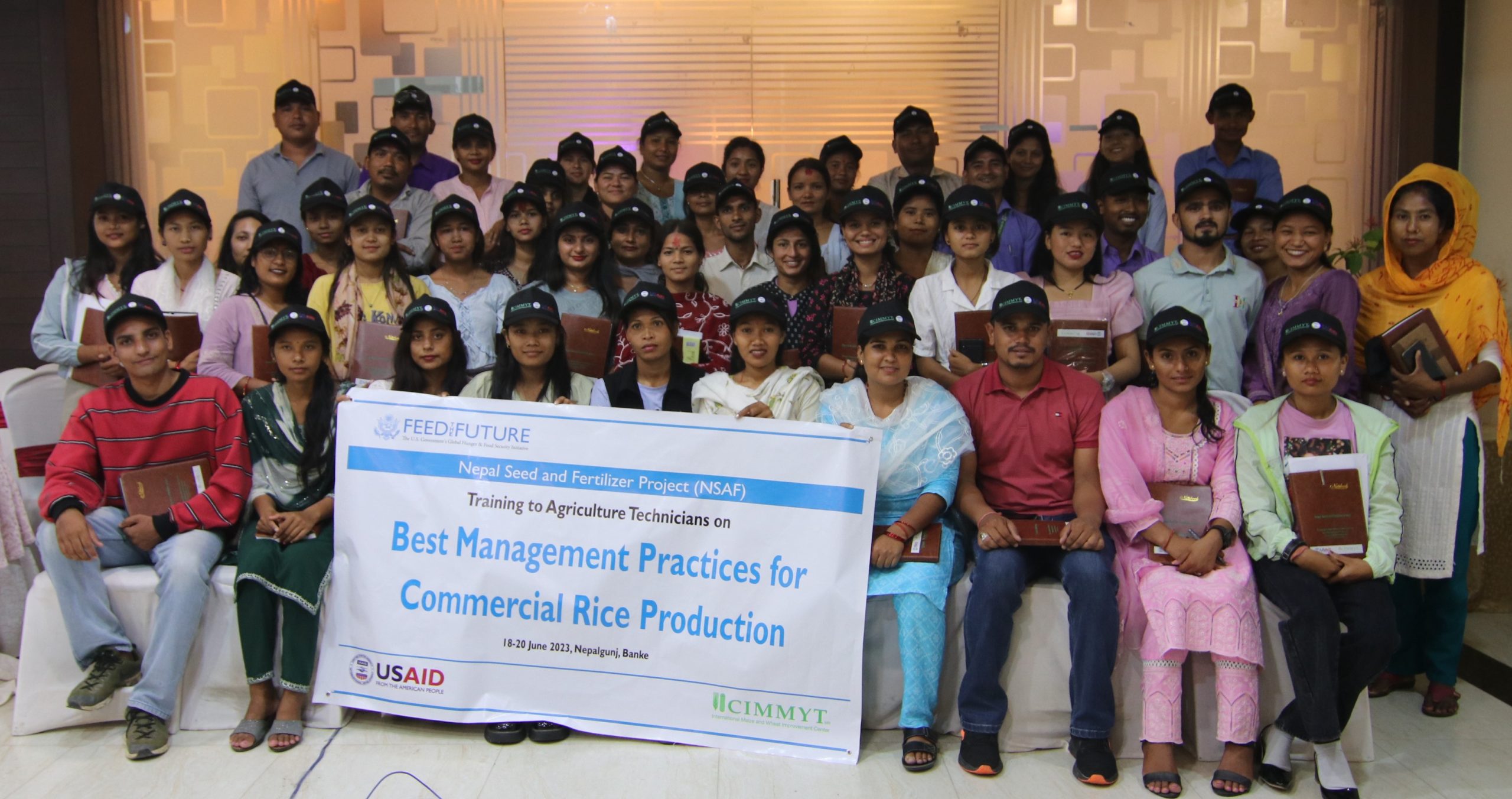 Staff of the Nepal Seed and Fertilizer (NSAF) project conducted a three-day "training of trainers" workshop on integrated soil fertility management and related practices for commercial rice farming, for 50 agricultural technicians from 50 farm cooperatives in districts of mountainous midwestern Nepal and its lowland Terai Region.
Held in Nepalgunj, midwestern Nepal, the workshop focused on the "4Rs" for soil fertilization—right source, right rate, right time, and right place—along with other best farming and soil nutrient stewardship practices for rice-based farming systems.
"Subject matter was comprehensive, covering variety selection, transplanting, weeding, management of nursery beds, fertilizer, irrigation, controlling pests and diseases and proper handling of rice grain after harvest," said Dyutiman Choudhary, NSAF project coordinator and scientist at CIMMYT. "Topics relating to the integrated management of soil fertility included judicious application of organic and inorganic fertilizer, composting and the cultivation of green manure crops such as mungbean and dhaincha, a leguminous shrub, were also included."
Support to sustainably boost Nepal's crop yields
With funding from the United States Agency for International Development (USAID), the NSAF project promotes the use of improved seeds and integrated soil fertility management technologies, along with effective extension, including the use of digital and information and communication technologies.
Agriculture provides livelihoods for two-thirds of Nepal's predominantly rural population, largely at a subsistence-level. Rice is the nation's staple food, but yields are relatively low, requiring annual imports worth some $300 million, to satisfy domestic demand.
Workshop participants attended sessions on digital agri-advisories using the Geokrishi and PlantSat platforms and received orientation regarding gender and social inclusion concerns and approaches—crucial in a nation where 70% of smallholder farmers are women and exclusion of specific social groups remains prevalent.
"Topics in that area included beneficiary selection, identifying training and farmer field day participants, and support for access to and selection of improved seed and small-scale farm equipment," explained Choudhary. "The participants will now go back to their cooperatives and train farmers, local governments and agrovets on improved rice production."
Nepal scientists and national research programs have partnered with CIMMYT for more than three decades to breed and spread improved varieties of maize and wheat and test and promote more productive, resource-conserving cropping systems, including rotations involving rice.