It is a winter morning in Ward 12 of Mutare Rural district in Zimbabwe. Farmers brave the cold weather to gather around several tents lined with a range of new agricultural machinery. The number of farmers increases, and the excited chatter gets louder as they attempt to identify the different machines on display. "That is a tractor, but it just has two wheels," says one farmer. With enthusiasm, another identifies a multi-crop thresher and peanut butter machine and asks for the prices.
The scene typifies one of several settings for an awareness meeting conducted under the Feed the Future Zimbabwe Mechanization and Extension (Mechanization) Activity, funded by the United States Agency for International Development (USAID). The project operates in Zimbabwe's Manicaland and Masvingo provinces and addresses the pressing need to improve farm power and machinery access for smallholder farmers in ten districts: Buhera, Chimanimani, Chipinge, Mutare rural, Bikita, Chiredzi, Chivi, Masvingo rural, Mwenezi and Zaka.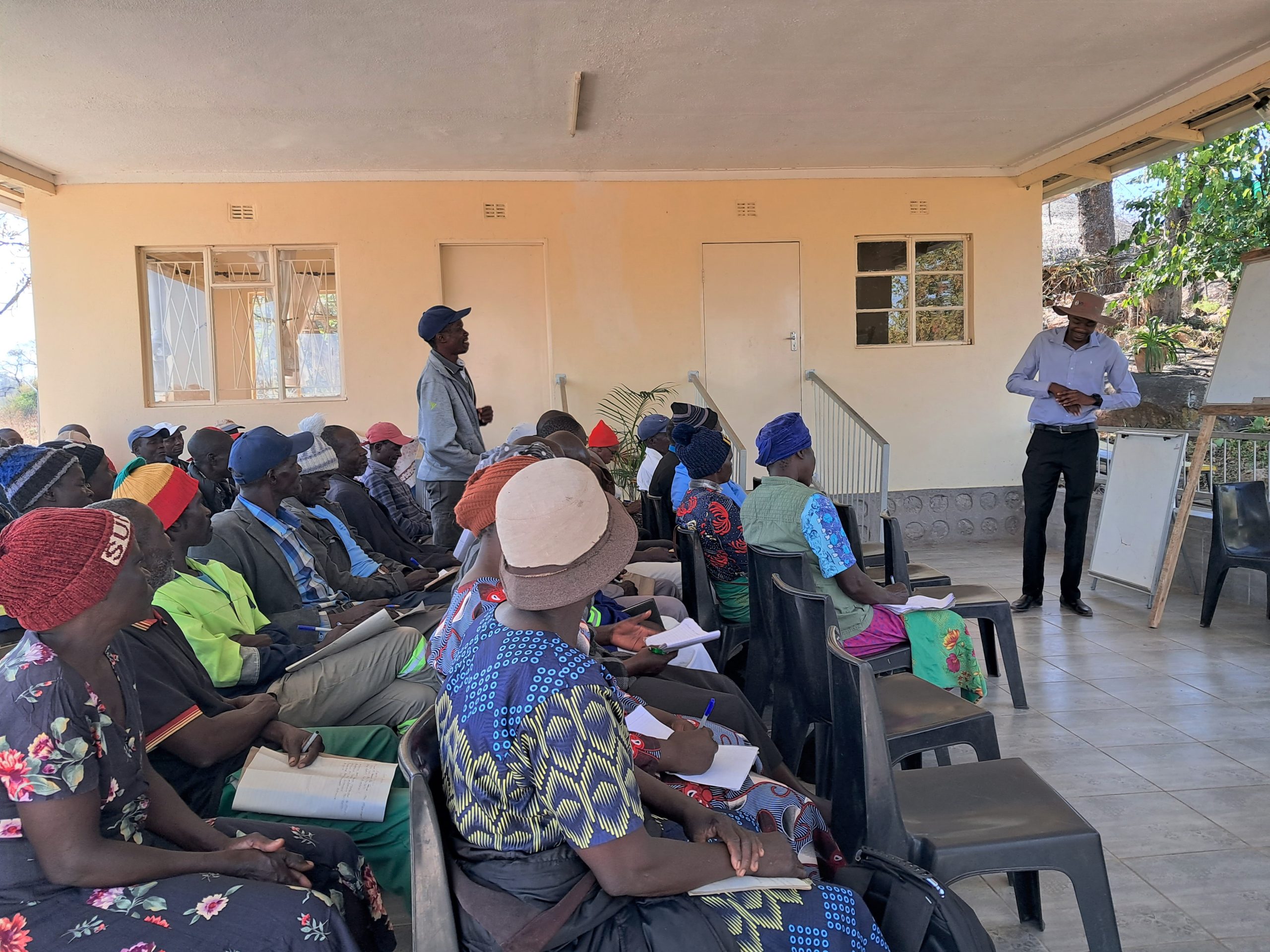 In recent years, farmers in the region have faced a decline in cattle populations due to tick-borne diseases—the devastating 'January disease' (Theileriosis) hitting hardest—causing significant draft power losses. In addition, on-farm and off-farm activities have notoriously been identified as labor-intensive, time consuming and back-breaking due to the level of effort required to execute certain tasks. Activities such as post-harvest processing have also been traditionally carried out by women, who are thus disproportionally affected by drudgery. Collectively, these challenges have affected not only food production and the quality of farm yields, but also drastically impacted farming families' potential to realize sufficient household food and income security.
"Finding the best model of extension of appropriate machinery and developing financing mechanisms for smallholder farmers has been the work of previous projects on appropriate-scale mechanization," says Christian Thierfelder, research director for the Mechanization Activity. "In this activity, we are implementing a service provider model in Zimbabwe and are aiming to reach 150 service providers and 22,500 users of these machines in the next two years."
Despite previous successes under initiatives such as FACASI and R4/ZAMBUKO, there remains a huge demand for affordable machines that improve farm labor and generate income for smallholder farmers. "We already see hundreds of farmers demanding to mechanize agricultural activities in our intervention areas," explains Leon Jamann, chief of party for the project. "That is why our activity aims to collaborate with banks and microfinance institutions to bank these farmers at fair rates so that they can buy the machinery that they need and want."
A launchpad for success
The awareness meetings have served as launchpads to acquaint farmers with appropriate machinery right at the 'farm gate' while affording them a chance to explore the full range on offer. Since its inception, the Mechanization Activity has showcased through live demonstrations the operation and performance of machinery including the two-wheel tractor and trailer, ripper, basin digger, boom sprayer, multi-crop thresher, feed chopper-grinder, groundnut sheller and peanut butter machine. Each machine harmonizes with on-farm and off-farm activities, easing the labor burden and improving efficiency in land preparation, harvesting and post-harvest tasks. The aim is to create demand for and trigger business interest in the machinery through a service provision model.
The model centers on the service provider, typically an individual who owns machinery and extends their services to others for a fee. In some cases, organized Internal Savings and Lending (ISAL) and Production, Productivity Lending and Savings (PPL) groups have expressed, through the awareness meetings, interest in procuring a machine for use within the group. This symbiotic relationship empowers service providers economically, while granting communities access to crucial services that improve their land and labor productivity.
In the next step, service providers are then linked with banks to finance their machinery. This ensures a sustainable approach, as the mechanization solutions are locally produced, financed and used. Enhancing these local capacities and linkages is at the core of the activity and ensures impact beyond the project life cycle.
From awareness to demand
So far, a total of 32 awareness meetings have been held across three operational hubs in Masvingo and Manicaland provinces reaching 1,637 farmers—843 females and 794 males. The impact is evident, with 475 service providers identified across 20 implementation wards.
232 participants are keen to acquire a two-wheel tractor, with a further 191 opting for trailers, 63 for rippers, 125 for multi-crop threshers, 166 for chopper grinders, 178 for peanut butter machines and 31 for groundnut shellers. Among the prospective service providers are those opting to purchase a single unit while others are choosing two, three or more units from the machinery on offer.
Beyond the numbers, the Mechanization and Extension Activity continues to appeal to women and youth through sustainable and climate-smart intensification of crop production using conservation agriculture practices, opportunities for employment creation and enhancing profitability.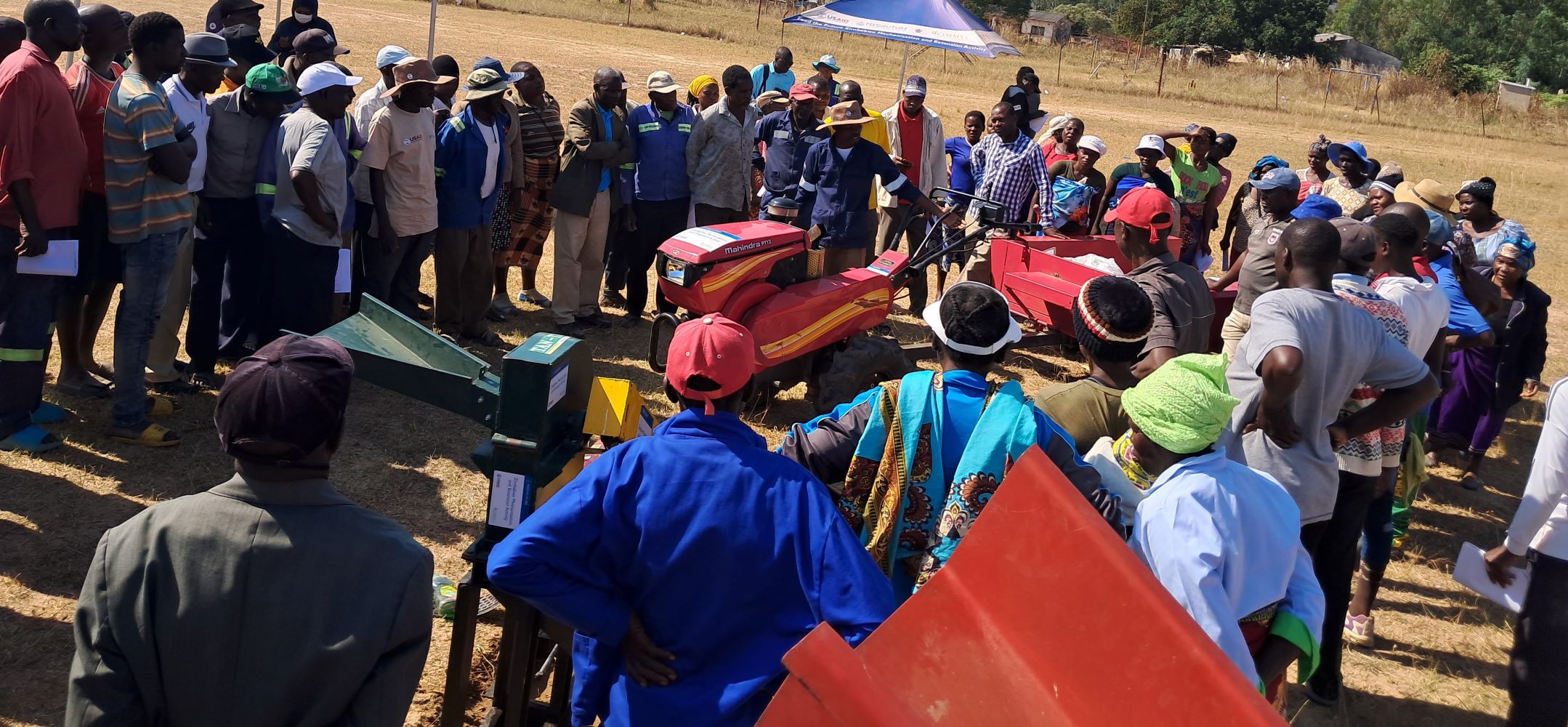 "I enjoyed learning about the service provider approach and learning about the machinery on display," reflected Nyarai Mutsetse, a female farmer from Ward 12. "Other women even got the chance to try out the two-wheel tractor. From now on, we are going to save money in our groups and purchase some of these machines."
Echoing the same sentiments, Patience Chadambuka was fascinated by the two-wheel tractor demonstration, and impressed that it could serve multiple purposes. "I can use it for different tasks—ferrying wood, land preparation and it can also help us raise money to take our children to school through service provision," she said. "We are beginning to save the money, together with my husband because we would like to purchase the tractor and use it for our business."
The Mechanization Activity awareness meetings paint a vivid picture of collaboration with other Feed the Future Zimbabwe Activities such as the Fostering Agribusiness for Resilient Markets (FARM), Resilience Anchors and Farmer to Farmer, among others. The activity harmonizes smallholder farmers with private sector enterprises, including machinery manufacturers, local mechanics, financial institutions and the Government of Zimbabwe. This collective cooperation is pivotal in helping smallholder farmers realize their mechanization business goals.