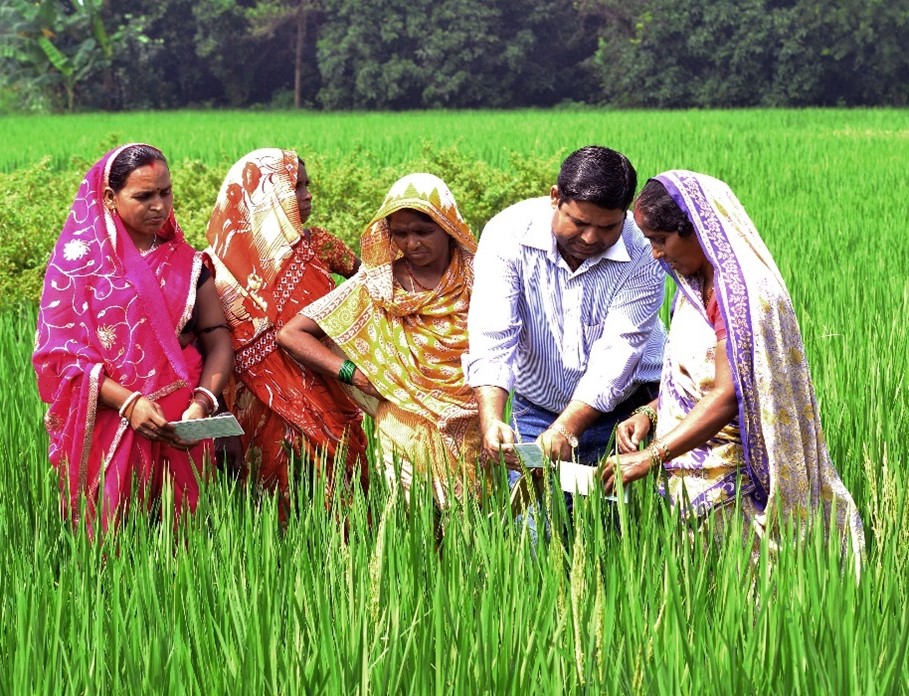 Climate change is no longer a distant threat but a reality that profoundly affects our lives. Among the most vulnerable regions to climate change, South Asia stands out because it is home to over 100 million farmers and produces over 285 million metric tons of milled rice and 128 million metric tons of wheat (FAO 2020-21). Among 193 countries worldwide, South Asian countries rank in the top quarter for climate risk and are experiencing rising meteorological and climate-related disasters. These pose significant challenges to farmers and the 216 million people in South Asia living in extreme poverty (World Bank, 2018), further jeopardizing their food security and livelihoods.
Considering this, with support from the Bill & Melinda Gates Foundation, the Borlaug Institute for South Asia (BISA) is working with national agriculture research systems in South Asia to develop the Atlas of Climate Adaptation in South Asian Agriculture (ACASA).
The Atlas brings together spatially explicit South Asian data on the nature and evolving patterns of climate hazards. It will assess climate risks using gridded, village-scale analyses and through historical crop yield data and satellite signatures. The Atlas will consider the exposure of smallholder populations, farms and crop and livestock enterprises. It will assess the vulnerability or adaptive capacity of those populations and impacts on the region's critical commodities. Importantly, the Atlas will provide a unique set of on-line tools and a portfolio of adaptation options to underpin better decisions regarding investments in agricultural technologies, climate information services, and policies. The project will also focus on building the capacity of concerned stakeholders such as multi-lateral agencies, government bodies, NGOs, and the private sector in the use of Atlas assets, through training materials, tutorials, and periodic workshops. This will enable informed investments and policy decisions to benefit 100 million farmers in South Asian region. For wider use, the Atlas will be embedded online as an open-source, web-enabled and interactive and dynamic tool for easy access by all concerned stakeholders.
Drawing on the expertise and experience of South Asian nations such as Bangladesh, India, Nepal, and Sri Lanka, which have suffered from extreme heat, prolonged droughts, and severe flooding in key crop-producing areas, ACASA represents an example of collaboration and knowledge exchange to reduce farmers' risks and offer them ways to adapt.
BISA and CIMMYT are pleased to anchor this remarkable collaboration that leverages multi-disciplinary expertise and perspectives to address the complex challenges posed by climate change, linking the detailed characterization of climatic risks with mitigation technologies and policies to meet the needs of diverse stakeholders. The proposed work will contribute actively to the CIMMYT2030 Strategy where one of the 5 impact areas is centered around Climate adaptation and Mitigation. The entire strategy designs a path toward a Food and Nutrition Secure world through science and innovation in the midst of a global climate crisis.
Established in 2011 by CIMMYT and the Indian Council of Agricultural Research (ICAR), the Borlaug Institute for South Asia (BISA) is a non-profit international organization that applies advanced technologies to improve food systems and food security, nutrition, livelihoods, and the environment in South Asia, home to more than 300 million undernourished people.