The newly released CGIAR Research Program on Wheat 2021 Technical Annual Report highlights joint achievements in making wheat more affordable, nutritious and available for consumers and producers worldwide.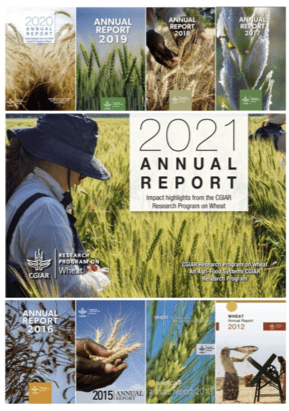 Download the PDF
Over the course of ten years, WHEAT worked with hundreds of research and development partners worldwide to release high-yielding, disease-resistant, nutritious and climate-resilient wheat varieties, and efficient, sustainable wheat-based cropping systems.
This final report from 2021 shares important research on staple cereals' role in global efforts towards food security, the number and distribution of wheat farms, the expected impact of climate change on wheat productivity, nitrogen-in-agriculture research, nutrition, and the most critical, immediate effects of COVID-19 on food systems, and more.
With its national partners, WHEAT released 70 new CGIAR-derived wheat varieties to farmers in 13 countries in 2021, and developed 18 innovations in the areas of genetics, biophysics, farm management, research and communication methods, or social sciences.