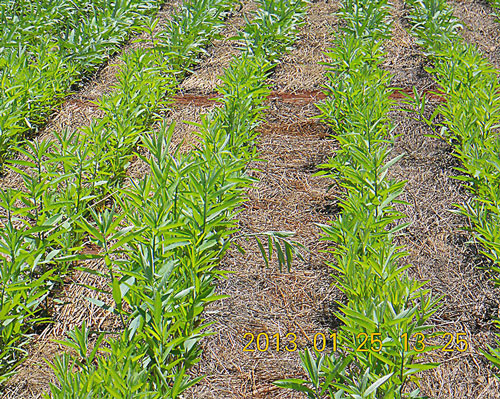 In 2012, three CG centers—the International Livestock Research Institute (
ILRI
), CIMMYT, and International Crops Research Institute for the Semi-Arid Tropics (
ICRISAT
)—launched a joint project called Integrating Crops and Livestock for Improved Food Security and Livelihoods in Zimbabwe (ZimCLIFS). The goal of the project is to develop ways to increase agricultural production, improve household food security, alleviate poverty, and thereby reduce food-aid dependency in rural Zimbabwe through better integration of crop and livestock production and market participation. The inception workshop, held 17–19 October 2012, was attended by international project managers and local stakeholders, including research, extension, private-sector, and NGO personnel, and farmers, totaling 41 participants.
The project objectives are as follows:

Increase productivity of smallholder crop and livestock farming systems in four districts in two contrasting agro-ecological regions of Zimbabwe by identifying and adapting appropriate technologies and management practices.
Improve farmers' access to resources, technologies, information, and markets by characterizing and strengthening value chains for crops (maize, sorghum, and legumes) and livestock (goats and cattle).
Increase the knowledge and skills of research, extension, and agribusiness staff, enabling the first two groups to design and implement integrated farming systems and value chain research, and the latter to apply knowledge generated by the project elsewhere in Zimbabwe.
Since its launch, the project has established field trials on 102 farm sites at a time when the cropping season had already started in the high-potential subhumid Murehwa and Goromonzi districts of Mashonaland East Province, where CIMMYT leads the agronomic activities including conservation agriculture as well as socio-economic components of the project. To support work on these trials, project partners including extension and NGO personnel convened on 16 January 2013 for a data collection training workshop facilitated by staff from ILRI and CIMMYT. The workshop sought to orient partners to the project's objectives, activities, and operational framework; create awareness of the different types of agronomic experiments implemented in the 2012–13 season; train participants on data collection tools and expectations for the different types of agronomic experiments; and review trial implementation progress. Presentations covered topics such as ethics in agricultural research and the various ZimCLIFS activities and their data collection needs. "We thank the ZimCLIFS team for organizing this meeting, as it has helped to clarify our roles in this project and the direction it is taking," remarked an extension officer from the Murehwa District in her closing remarks.
On 25 and 26 January 2013, two representatives of the Australian Center for International Agricultural Research, project manager John Dixon and consultant George Mburathi, visited ZimCLIFS staff at the CIMMYT office in Harare and project sites in Goromonzi to see how far the project had progressed. They witnessed conservation agriculture trials in which maize is grown along with livestock-palatable and unpalatable legume species, with the palatable species used to feed livestock and the unpalatable species used to generate biomass for soil cover in the subsequent season, given that livestock graze communally in the area. For example, mucuna (Mucuna pruriens) would be used to feed livestock, while residues from fish-poison-bean (Tephrosia vogelii) or dry sunn hemp (Crotalaria juncea) would be used to provide soil cover in the subsequent season as a new approach to managing residue cover provision in crop-livestock environments. They also visited a site where maize (Zea mays), soybean (Glycine max), cowpea (Vigna unguiculata), and mucuna rotation and intercropping were being tested with a view to intensifying maize-legume production. Other agronomic trials established by the project address the issues of residue types and residue rates in conservation agriculture systems where livestock competition exists. The visitors also witnessed cowpea screening and forage production trials that seek to demonstrate hay and silage making from legume sources such as cowpea and hyacinth bean (Dolichos lablab). Dixon also visited a local abattoir and a goat market as part of appreciating the value chain in livestock production.
Within its first season, ZimCLIFS has established trials in high- and low-potential sites with 303 farmers, about 63% of the targeted 480 households, an impressive start according to Dixon. The project runs until July 2015. Dry season activities will focus on livestock feeding, value chain studies, and establishment of innovation platforms as vehicles for dissemination and increased productivity.