By Wandera Ojanji/CIMMYT
Ringson Chitsiko, Zimbabwe's permanent secretary for Agriculture, Mechanization and Irrigation Development, has reiterated his government's commitment to support the Effective Grain Storage for Sustainable Livelihoods of African Farmers Project (EGSP-II). The project is improving food security and reducing the vulnerability of resource-poor farmers in eastern and southern Africa through the dissemination of metal silos and super grain bags.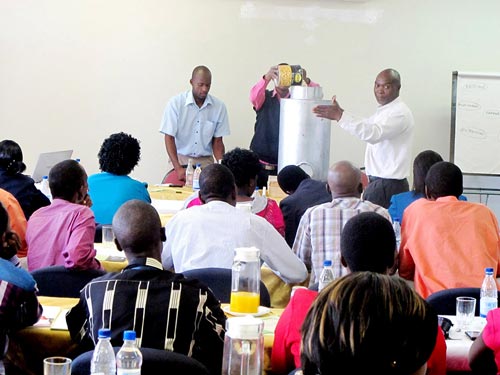 "The Government of Zimbabwe fully appreciates the fact that complementary policy and institutional innovations that enhance development, deployment and adoption of effective post-harvest management practices at various points in the maize value chain is not only an effective strategy for fighting hunger and food insecurity, but also essential for enhancing the incomes of smallholder farmers," said Chitsiko when he officially opened a training workshop for extension staff and agro-dealers. "The government is, therefore, committed to make this project a success by developing both the institutional innovations and enabling policies that can ensure adoption of effective post-harvest management practices and bring the benefits to producers, agro-dealers and farmers," he added. "Accessibility and affordability are the key driving factors in the adoption of metal silos and hermetic bags technology."
The workshop was organized by EGSP II in collaboration with Zimbabwe's Ministry of Agriculture. The project is funded by the Swiss Agency for Development and Cooperation (SDC). The training was organized to impart information and skills to extension staff and agrodealers on the management of metal silos and hermetic grain bags, said Tadele Tefera, CIMMYT entomologist and coordinator of EGSP II.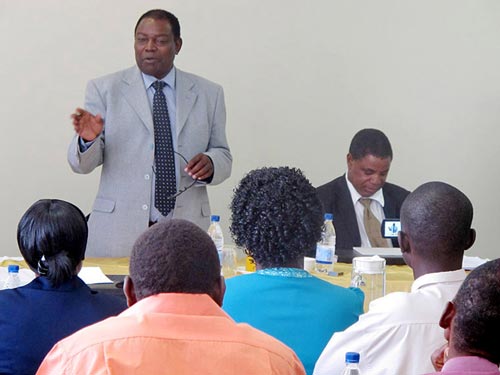 Other reasons for the training included creating awareness of the importance of grain post-harvest management, helping extension workers and agro-dealers gain insights into different factors affecting post-harvest management and explaining traditional and improved post-harvest technologies and their use in grain loss reduction. It was also meant to create investment opportunities for agro-dealers, and also link artisans, extension staff and agro-dealers for a common purpose. Since EGSP II was launched in 2012, 250 metal silos have been distributed to households in the pilot districts of Shamva and Makoni for research, demonstration and training. Chitsiko lamented that while maize is Zimbabwe's staple food, its production is severely affected by frequent droughts and the effects of climate change, leading to crop failure, hunger and poverty.
Between 20 and 30 percent of harvested grain is lost annually to insects, rodents and damages from poor post-harvest handling. Zimbabwe loses US$ 56.7 million worth of maize annually during storage. "Surely, you can agree with me that this level of loss is unacceptable if we want to be food secure," Chitsiko said. "I have no doubt that the metal silo technology will go a long away in providing solutions aimed at mitigating the effects of grain post-harvest losses considering its effectiveness against the major storage pests, particularly the larger grain borer that can cause losses up to 100 percent."
More than 50 participants attended the training, representing government extension officers, agrodealers, artisans and civil society organizations from the Shamva and Makoni districts. Facilitators of the training included Tadele Tefera; Addis Tishome, CIMMYT entomologist; Jones Govereh, CIMMYT policy economist; Tirivangani Koza, deputy director, Department of Agricultural Mechanization, Ministry of Agriculture; and Rabson Gumbo, EGSP national coordinator and director, Department of Agricultural Mechanisation, Ministry of Agriculture.